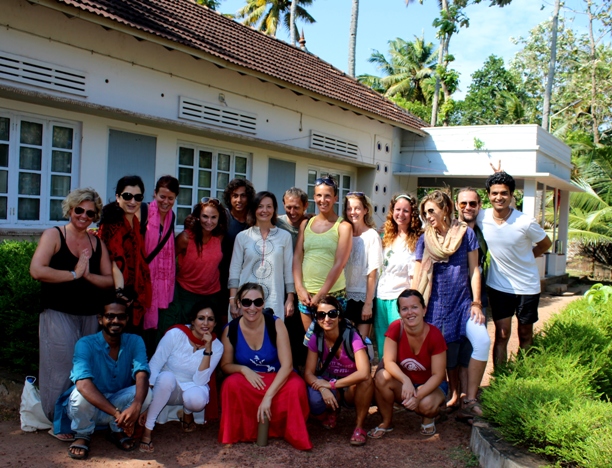 Believe in the magic of a hug.
We all have the childlike need to feel and to love—to belong to something more, despite modern day cynicism.
As part of an organised excursion with the 200-hour Yoga Teacher Training course at Rishikul Yogshala, I visited "Mata Amritananadamayi." Amritanandamayi Devi—"mother of immortal bliss," better known as  Amma or "mum"—is the divine embodiment of pure, selfless love. It is said that her hug can solve all of a persons modern troubles and touch their emotional core.
The bus took 20 students and teachers through Indian towns and cities, intercepted by breathtaking scenery of the backwaters and their calming never ending vistas.  All of us had different expectations of the day—some were looking for a deep spiritual experience in Amma's presence, and some felt that it was a gimmick, preying on the vulnerable. Others just wanted a day trip.
Amma's hug has been received by over 34 million people worldwide and has made this spiritual teacher, humanitarian and cultural ambassador, one of the most powerful women in Kerala. She divides her time between the Ashram and spreading her hug around the world.  She is followed by her devotees—of which there are around 10,000 living at her Ashram—all completing Seva (voluntary work). The Ashram and its charity, "Embracing the World," receive more than $15 million a year in donations. The money is used to fulfill the basic needs of the Indian population and provide relief aid from natural disasters across the world—most recently the devastating floods in nearby Chennai.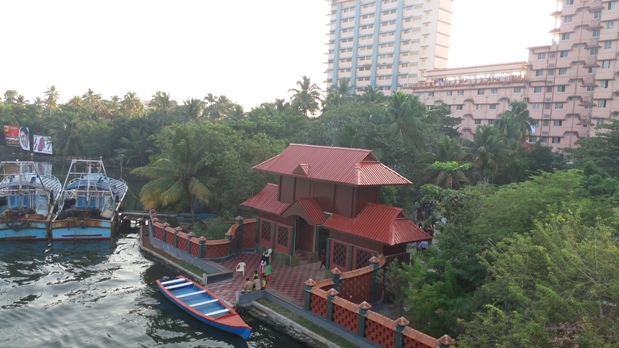 The Ashram is set in an impressive location on the farmland site of Amma's childhood home, where her magical hug was first cultivated. On arrival through the gates, we were in another world, confronted by masses of people—some dressed all in white, creating a calm presence in this otherwise seemingly chaotic environment.  A young French lady greeted us, gushing of her love of Amma and instantly arranged a tour of the Ashram or "city" as she calls it—after all, it does even have its own bank!
This really is a mini-city—there is a temple, shops, restaurants, beach, boat rides and even a resident elephant!  At one point, I considered that we were in a spiritual Indian Disneyland. The hype and excitement was reminiscent of a childhood trip to Euro Disney and waiting for a hug from Mickey Mouse.
Could this be the adult equivalent to the childhood joy of such experiences?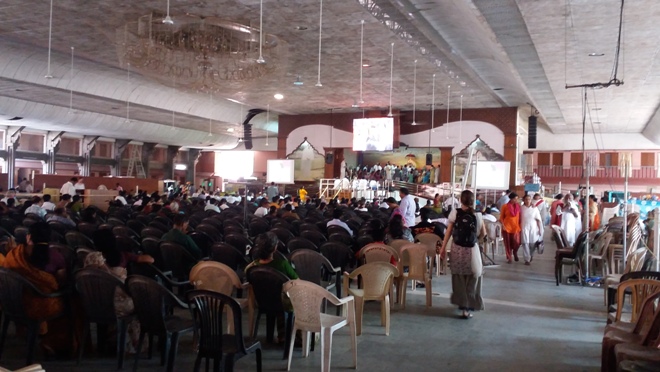 The main attraction of the campus is in the auditorium, which accommodates around 3,000 people, flanked by a western café to one side and Indian offerings to the other. These thousands of devotees that are filling the plastic chairs have traveled from across the globe to have a hug. The wait may be up to eight hours, but all are patient whilst children are enchanted and  grown men cry. The stage is surrounded by screens showing a live feed of the hug—for all to witness—and a live band beautifully playing mantras, the lyrics displayed on the screens. In the center of all this activity, the star attraction sits—a small, plump woman in a white sari, stained by the makeup left by the thousands of devotees who have been cradled to her shoulder all day.
After moving seat to seat for two hours, in a style reminiscent to musical chairs—we make it to the stage, surrounded by other devotees chanting. Many Seva staff are controlling the stage with a stern hand.  I am asked what my mother tongue is, whilst a hand on my shoulder pushes me to kneel before Amma. She reaches her arms forward and presses my head to her soft, plump body.  She whispers in my right ear her spiritual wisdom—a blessing of sorts—however, I can't tell you what she said, as it was in the local language of Malayala. Never the less, she hands me an Amma-branded sweet.  I stood up, slightly woozy, and was ushered off stage. There was a definite bounce to my step—I felt euphoric, despite the long day, desperately searching out others to share my experience with.
It was over in a matter of seconds, yet it was one of the best hugs I have ever received from a stranger. She rubbed my back in a slow, authoritative, comforting way—like a mother comforting a crying baby. It was enjoyable, yet slightly bizarre. While I did feel a magical energy pass through me, I feel I have further to go in my spiritual ride. Watching other people walk away from Amma's embrace overcome with emotion and joy made me long for that feeling of pureness in something, just as I had as a child believing in the magic of Disney.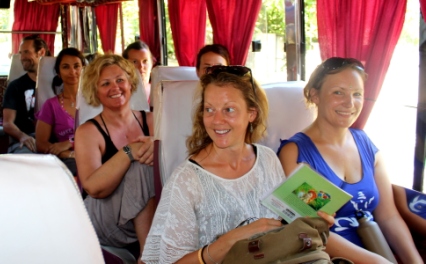 The whole day evoked a vitality, invigorating our group of tired yogis. It was a long day, yet on the bus back to Varkala, we started to party—music was played, and we danced in the aisle. It was a blessing that the magic was experienced with 20 other friends—we could share and contemplate together.
Does the cult-like theme park prey on the vulnerable and needy—is it a money making gimmick? Or is the work that is being done, and the magical joy it evokes, showing us that humanity does exist in the world?
We all have a childlike need to be loved—the hug representing the giving and receiving of love to be happy, just as Mickey evoked in us as a child. The experience teaches us that despite modern day cynicism, we should embrace new experiences and allow ourselves to be taken in by the magic.
Ultimately, yes—it was a spiritual Disneyland, but what is so wrong with that? Disneyland brings joy to many.
Power to Amma and her devotees.
.
Author: Justine O'Connell
Editor: Yoli Ramazzina
Photos Author's own.