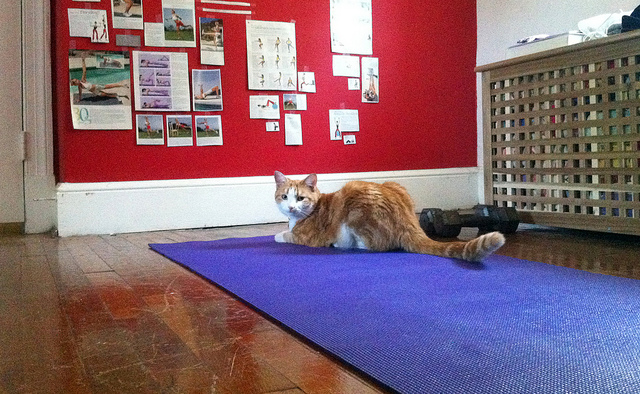 As yogis, we tend to think of ourselves as a relatively "mindful" group. I am no exception—I love to read self-help books, I see a therapist as needed, and I am invested in being a kind and loving person in my community.
What's interesting is that whenever I practice yoga in a studio, my monkey mind runs wild with comparisons to every other practitioner in the room, and I can't seem to reign it in.
I started practicing yoga 13 years ago, as a wee 17-year-old. In the years that passed, I visited all kinds of different studios and tried many different styles of yoga—from Bikram to Iyengar, Baptiste, Anusara, Forrest, and pretty much any other Hatha yoga style in between.
Through all that time, I have never been successful at turning off the part of my mind that wants to size up how "good" I am at yoga in comparison to the other fine folks I'm practicing with. I will peer around at those close to me to see if the height I can lift my leg to measures up. I will open an eye during meditation to check if my back looks straight enough in the mirror. I will judge my own outfit choice among scores of interesting-looking pants.
This, as you can imagine, is highly distracting.
That distraction led to studio yoga being beneficial for my body, but never restful for my mind and spirit.
Thus, I was ever in and out of yoga classes, never landing any one place. This continued until I suffered an unfortunate and life changing event—I had a miscarriage. After my loss, my body felt like my enemy and going to a studio to practice yoga in my raw state was unthinkable. So, instead, I began practicing at home, alone. I started with free Youtube classes and eventually landed as a member of an (awesome!) online yoga studio.
My practice has been completely transformed by going studio-less.
For one, doing yoga at home was a powerful tool that helped me to become happy in my body again after a significant and enduring loss. Secondly, I can practice at any time of day and can choose a class tailored to my daily needs, which could mean a half an hour restorative class or a 90 minute vinyasa marathon.
One of the most interesting benefits, though, is that since I practice alone, my inner-yoga-critic has no one to compare my upward dog to, which is such a relief! While I'm sure that people more "enlightened" than me can waltz into a class of 100 and turn their focus inward and not bat an eye at anyone else in the room, I have never acquired that skill, making group yoga needlessly stress-y. So, my home practice is a freaking revelation.
I practice way more now than I ever did before—sometimes five times per week—and my practice is a delight. It is completely un-fraught. It is me, my mat, and a big ol' smile on my face. I work up to new poses and find the humor in falling out of them, and there's nothing like releasing gas into an empty room of zero other people (apologies to my cat, Hank).
I now have the yoga practice I always dreamed about—one that grounds me in my body and gets me out of my endless thought cycle. I, naturally, have curiosity about going to a studio class now to see if I'm still so badly afflicted with comparison-itis, but I have it so good at home that I'm not really compelled to try and solve that puzzle anymore.
Have any of you found yourselves in a yoga class, distracted by concern about whether or not you're "good enough?" How did you solve your problem?
~
Relephant:
~
Author: Jessica Mae Pelkey
Editor: Katarina Tavčar
Photo: jason saul/Flickr