My 16-year-old son has been asking for more meatless meals.
Huh?!
It's not that long ago that the mention of vegetarian or vegan meals would elicit my son's best "blegh" face. But over the last three years, as he's learned about the meat industry and its effects on his health and his planet, he's become more open to the idea.
Then, after drastically reducing the meat in his diet, he's also experienced some relief from digestive issues that I didn't even know he was having at first.
But, he's also kind of a picky eater. He wants to eat more vegetables, but he doesn't actually like veggies all that much, especially raw ones.
So I've been testing out meals over the last couple of years. When I first Googled vegetarian and vegan recipe ideas that were kid-friendly, I saw pictures like this: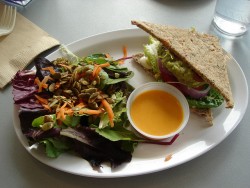 Um, no.
My kid is not going to eat that.
And then everything else that seemed relatively kid-friendly was a pasta dish! He gets tired of pasta pretty quickly.
So here are a few tried and true alternatives that he loves and eats regularly. He's graduated on to more interesting meals, but these are what helped get us started on the right track. If you're trying to transition your own children into more of a meatless diet, try some of these first.
*You'll need to experiment with the amounts of ingredients and spices to add—I can't offer a recipe because I hardly ever cook from recipes and I never record the amounts I use. Taste your food as you're cooking it!
Veggie Quesadillas:
These are easy-peasy. I sauté some chopped veggies—usually onions, peppers, tomatoes, and mushrooms in a little oil. Add some spices if you like—cumin, garlic, chili powder, onion powder and oregano makes a taco flavor. While that's cooking, I grate some marble cheddar cheese. You can make your own tortillas if you're adventurous, but I usually don't have the time so mine are the store-bought flour kind.
Take one tortilla and fold it in half to make a crease, and open it up again. Then, add cheese to one half, topped with a scoop of the cooked veggies spread out, and fold the tortilla back over to make a half moon shape. Repeat for however many you want, then bake in the oven or heat in a greased pan on the stove. Serve with sour cream and salsa for dipping.
Bean Chili:
I usually cook chili from scratch using dried beans, but canned works fine too. If you're going to use dried, make sure to soak them overnight and then boil them the next day with baking soda to take the gas out of them before adding to the slow cooker.
I usually add a mixture of chick peas, lentils, kidney beans, and pinto beans. I also chop up and add onions and green peppers. Sometimes, I throw in about half a cup of frozen corn. Then, I add some fresh garlic, my homemade tomato sauce (canned is fine too, though), cumin, cayenne (optional), and chili powder and cook it for around six hours on low in the slow cooker. Grab some vegan buns (there are a few great recipes online for homemade ones!), slice and brush with vegetable oil mixed with fresh ground pepper, garlic, dried parsley, and salt and broil in the oven to be used for dipping.
Peanut Stir Fry:
First, I sauté on high heat: broccoli, onion, thinly sliced carrots, mushrooms, but you can use so many other veggies, just toss in whatever you like. A wok is best for this dish. While that's cooking, I'll chop up some bok choy (my kid will eat it, but you can skip this if you're not sure yours will) and mix together the sauce which is basically about a tablespoon of peanut butter with oil, light soy sauce, brown sugar, fresh grated garlic and fresh grated ginger. If your family likes spice, add in some chilies.
Once the veggies are cooked (high heat until they're tender, careful not to burn them), I toss in some thick Shanghai style noodles that I buy fresh from the deli, along with the bok choy which wilts quickly, and finally the sauce, and toss it all together until everything's hot and coated. Keep an eye on the kind of noodles you buy, as some might be made with egg. Rice noodles work well too, and udon is another thick noodle you can use.
Vegetarian Pizzas:
I buy fresh pita bread and use that as a base to make individual sized pizzas. Naan works too, but is more doughy, so it depends on how you like your base. I prefer mine a little more thin and crispy. If you make two per person, the second one is perfect for school lunches the next day.
Spread on some sauce. I use basic tomato sauce and add my own spices—garlic, oregano, crushed red chilies, pepper, basil. Then add on some fresh veggies: bell peppers, mushrooms, olives, pineapple. Use whatever your kids typically like. Then, top with cheese and bake in the oven until the cheese is melted and the veggies are somewhat cooked. They won't cook through completely but it adds a nice bite to the pizza. If you try to cook the veggies until they're soft, keep an eye that the bottom of your pizza doesn't burn or get rock hard.
Bonus: Side Dishes
Mish-mash some of your favorite side dishes to make a meal!
This was the hardest part for our family because meals were usually made of meat with a starch and veggie on the side—without the meat, it seemed strange. But why not two veggies and a starch instead? I'll often make mashed potatoes with glazed carrots (add a tablespoon of honey and some dried dill), along with a green salad. Or garlic toast with mushrooms (cooked in vinegar, soy sauce, sugar, garlic) and steamed broccoli with shredded cheese on top. Or, roasted seasoned potatoes with sautéed green beans and sliced tomatoes on the side.
There are so many good combinations that kids are totally okay with.
Besides having better health and reducing our impact on the planet, my grocery bill has gone down significantly since we've changed our eating habits. And now that I've warmed my son up to vegetarian versions of some basic meals, he's been willing to try more adventurous meatless meals, which allows for more variety.
Share your tried and true recipes in the comments!
Photos: Mike Linksvayer/Flickr, T.Tseng/Flickr