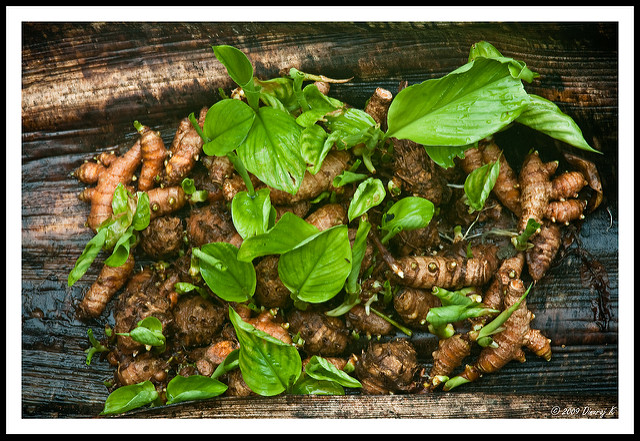 Turmeric is also known as both "Holy Powder" and the "Queen of all Spices" and derives from the Persian word "Saffron" due to its bright yellow/orange color.
It is a member of the ginger family and has been used in Asian and Ayurvedic healing practices for hundreds of years. The word turmeric translates in Sanskirt to "germicide."
The golden root was initially only used as a dye until its remarkable healing and culinary powers were uncovered.
Up to one teaspoon of turmeric every day can alleviate a variety of ailments and illnesses, as it contains an active medicinal ingredient called curcumin. This is what provides turmeric with its antioxidant, anti-inflammatory, detoxifying and antibacterial properties.
Turmeric is known to be five to eight times as powerful as Vitamin C and E for protective qualities. It also has high levels of iron, manganese, potassium and zinc and is a good source of Vitamin B1, B2 and B3 and fiber.
"It (turmeric) vacuums up free-radical debris that can cause disease. Turmeric is the aspirin or ibuprofen of the spice set. It controls internal or systemic inflammation, which is implicated in so many chronic diseases, from arthritis and Alzheimer's to cancer." ~ Rebecca Katz, Nutritionist, Author of The Longevity Kitchen
Studies show it can alleviate or cure a range of health problems including:
Chronic inflammation
Diarrhea
Digestive problems
Heart disease
High cholesterol
Heartburn
Flatulence, gas and bloating
Jaundice
Joint pain, stiffness or swelling
Liver disorders
Menstrual disorders
Psoriasis
Stress
Toothache
As it is an anti-bacterial, antiseptic and anti-inflammatory agent it can also be used to treat burns, cuts, bruises and skin infections. Due to its anti-viral and anti-fungal agents it can also help the immune system to fight colds and flus.
Curcumin is also an important component in breaking down dietary fat as it lowers cholesterol, glucose and liver fat and stimulates the flow of bile. It also speeds thermogenesis, which burns fat to regulate body temperature, so it boosts metabolism. Therefore, turmeric can assist with weight loss when accompanied with regular exercise and a healthy diet.
My favorite benefit of turmeric is the feel-good qualities it delivers. It raises the levels of dopamine, serotonin and norepinephrine so a regular dose of this spice releases these important chemicals, which when combined, enhances pleasure, makes us more alert so we are more aware and absorb information easily and they also help us to rest and sleep better.
Most grocery stores sell turmeric and it can usually be found in the fresh produce/vegetable section, (to recognize it, it is very similar in appearance to ginger root, though is it more orange than ginger in color) or it will be stocked in the spice section. Otherwise, most health stores will stock it in powder or capsules and some outlets will usually offer organic and fresh options too. It can either be purchased as a fresh root or in the form of powder.
The dry root of the herb provides the spicy flavor and it is often ground into a powder to make a paste. This is what gives curries and mustards the bright yellow color, though it can be used to infuse any food with a vibrant flavor. Although it is a spice, it is relatively mild.
A small amount of the powder can be sprinkled over any food such as vegetables, eggs, lentils, salads, sauces, soups, stir-fries, tofu, meat or any dish where vinegar or lemon juice would normally be added.
There are many ways to ingest turmeric, though my favorite is to make it into a drink. I mix a small amount (1/2 teaspoon) of the powder form with coconut oil, stir in a glass and then add slightly cooled boiled water. It is delicious and I drink it daily, though, it did take me a little while to get used to the earthy slightly bitter taste. Another option is mixing it with warm milk (almond or coconut milk recommended) or for a sweeter taste, with honey, as it does not dissolve well when mixed solely with water.
It is also possible to slice off the skin, as the skin is not too spicy, and eat it fresh.
Turmeric can also be purchased in capsules and tablets from health stores and they have a higher concentration of curcumin. It is also available as herbal tea.
Not only can turmeric be beneficial for health it also works miracles for the skin. It can help with acne, psoriasis, eczema, rashes, inflammation, skin infections, wounds and even if there are no conditions it can be used to achieve glowing skin.
Simply mix half of a teaspoon of turmeric powder together with honey, coconut oil, eggs or yogurt and apply directly to the skin, leave for 10-15 minutes and then rinse. The antioxidant, antifungal and antibacterial qualities helps to clean pores, reduce the amount of sebum secretion and improves the overall texture of the skin.
Since using turmeric the only side effect I have noticed is that if you are a little clumsy with it (like me) it can stain fabrics.
Otherwise:
Side Effects/Disclaimer
Excessive consumption of turmeric can cause constipation, dehydration and stomach or liver problems. If anyone has gallstones, bile blockages or is currently taking blood thinners such as Asprin (turmeric prevents blood clots), it is advisable to contact a doctor for medical advice. If there is any health concerns whatsoever, always consult a professional to discuss further.
~
Author: Alex Myles
Editor: Travis May
Image: Flickr/Dinuraj K