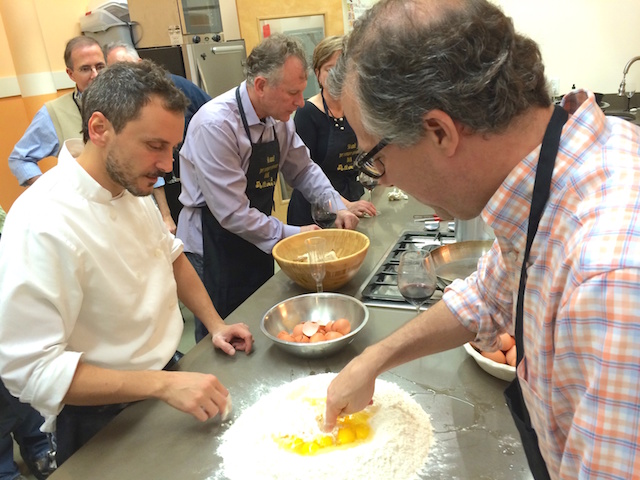 In my 20s, the travel bug bites came often when I wasn't on the road. I used to fly away at the drop of a hat. I quit jobs for it, my "career" a hodgepodge of gigs linked by backpacks and plane tickets.
By 30, I'd been heels-down in 20 countries on five continents. The freedom to achieve this (and in several significant instances, the dollars too) came with five years working in adventure and active travel. In a garden in Jodhpur in 2003, I pronounced my intention to find where I belonged career-wise. Six months later, I was accepting an entry-level gig at Geographic Expeditions.
My first love, the travel industry, let me stay and go.
Now, post MBA and five years into my second love—the food industry (or, more specifically, the food entrepreneurship and education industry)—I still count among my blessings the precious room to stay and go.
This winter, I spent six weeks working remotely in Italy with my husband, who runs the high-touch boutique tour company Food Stories Travel, which focuses on intimately connecting Americans with the food ways and artisans behind some of Italy's most treasured foodstuffs.
My journey has been both intentionally designed and specifically lucky. That aside, I do often wonder, What drove (what now seems like) this reckless willingness to quit jobs, disrupt relationships and fork over hard-earned cash for travel? To forgo other amenities so as to pile up pennies for the road?
The easy reasons come first: To step into another world; to shake off the routine and shake up the creativity; to breathe fresh and cooling air around my thoughts and beliefs; and to flee a bad breakup.
Then come the deeper ones: To slow down; to walk an unknown street; to study the quotidian like it's magic; to hear someone else's language and music; to smell a new smell and taste a new taste; to be someone else—or a question mark—for a while.
Travel guides emphasize the maps and monuments and places to eat and plunk down our heads.
But what, at the root of things, really matters to us when we travel?
Last month, the New York Times ran the piece How to Travel the Earth and Protect It, Too, which details tactics and recommendations for minimizing one's carbon footprint. Bold for the Travel section, it goes so far as to suggest that there is nothing greener (or cheaper) than staying home. This got me thinking about how one could derive the easy and deeper benefits of travel without flying away.
When my husband Cristiano is at home in the summer and winter, his business shifts from tours of Italy to dinners of Italy in some of the homes of his clients and friends around Boston. With his Neapolitan-born colleague, Chef Angelo, Cristiano designs and hosts food experiences that let people sample the real Italy with real Italians, right in their own kitchens—a genuine mashup of the global and the hyper-local.
The notion of international travel without a passport is captivating to me.
And to many others, it seems. TripAdvisor's Hottest Food Trends for Travelers in 2015 lists the at-home pop-up. As I told writer Anne Banas:
"Food is such a natural portal… Entering someone's home can give the traveler an intimate look into someone's world and daily life that dining out simply never can."  
San-Francisco-based entrepreneur Steph Lawrence built a business around the benefit. While her Traveling Spoon and TripAdvisor's "Trends" are both aimed at the international traveler with passport and plane ticket in hand, food and travel entrepreneurs are beginning to design the local equivalents. Be they for the immigrant population, foreign travelers to the U.S., visiting families of foreign students or U.S.-born residents seeking an international experience at home, EatWith, Meal Sharing and other initiatives are proof that the category is real, and growing.
In this vein, I've been inspired to gather some friends and colleagues to co-create a summer series of brewery-based Celtic music pop-ups called Sessions & Pints, which will allow me (and anyone else who wants to come along) to visit Scotland and Ireland—just up the street.
As an industry, travel has taken us so far. Unprecedented numbers of people can touch down on most points on Earth with relative ease.
Now, perhaps, it is bending us back towards home.
As a country and a culture, we're becoming increasingly mixed and motley. At the same time, our desire and search for a sense of place and belonging are growing stronger. In this context, finding a window into Oz from the fence railing in Kansas may become a more magical, more attainable thing.
~
Author: Rachel Greenberger
Editor: Toby Israel
Image: Courtesy of Author via Cristiano Bonino // Dariusz Sankowski/Unsplash

~