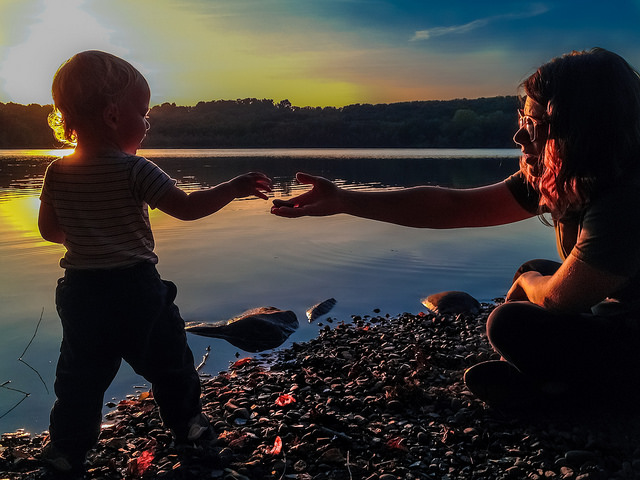 As a child, Mother's Day was always about a morning spent at church, begrudgingly wearing a fluffy pink dress (to humor my mom on her day), and a family trip to buy oodles of flowers for all of us to plant together.
It was easy. We had a routine. I knew what to expect.
But Mother's Day is different for me now.
Of course, I still think about how wonderful my own mother is and what a true blessing she is to me. Her strength. Her incomparable beauty. And her grace, my goodness, her grace.
But this would have been my first Mother's Day as one, had my life gone down a different path—had my Peanut survived to be born into this world. I can't help but spend a few moments in silence mourning that parallel life.
Last night I made a new friend while bowling.
He is three years old. He is perfect. He has this gigantic, bubbly, playful personality. He has some crazy dance moves. And the little man gives epic high-fives.
I looked into his precious little face and my heart broke a little because I'll never know the face of my little Peanut.
I know he would have had light eyes—the beauty of understanding basic genetics, recessive genes and a Punnett Square. There's a good chance he would have had a head full of curly dark hair. And I expect he would have had an entirely mischievous smile like his daddy. And my heart knows he would probably have had a completely magnificent little personality. Most importantly, I know he would have had the biggest, most wide-open, sparkly heart.
Here's a moment where life is extra tricky. There is nowhere in the world I'd rather be. I'm happy to infinity and beyond.
But, and this is the proverbial but, I also want to be able to hold my Peanut's tiny hand.
I want to see what kind of dance moves he could dream up. I wonder if he would have loved Batman or Spiderman or Rainbow Brite. I secretly hope for Rainbow Brite.
I wonder if he would have happily snuggled with me. I wonder if he would have devoured books like I do. I wish I could see him crawl into his Grandma's lap and tell her he loves her.
I wish I could see the twinkle in my Mom's eye when she first met him. I wonder if the texture of bananas would have repulsed him as much as they do me.  I wonder if he would have chosen to be a Hawkeye like his Grandpa or bleed Husker Red like his Uncle Chris.
I wonder so many things.
I want to laugh as he learns words and sings songs and tells stories. I want to hold him when he is scared or sick.
Mostly, I want to be his friend. I want to know him. And I want to raise him to be a good and kind human.
But I won't get to do any of those things—because while he will always be mine, I'll never know him.
And as the years pass and I see the seasons change, I think I'll always wonder about the life that ceased when I lost my baby boy.
And as Mother's Day approaches each year and I'm reminded of that little nugget of mine, I think I'll always wake up in the middle of the night remembering fleeting dreams that contain snap shots of the stolen life of the slightly iridescent, dark-haired, light-eyed little prince that I lovingly dubbed Peanut.
So this Mother's Day I will do some yoga in the warmth of the sun. And I will drink mimosas in the country. And I'll celebrate the beauty of Mother's Day, but I think I'll allow myself to mourn as well.
I think it's okay to be both happy and sad. This Mother's Day, I'll inhabit the inevitable grey area between the two.
~
Relephant:
~
Author: Jessica Chardoulias
Editor: Caitlin Oriel
Photo: J N/Flickr