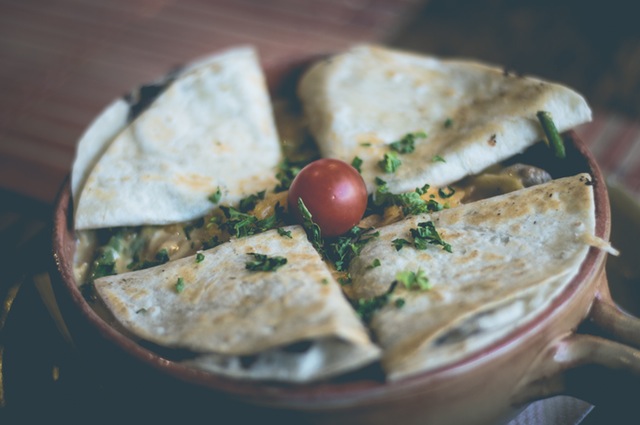 I make mushroom-stuffed quesadillas all the time, but the other day when I was craving them, I found I had no mushrooms in the house. I did, however, happen to have a batch of leftover roasted veggies with fennel seed—and the rest, as they say, is history.
I was surprised by how much the addition of a few extra vegetables and some roasting improved the overall awesome-ness of this recipe, but I shouldn't have been. Anytime a medley of plants meets olive oil, spices and some heat, great things happen.
The fennel seed here makes the real magic; it adds an earthy sophistication to an otherwise ordinary bunch of ingredients.
As with all my favorite dishes, this one is hearty, healthy, easy and economical.
Roasted Veggie Quesadillas with Fennel Seed
serves 4
For the roasted veggies you will need:
1 zucchini
1 red onion
1 red pepper
1 yellow squash
2 cups mushrooms
2 tsp fennel seed
2 T. olive oil
sea salt and fresh cracked pepper to taste.
Cut all veggies into small bite sized pieces and spread out in a single layer on a large baking sheet. Drizzle with olive oil and spices, and massage into the veggies until they are evenly coated.
Bake in a 400 degree oven for 25 minutes. Store in an airtight container up to three days.
For the quesadillas you will need:
4 large tortillas (I like to use spinach)
2 cups vegan shredded cheddar cheese (if not vegan, you may use 2 cups shredded low fat or regular Mexican cheese)
1 T. olive oil
8 T. prepared  guacamole
Sriracha if desired
Make these two at a time, and keep the first two warm in the oven while you work on the second batch.
Heat 1/2 T. oil a large pan. Lay down 2 tortillas and layer 1/4 cup cheese, 1 cup veggies and another 1/4 cup cheese evenly across half of each. Fold over, press down, turn heat down to medium and cover pan.
Cook 3 to 5 minutes until bottom side is nice and brown (keep checking now and then). Flip, and cook the other side, covered, another 3 to 5 minutes until brown.
Remove from pan and use a pizza cutter to slice each quesadilla in half (this makes them mush easier to eat). Top with 1 T. guacamole per half, drizzle on Sriracha if desired and dig in!
~
Relephant Read:
~
Author: Erica Leibrandt
Editor: Toby Israel
Image: Pexels
~