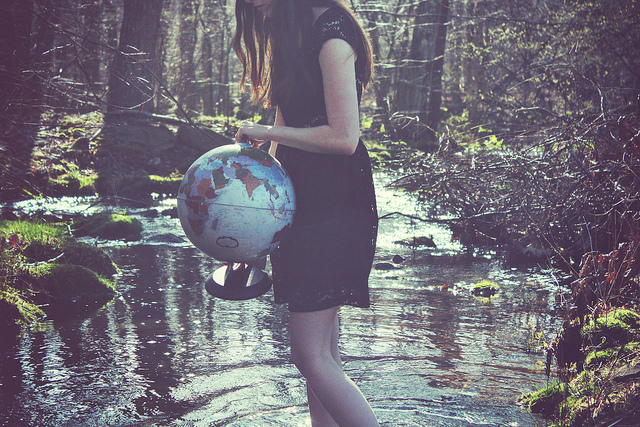 "Whoever uses the spirit that is in him creatively is an artist. To make living itself an art, that is the goal." ~ Henry Miller
Leaning against a small window at 36,000 feet, somewhere between times zones, looking out over a world of clouds and scattered light blazing gold-orange-and scarlet, life does feel like a work of art.
Travelers are a unique breed of artist, weaving through the seams of the world, brushing their hands across new places. They find inspiration, the thought-seeds that slowly grow into adventures, in broken bits of conversation, drawings torn from journals, strange sounding names of places scribbled across the backs of old train ticket stubs. And sometimes, often times, in books.
There is something in the beauty of language that sweeps us up and away, that is sometimes able to capture the feeling in our chest as we begin sketching out our next journey, that reminds us of why we live this way and why it makes sense to us.
Here are some such words, to inspire wandering in the world and the following of curiosity, whether through our own backyard or across the ocean:
"Live in the sunshine, swim the sea,
Drink the wild air's salubrity…"
~ Ralph Waldo Emerson, Merlin's Song
"I ask, 'What do you do in all these countries?
Look around. Walk. Find a cheap bed. Eat what the locals eat. Find a cheap beer. Try not to get fleeced. Talk. Pick up a few words in the local lingo. Just be there, y'know? Sometimes,' Brubeck bites into an apple, 'sometimes I want to be everywhere, all at once, so badly I could just…' Brubeck mimes a bomb going off in his ribcage. 'Do you never get that feeling?'" 
~ David Mitchell, The Bone Clocks
"She was free in her wildness. She was a wanderess, a drop of free water. She belonged to no man and to no city." 
~ Roman Payne, The Wanderess
"There is pleasure in the pathless woods,
There is rapture on the lonely shore,
There is society, where none intrudes,
By the deep sea, and music in its roar:
I love not man the less, but nature more…"
~ Lord Byron
"At night… We would look out over the immense sea, full of white-flecked and green reflections, the two of us leaning side by side on the railing, each of us far away, flying in his own aircraft to the stratospheric regions of his own dreams.
There we understood that our vocation, our true vocation, was to move for eternity along the roads and seas of the world. Always curious, looking into everything that came before our eyes, sniffing out each corner but only ever faintly—not setting down roots in any land or staying long enough to see the substratum of things; the outer limits would suffice."
~ Ernesto Che Guevara, The Motorcycle Diaries
"The particulars of new places grabbed me and held me, the sweep of new coasts, cold, lovely dawns. The world was incomprehensibly large, and there was still so much to see.
Yes, I got sick sometimes of being an expatriate, always ignorant, on the outside of things, but I didn't feel ready for domestic life… I liked surrendering to the onrush, the uncertainty, the serendipity of the road. And I generally liked being a stranger, an observer, often surprised."
~ William Finnegan, Barbarian Days
"I am in the most magnificent health and spirits, eating like a bull, sleeping like a tree, yet I shall not enjoy a moment till I hear my old tarpaulins tramping round the capstan. Seaward ho! Hang the treasure! It's the glory of the sea that has turned my head."
~ Robert Louis Stevenson, Treasure Island
"I am the daughter of Earth and Water,
And the nursling of the Sky;
I pass through the pores of the ocean and shores;
I change, but I cannot die.
For after the rain when with never a stain
The pavilion of Heaven is bare,
And the winds and sunbeams with their convex gleams
Build up the blue dome of air,
I silently laugh at my own cenotaph,
And out of the caverns of rain,
Like a child from the womb, like a ghost from the tomb,
I arise and unbuild it again."
~ Percy Bysshe Shelley, The Cloud
"Down on the lake rosy reflections of celestial vapor appeared, and I said, 'God, I love you' and looked to the sky and really meant it. 'I have fallen in love with you, God. Take care of us all, one way or the other.'"
~ Jack Kerouac, The Dharma Bums
"I will arise and go now, for always night and day
I hear lake water lapping with low sounds by the shore;
While I stand on the roadway, or on the pavements grey,
I hear it in the deep heart's core."
~ W.B. Yeats, The Lake Isle of Innisfree
"…trust in Creation which is made fresh daily and doesn't suffer in translation. This God does not work in especially mysterious ways. The sun here rises and sets at six exactly. A caterpillar becomes a butterfly. A bird raises its brood in the forest and a greenheart tree will only grow from a greenheart seed. He brings drought sometimes followed by torrential rains and if these things aren't always what I had in mind, they aren't my punishment either. They're rewards, let's say for the patience of a seed."
~ Barbara Kingsolver, The Poisonwood Bible
"Explorers are not, perhaps, the most promising people with whom to build a society. Indeed, some might say that explorers become explorers precisely because they have a streak of unsociability and a need to remove themselves at regular intervals as far as possible from their fellow men."
~ Member of the Royal Geographical Society (via David Grann)
"Deep down inside me a tiny voice was calling. At first scarcely audible, it persisted until I could no longer ignore it. It was the voice of the wild places, and I knew that it was now part of me forever."
~ Percy Fawcett
"Start walking and keep walking until you no longer know the road like the palm of your hand, because we walk the same roads day in and day out, to the bus and back home and we cease to see.
We walk in our sleep and teach our muscles to work without thinking and I dare you to walk where you have not yet walked and I dare you to notice. Don't try to get anything out of it, because you won't. Don't try to make use of it, because you can't. And that's the point. Just walk, see, sit down if you like. And be. Just be…"
~ Charlotte Eriksson
"Who could say the words 'Great Smoky Mountains' or 'Shenandoah Valley' and not feel an urge, as the naturalist John Muir once put it, 'to throw a loaf of bread and a pound of tea in an old sack and jump over the back fence'?"
~ Bill Bryson, A Walk in the Woods
"Tell me, what is it you plan to do with your one wild and precious life?"
~ Mary Oliver
Author: Chrissy Tustison
Image: Martinak15/Flickr
Editor: Emily Bartran