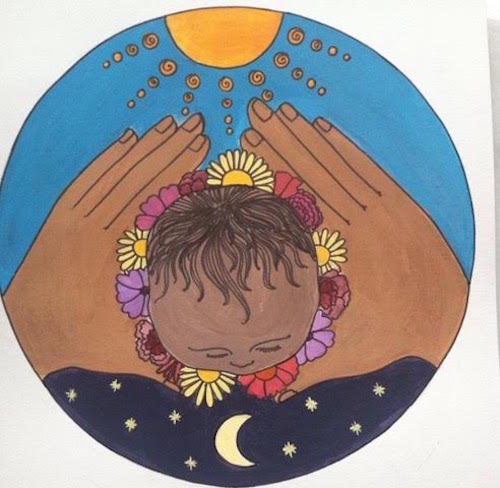 "I dreamt a limitless book, a book unbound, its leaves scattered in fantastic abundance.
 On every line there was a new horizon drawn,
 new heavens supposed;
 new states, new souls." ~ Clive Barker
~
As I sit in bed with my baby resting upon my chest, barely a few inches from where she was born, I think about everything I have gone through with her, a beautiful life-affirming experience that will stay with me until my last breath.
Calm, serene and blissful, baby Yasmina was born at home onto our bed and gave a gentle sigh for her first breath to a delighted audience of six—myself, my husband, my mother, a doula and two lovely midwives.
I remember wanting to be in my own bed, my own birthing pool and to wander my own home as needed. My belief that I would feel more in control during labor if I was at home was important for me. Thinking back on it now, I wouldn't have had it any other way.
It was crucial for me to think about labor as something that I was going to do, rather than something that was going to happen to me.
I was convinced that my body and my baby's body were designed to create safety for one another.
With that in the back of my head, I actively worked with my baby during birth. It was a powerful experience to watch my body swell with so much life, to inhabit my body and to worship every laboring symptom with patience and trust, knowing innately that I was capable and specifically designed to grow and nurture this life within me.
I journeyed through my labor, just like I did through my pregnancy, not dictated by time or rubrics. I was simply in labor and knew that when my baby was ready, she would emerge with the same ecstasy and love that conceived her life.
When her labor began at midnight, I didn't wake my husband up until a little later.
It was definitely happening. No panic, no fuss, just a real sense of knowing what needed to be done. I tried to rest, and called Justine, my doula. She encouraged me to take a warm bath to try and slow things down and get some rest. I got in the water but my contractions were consistent and increasing in intensity. During each contraction, intense but effective, I paced around the dining room table, making myself stay in motion to help the process along. Between them, I stretched my back on the living room couch and let myself rest.
We—my daughter and I—did this on our own for a few hours before I woke my husband up and suggested he call the midwife.
When she arrived, she monitored my progress from a distance. Listening to my breathing, but staying out of my space. Candles (electric ones because we almost burned the room down with the real ones—funny in retrospect and not particularly zen at the time), chilled music, pool.
All lovely, but I was getting into a bit of a mental downward spiral, transition maybe, and found the water oppressive rather than safe. My midwife suggested that I might benefit from a change of scene. Once in my own room, things escalated quickly. The pauses between my surges were the only rest my body would get. My frame felt so light, yet so fragile and numb. Through my half-open eyelids I could see my husband, patiently waiting for me to call upon him. I effortlessly drifted into sleep because I had been laboring for almost 12 hours, but the pauses were brief and the surges resumed.
As my surges became more intense, my body had no desire to fight them.
I felt my body vigorously shake through surges and immediately knew that this was a sign that the birth was near. I kept to myself a lot, connecting with my breath, staying grounded and present with what was coming. I let go and surrendered to my body, trusting the wave of force that was taking over.
I felt her head descend and knew it was time.
I remember the sound of my own voice as I pushed on all fours. Really raw, loud and deep groans. I felt her head emerge with my hands and I pushed a few more times until I felt a hot gush, a wriggle and then a sudden slither of legs and arms between my thighs.
She was pure and perfect. Her frame was tiny and fragile. Her head was covered with thick hair. Her voice was calm yet powerful. Time stopped for a moment, but life began.
When people ask me about my labor I say it was everything I wanted it to be.
Nothing else ever sounded right. While my surges at the end of my labor were incredibly intense and all encompassing, not for a moment did I feel fearful, defeated or out of control. It was incredible. With each contraction, I met the surge with a blessing of "one more closer to meeting her."
I loved how clearheaded and present I felt without pain relief and how supported I felt by my husband and my midwife. I have never felt as empowered and strong as I did after I birthed her, and I still carry it in me until this day.
Birthing my baby at home was one of the most powerful and fulfilling experiences of my life.
Although gratitude pours from every cell in my body for such an experience, it's still an experience that needs to process. It felt surreal for days after. I simultaneously felt as close to death and as alive as I have ever been.
I believe it is every woman's right to receive the best possible, most respectful care available to her, in a setting where she feels safe giving birth. This could mean a hospital or a home birth.
Whatever she chooses, she needs to feel like a partner in her care, not a subject of it.
"Magic is a relationship forged in the ordinary. It is our endurance through the unknown, unyielding times. It is faith in the as yet unmanifest. It is the invocation of the large, but while praising the small. Magic is the redoubling of our vow when disappointment befalls us, a shoulder to the wheel of our intent."
~ Dreamwork with Toko-pa
~
Author: Afkar Barakeh
Editor: Ashleigh Hitchcock
Photo: courtesy of the author