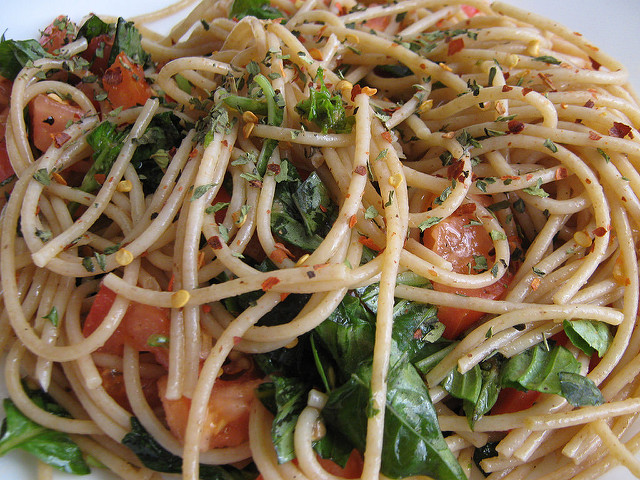 Considering whether or not to become vegetarian or vegan can be quite overwhelming.
It's a lifestyle change that can require strength and determination to follow through on, as our supermarkets, restaurant menus and family gatherings are all heavily biased toward meat and dairy-laden diets.
Even if you're feeling pulled by the environmental or compassionate arguments in favor of such a move, making the commitment can feel daunting. We're creatures of habit and making lifestyle changes requires preparation and planning until we get into the swing of it.
For many, it's so daunting that they just park the idea and keep going with their habitual lifestyle.
But it doesn't have to be so black and white, all or nothing. Until such time as we feel ready to take the full leap, there is a limbo land where we can dip our toe in the water, and make a meaningful difference while we're sussing out this potential new lifestyle.
Meat Free Mondays is an ongoing campaign to help us do that. Commit to not eating any kind of meat product at any meal on Mondays (or choose a different day if it suits better) for a month, six months, a year. Get in the habit of being prepared for regular meat-free days and review after a period how that worked for you—health-wise, budget-wise, time-wise and conscience-wise.
Even if we decide not to make the full-time leap and simply stick with one or two days a week, it does make a meaningful difference and is so much better than consuming meat and dairy all the time.
If you'd like to give it a go tomorrow, here's a suggested meal plan to prepare—so you don't fall off the wagon on your first attempt:
Breakfast: Banana and Peanut Butter Overnight Oats
This just takes a few minutes to prepare but, as the name suggests, you will need to prep this Sunday night if you want to have it on Monday. I have found it to be good for two nights, so a few extra minutes can take care of breakfast on Tuesday too.
Lunch: Three Bean Salad
This recipe is also perfect for plant-based diet newbies as it's quick and easy to prepare and can take care of lunch or supper for a few days—if it lasts that long. Ideally, make it this Sunday evening after preparing your oats. While it's perfectly tasty when freshly made, it's one of those dishes that improves if given time for the flavors to marinate together.
Dinner: (Yummy) One Pot Pasta
Sticking with the "quick and easy" theme, this isn't one to prepare ahead. Instead, make it right before you want to eat it. You'll need less than 20 minutes to go from slicing your onion to slurping your brothy pasta.
I'll be offering weekly ideas and recipes here, and if you have your own favorite suggestions for people starting out on the meat-free journey, please share them in the comments below.
For more information on Meat Free Mondays, visit their website. And for last week's meatless meal plan, click here.
~
Author: Hilda Carroll
Image: Flickr/evoixsd
Editors: Catherine Monkman; Sarah Kolkka