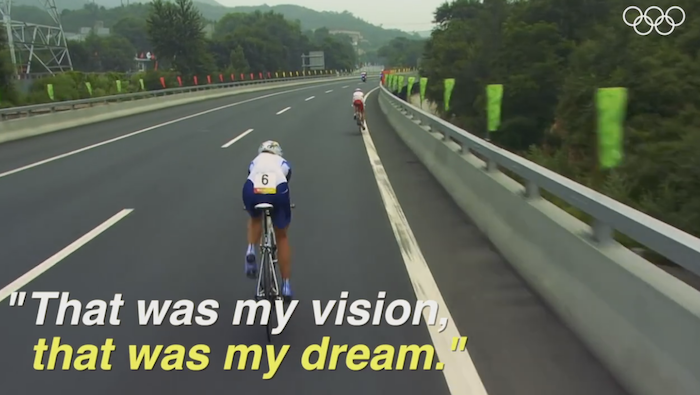 American cyclist, and mother, Kristin Armstrong (no relation to Lance) wowed the world last Wednesday as she became the first cyclist to win the same cycling event consecutively at three separate Olympic Games, and on the eve of her 43rd birthday, at that.
After battling less than ideal weather and road racing conditions, a bloody nose, and extremely fierce competition from Russia, Kristin crossed the finish line and immediately collapsed to the ground following an all-out, intensive effort to win her third gold medal.
After Kristin was treated on-site by Olympic medical staff, she was embraced in a hug from her five year old son Lucas, who was concerned for his mother's exhausted state—and by her tears.
"That's what we do, we cry when we're happy."
Armstrong is not only the first American woman to win three gold medals in the same individual event at the Summer Olympics, but she also became the oldest female Olympic cycling champion ever.
The Boise, Idaho resident has previously spoken of her motivation to train for the Olympics saying:
"What woke me up every morning, in the really cold, frigid mornings, was a vision of having Lucas on the podium with me."
This was a vision that was realized after her win at the 2012 games in London, and she then again had her son Lucas by her side this month at the finish line in Rio de Janeiro, Brazil.
Kristin has also spoken of further inspiration that she received prior to her win in Rio, in the form of hand-written notes left in strategic locations for her to find by her U.S. team mate, Mara Abbott.
Armstrong said to have found notes in her coffee cup, on her hairbrush, and on her pillow leading up to race day that simply read:
"You are a champion."
Armstrong said after her win:
"I knew today I had to give it everything for my team and for Mara. The support she has given me…is phenomenal."
Armstrong has previously spoken to the fact that while cyclists tend to receive individual glory after their wins, it truly is a team sport.
When discussing winning the gold at her age, at interviews in Rio, Armstrong stated:
"I think for so long that we've been told that we should be finished at a certain age, and I think that there are a lot of athletes out there that are actually showing that that's not true."
She went on to speak specifically to mothers, saying:
"For all of the mom's out there, I hope that this was a very inspiring day. I know that balance is my secret weapon, and that working…and being a mom, has been my secret weapon. It provides me balance and it keeps me on track and it keeps me super focused."
Armstrong had originally retired from the sport of cycling after the 2008 Beijing Olympics, where she won her first gold, in order to start a family.
She later came out of retirement for the London games in 2012, and then retired again until late 2014.
"I didn't think that I was going to come back either time. After being a mom, and after having several hip surgeries in 2013, but as an athlete, it's really difficult because we miss those goals. We're just competitive by nature."
She went on to say:
"I know that I can go out and that I have a great message to share. I feel like I'm an inspirational person, and I've made history now in the Olympic games for the US, and I'm proud of that. I'm really happy and feel very, very good about the accomplishments that I've had."
Armstrong, rightfully so, received a hero's welcome when she returned to her hometown of Boise on August 15th, as she was greeted by fans and supporters who chanted "USA" as she entered into the airport.
The athlete was moved to tears and said:
"It took everything I had."
Showing that although she is a tough and resilient athlete, she has a heart of gold that most certainly matches her third Olympic medal. She told her youngest supporters through her tears of joy:
"When people don't believe in you, you have to believe in yourself."
~

Author: Heather McLendon Hart 

Picture: Video Still

Apprentice Editor: Justine O'Connell; Editor: Travis May