Note: elephantjournal.com received these review items for free, in return for a guarantee that we would review said offering. That said, we say what we want—good and bad, happy and sad.
The veggie I'm going nuts over:
"TigerNuts are not nuts, they are small root vegetables which comprised 80% of our Paleo ancestors' diet around 2 million years ago. This ancient superfood originates from Africa. It is currently cultivated in West Africa & Spain. TigerNuts are rich in prebiotic fiber. Prebiotics act as food for your body's natural organisms. They help your gut's natural probiotics thrive. A single ounce of TigerNuts has 40% of our daily recommended fiber!"
Organic Gemini has taken this little root veggie "nut" to a whole new level with a wide variety of TigerNut products: TigerNuts original, peeled or sliced, Horchatas, Smoothie Mixes, Granola, Gluten-free and Nut-free Flour, TigerNut Oil.
The all-stars of the line up:
• TigerNut Raw Snack Original: These little wonder "nuts" are my stomach's new bestie. Perfect mid-day snack or trail companion. Energizing but doesn't weigh you down like some nuts can make you feel heavy. Raw, nut- & gluten-free. I'm hooked. Boyfriend approved too!
• Sliced TigerNuts: My go-to salad topper. I started adding a handful or two onto my salads each evening, adds a bit of nutty kick and extra fiber. These little slices make my salads and smoothies dressed to impress.
• TigerNut Smoothie Mix in Super Boost & Chocolate: Whipping up a power smoothie became my daily routine to combat the 3 p.m. brain fog. This protein powder, unlike most on the market, is protein derived from these root veggies, therefore is truly plant-based, doesn't have hidden sugars, doesn't include soy (ditch the soy, my friends) or whey. See my so-tasty-you'll-think-it's-dessert smoothie recipe below.
• Banana Cacao Raw granola: Sweet enough to not add honey, but not too sweet so I avoided any mid-morning crash. The little bits of cacao brightened my mornings.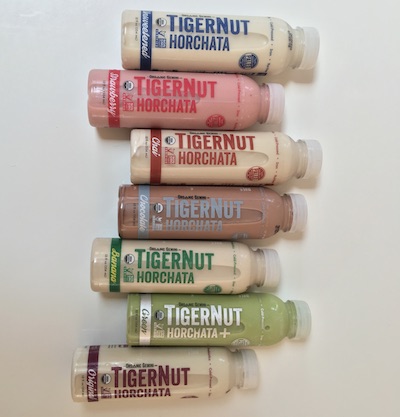 As much as I enjoyed the Horchata smoothies—they are quite tasty and I haven't seen anything else similar on the market in those flavors—I personally feel like I can't suggest them just because of the plastic. I would love to see these Horchatas in glass!
Overall, I highly recommend these. They are 100% organic, gluten-free, allergen-free and diary-free. They've made it easy (and hip, a nod to their packaging designs) to incorporate these little veggies into a daily diet in a variety of ways, keeping my taste buds intrigued. I felt like these snacks, in all forms—raw and whole, mixed in smoothies, used as a flour—gave me a weightless perkiness—a good sign of the quality, simple ingredients.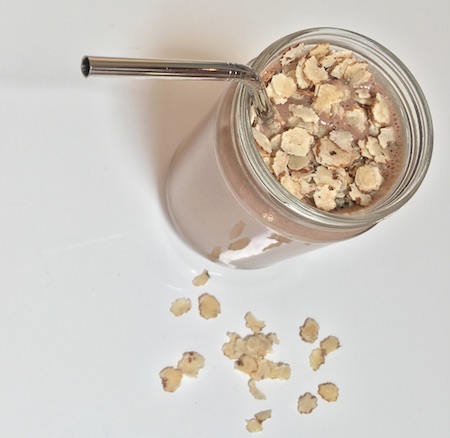 Banana, Chocolate, Almond Butter Super Boost Smoothie:
Makes two 16 oz smoothies
• 2 cups almond or hemp milk
• 2 TBSP Almond Butter
• 3 TBSP TigerNut Chocolate Smoothie Mix
• 3 TBSP TigerNut Super Boost Smoothie Mix
• 3 to 5 Bananas (depending on size and your love of bananas)
•  Add ice if you want it to be like a milkshake!
•  A handful of TigerNuts sliced
Add all ingredients to a blender and blend well. Top with sliced TigerNuts. Delicious and a real morning or afternoon pick-me-up.
Bonus, there are tons of recipes on the Organic Gemini site.
Photos: Author's own