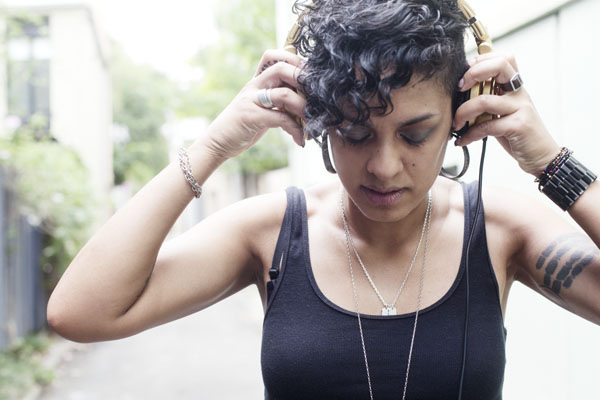 A certain song can hit us immediately with a wave of emotion. Memories replay back in our minds. We cry, we cheer, we reminisce. We're transported to an entirely new world. Really, music is the best mentor we could ever ask for. We'd be lost with it, right?
So when we're in a weird in-between stage of transformation (or realizing we need one asap) meaningful music is vital. We're feeling stuck on the road we're on, but yet, inspired to change, to pave our own path.
What tunes should we choose on our journey of self-discovery? Below is a list to get us started—music that equally touches us at our most vulnerable, and victorious. Play them when waking up, going to bed or even showering (anytime we're in a state of stillness), and see which songs strike a chord. Some may, while others won't, but just let any natural emotions arise without judgment.
"You Are Loved [Don't Give Up]"
Josh Groban
"Don't give up
It's just the weight of the world
Don't give up
Everyone needs to be loved
You are loved."
Dark clouds hang on all of us sometimes, but Groban reminds us (in his bellowing, beautiful voice) to hang in there, and "Don't give up."
Love is something we all need, and deserve. No matter how broken we may feel, we don't have to "take on the weight of the world" alone.
Who "gets" and supports us without question? This song is a testament to that/those beacon(s) of light in our lives (be it a parent, a partner, friend, pet, a stranger's compassionate eyes, Mother Nature, "God," or whatever higher reality we may believe in). Let love in, and know everything will be okay.
"That I Would Be Good"
Alanis Morissette
"That I would be loved even when I numb myself
That I would be good even when I am overwhelmed
That I would be loved even when I was fuming
That I would be good even if I was clingy."
We'd all love to say we feel self-empowered 24/7—but that is a lie, no matter how "secure" or "grounded" we feel. Morissette (per usual) offers us a stripped-down, raw anthem; but this time for those days we feel lost, self-critical, ashamed.
The affirmation "I am _________" can easily be as powerful ("I am lovable, I am strong, I am whole")  as it can be demeaning.("I am a loser, I am pathetic, I am broken"). And oftentimes to get to that place of inner strength, we have to start somewhere—one shaky step at a time, if that's what it takes.
We should all strive to feel unconditional love (first for ourselves, and then for those we let in). We are all flawed and go through funks, but we must embrace that we are human and "enough" as we are, right here and now.
"You Gotta Be"
Des'ree
"You gotta be
You gotta be bad, you gotta be bold, you gotta be wiser
You gotta be hard, you gotta be tough, you gotta be stronger
You gotta be cool, you gotta be calm, you gotta stay together
All I know, all I know, love will save the day."
What doesn't kill us, makes us stronger, right?
Soulful singer Des'ree turns this common message into a soul-filling anthem—one that makes overcoming adversity suddenly feel seamless, inviting (just listen to the first few chords: we can practically feel the sun rising and clouds separating).
This song is essentially a meditation in "how to be" when we're defeated. We need to stop comparing ourselves, tune into our own inner guide ("try to solve the puzzles in your own sweet time / Some may have more cash than you / Others take a different view""), and realize we're all different people just trying to live our best life.
Acknowledge the pain ("go ahead, release your fears…don't be ashamed to cry"), but then still choose the higher (and happier) road.
"Everybody Hurts"
R.E.M
"Everybody hurts
Take comfort in your friends
Everybody hurts
Don't throw your hand Oh, no
Don't throw your hand
If you feel like you're alone, no, no, no, you are not alone."
When we feel down (whether it's a little, or suicidal rock bottom) it's okay to wallow. We first need to feel the sorrow sucking our souls, and release it—cry, retreat, scream.
But then, we need to kindly stop, if for a moment. Let's put on this R.E.M. song, and mentally step outside each of our caved-in walls of glass (just like the people in this brilliant music video do, who are also initially stuck literally and emotionally).
While our struggles often feel so personal, suffering is universal—we're all in this crazy ebb-and-flow, up-and-down life ride together.
So let's have compassion for ourselves, and for others. Know that no matter how "happy" or "successful" everyone around you seems, we all could use a hand (and an empathetic heart).
"Army"
Ellie Goulding
"I know that I've been messed up
You never let me give up
All the nights and the fights
And the blood and the breakups
You're always there to call up
I'm a pain, I'm a child, I'm afraid
But yet you understand
Yeah like no one can."
Forget about the typical love songs we all hear on the radio. This tune is a loving tribute to our forever friend or mentor—that one person that gives us outer support and inner strength, no matter what, when, where or why—be it at our best or most broken moments.
Our lifetime comrade picks us up through every battle and celebrates every one of our personal conquests. The song's repeating metaphor says it all: "When I'm with you / when I'm with you / I'm standing with an army."
We have to give a shout-out to Hay House author (and awesome intuitive mentor) Rebecca Campbell for adding this song to her Lightworker Anthem list first.
"Release"
Pearl Jam
"Oh dear dad
Can you see me now
I am myself
Like you somehow
I'll wait up in the dark 
For you to speak to me
I'll open up
Release me
Release me
Release me
Release me"
This song is heart-wrenchingly raw. What are we holding in? Fear, stress, deep despair? Whether someone negative in our life is weighing on our soul, or if someone that meant the world to us has passed away, this song is a catharsis; a calling to "release" these bottled-up emotions we've been swimming in for so long.
Let the flood of tears take over for a moment if they come. Feel the toxic energy seep out of the bones, the chest grow lighter. Let go. Be free. Breathe again.
"Kind and Generous"
Natalie Merchant
"You've been so kind and generous
I don't know how you keep on giving
For your kindness, I'm in debt to you
And I never could have come, this far without you
For everything you've done, you know I'm bound
I'm bound to thank you for it."
Gratitude. It's the feeling that universally grounds each and every one of us, regardless of sex, age, nationality, or life experience.
Like Goulding's "Army" song, Natalie Merchant created this "Kind and Generous" song to celebrate appreciation at its most simple (yet ever-sweet) core. Whether our current life right now is overflowing with blessings, or feels like it's spinning out of control, tune inward and be thankful for what you do have.
Get out that gratitude journal and start writing as this song streams in and out of your heart, letting your soul express thanks.
"Man In The Mirror"
Michael Jackson
"I'm starting with the man in the mirror
I'm asking him to change his ways
And no message could have been any clearer
If you want to make the world a better place
Take a look at yourself, and then make a change
I've been a victim of a selfish kind of love 
It's time that I realize
That there are some with no home, not a nickel to loan
Could it be really me, pretending that they're not alone?"
Self-love is the key to inner peace, but it's also not (entirely) enough.
This Michael Jackson song reminds us how to unlock our highest spirit connection: love ourselves, and pay that love forward. Our inner transformation work will only expand if we contribute to the greater good of society, in whatever small or big way we can.
Smile at a stranger. Stand up for someone being belittled. Donate, volunteer at a food shelter, find a cause we personally care about and decide to be a piece of that puzzle.
When we feel bad about ourselves, we should show empathy to others, and connect. Be the change you wish to see in the world.
"Be Here Now"
Ray LaMontagne
"Don't let your soul get lonely
Child, it's only time, it will go by
Don't look for love in faces, places
It's in you that's where you'll find kindness
Be here now, be here now
Be, be here now, be here now."
Let's stop the rat race.
When we are seeking advice or feel troubled, we need to do these two things: (1) look within ourselves for an answer, before (or ever) searching for it from other people, places or things, and (2) be present (and let go of the past or the future).
Our minds can be busy bodies, but it's important to stop the inner chatter and really feel what it is we're feeling.
This would be a peaceful tune to use during meditative yoga session (or savasana time!).
Rather than seek answers, let the answers come to us.
"Where The Streets Have No Name"
U2
"I want to run
I want to hide
I want to tear down the walls
That hold me inside
I wanna reach out
And touch the flame
Where the streets have no name
I want to feel, sunlight on my face 
I see that dust cloud disappear without a trace
I wanna take shelter from the poison rain."
Utopia. Ahh—what would a perfectly peaceful place look like? Feel like? Could we even imagine a world with no definitions, rules, divisions, names? A place without government, money, technology and cultural expectations?
When life feels limiting, we need to take a step "outside" of our busy existences and environments. Go for a revitalizing run, or do an imagery-active meditation and let this U2 song bask over you like a ray of beaming, bright light.
Even if it's for mere seconds, we can unshackle our lives from societal norms and the "noise." Take comfort in the powerful world inside, where the soul can always run wild and free.
"Beneath Your Beautiful"
Labrinth (featuring Emile Sande)
"You've carried on so long,
You couldn't stop if you tried it.
You've built your wall so high
That no one could climb it,
But I'm gonna try.
Would you let me see beneath your beautiful?
Would you let me see beneath your perfect?
Take it off now, girl, take it off now, girl
I wanna see inside."
We are so much more than our exterior selves (our looks, our shape-shifting personalities, our possessions, our words). It can be really difficult to be 110 percent ourselves with others. But for those who matter, it is worth it to be our real (raw) selves.
So often we are afraid of getting hurt, be it in love, or just stepping into our own light. The "Beneath Your Beautiful" lyrics particularly seem to be about two people treading around love, trying to connect on a heart and soul level—but each blocked off by the other's insecurities (their ego armour, so to speak.) Those struggling with a relationship right now will resonate most with this tune.
But bottom line: we want others (be it romantically or not) to fall in love with our naked souls. Know that true beauty lies within—so put down that guard with the right person/people.
"Forever Young"
Rod Stewart
". . .And may sunshine and happiness surround you when you're far from home.
And may you grow to be proud, dignified and true.
And do unto others as you'd have done to you.
Be courageous and be brave.
And in my heart you'll always stay
Forever young. (Forever young)
Forever young. (Forever young)."
Let this song be a loving letter to your inner child. We're not getting any younger (it's a fact), but  that doesn't mean our inner light has to be dimmed to be an adult.
We oftentimes get lost in the busyness of life or torn on too many choices, stuck with an all "all work, no play" attitude. But we can unplug from that outlet of life. We can reignite our innocent, free-spirited spark, and ask: "What would our 'mini me's' say or do?"
Whether our parents were/are actually loving and supportive in our life (like this song invokes), or have severely hurt us and made us feel low, it does not matter. We need to be proud of our life journey and values, just like a parent would. Rod gives us exactly the words we crave to hear: "But whatever road you choose, I'm right behind you win or lose."
So go forth, and be great!
~
Author: Hannah Fredenberg
Images: Flickr/Audio-Technica 
Editor: Erin Lawson