I cannot count the number of times I have broken down and cried after seeing or reading reports about animal abuse.
I understand that it might be easier on the heart to turn a blind eye, pretend it isn't happening, and instead watch or read fantasy or fiction, and live in a bubble of bliss where this type of cruelty doesn't "really" exist—but unfortunately, doing any of that will not solve the very real problem all across the world of extreme abuse towards countless innocent, defenseless creatures.
I cannot just turn or walk away from it, as much as it rips my soul to shreds. I have to accept that I share a planet with people who torture and inflict unimaginable and unnecessary pain and suffering onto animals, and in all honesty, sometimes this awareness is more than I can bear.
But I face it, so that it will propel me to take action and do whatever I can to support the work of those who've dedicated their lives to ending it.
One particularly gruesome (and difficult to watch) video that has garnered international outrage over the last couple of years shows senseless and barbaric cruelty captured during an undercover investigation carried out by Mercy For Animals at Chilliwack Cattle Sales in Canada.
The footage captured in May 2014 is both sickening and heartbreaking, and although I have seen many clips of abuse while supporting and raising awareness for various animal causes, the cruelty seen in this video is a horrific glimpse at what goes on behind close doors.
The footage from Mercy For Animal's hidden camera shows horrific scenes in which workers were: "Viciously kicking, punching, and beating cows in the face and body with chains, metal pipes, canes, and rakes. Sick and injured cows suffering from open wounds, oozing infections, and painful injuries left to suffer without proper veterinary care. Workers gleefully poking and squeezing festering wounds, ripping clumps of hair out of cows' sensitive tails, and punching bulls in the testicles. And workers using chains and tractors to lift sick and injured cows by their necks."
The Chilliwack dairy farm houses approximately 3,500 cattle and produces 100,000-litres of milk every day.
A subsequent investigation carried out at this dairy farm led to 16 animal cruelty charges under the Prevention of Cruelty to Animals Act and four charges under the Wildlife Act being brought against the farm's directors and seven of its employees. This is a groundbreaking case, as it is the first time a British Columbian company is being held accountable for animal cruelty.
On Tuesday October 4th, two years after that original investigation, the lawyer for Chilliwack Cattle Sales' stated in court that one of the company's directors, along with three of the seven workers, intend to plead guilty at the next hearing, scheduled for December 15th, 2016, although there was no indication of which charges the guilty pleas will relate to.
One of the workers has pleaded not guilty, and it is not yet known whether or not the other three of the seven workers who have had charges brought against them will plead guilty or not, although they will all be partaking in the 12-day trial in December.
Three of the men are also being charged with one count of cruelty under the Wildlife Act for allegedly "molesting a pigeon."
Following Mercy For Animal's investigation Norm Letnick, BC's agricultural minister, amended the BC Prevention of Cruelty to Animals Act to incorporate the Dairy Code of Practice to outline the minimum guidelines concerning the treatment and welfare of Canada's dairy cows. Penalties have been put in place for anyone convicted of causing suffering or distress to an animal.
Information gathered over a period of 18 months by the BC Milk Marketing Board subsequently found that over 25% of BC dairy farms failed to comply with the provincial Code of Practice for animal welfare. Inspection reports showed overcrowding, lame or soiled cattle, tails accidentally torn off by machinery, branding and dehorning of calves without pain medication, cows lying on concrete and failure to produce a manual outlining management practices on individual farms.
Nathan Runkle, President of Mercy For Animals, explained: "Justice is finally being served for these abused and exploited animals. This case graphically reveals the horrific cruelty and extreme neglect that dairy cows suffer on Canadian factory farms. The dairy industry has proven that it is incapable of self-regulation. Until the Dairy Code of Practice is given the force of law in every province, cruelty and neglect will continue to run rampant in Canada's dairy farms."
In Canada alone over 70% of cows spend their entire lives chained to a stall to produce milk and all of them have their calves ripped away from them the moment they give birth. Overall, on dairy farms 97% of calves are stolen from their mothers the moment they are born.
Every investigation that has been carried out by Mercy For Animals on dairy farms has found widespread and sadistic acts of cruelty towards animals.
Mercy For Animals expose and raise awareness for animal abuse and work tirelessly to bring about an end to the needless cruelty and suffering caused by the meat, egg and dairy industry. They promote the message that although the industries exist, it is the buyers that hold the greatest power by adopting a humane diet and choosing alternatives to meat, egg and dairy.
The world is changing, and more and more people are opting for vegan or vegetarian alternatives. One day, the people of the future look back on today's world and view the treatment and slaughtering of billions of innocent animals as an absolute atrocity; they will be outraged at what currently takes place in factory farms and slaughterhouses.
We all have the chance to make a difference, and to start choosing alternatives today. The animals have no voice. They cannot protect themselves. There are enough alternatives readily available that we can easily opt out and refuse to purchase from industries that use and abuse animals for their meat, fluid or skin.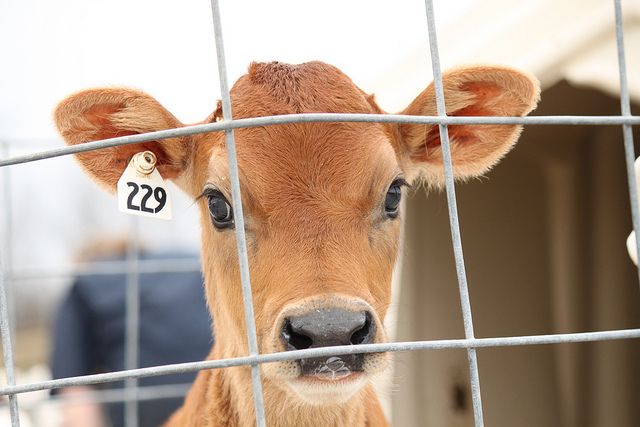 To view Mercy For Animal's graphic video click here. (Warning—disturbing footage.)
Vandhana Bala said of the footage: "The video of the egregious and sadistic cruelty at this Chilliwack dairy farm speaks for itself."
To order a free vegetarian starter guide please click here.
For a guide to dairy-free click here.
To follow the work of Mercy For Animals on Facebook please click here.
To find out more about the dark side of milk production please click here.
~
Author: Alex Myles
Images: Twitter @MercyForAnimals; Flickr/egrego2
Editor: Yoli Ramazzina