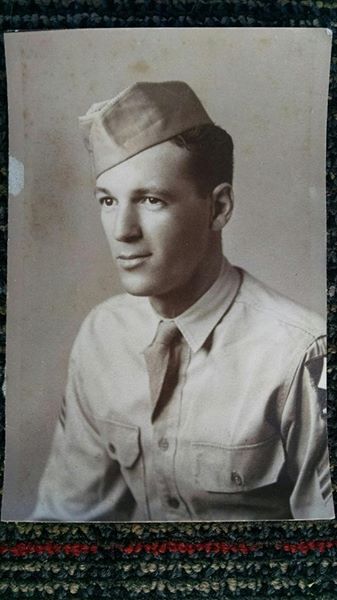 I was 15 months old when my mother dangled me like a carrot in front of my father.
He was missing his weekly trip with the guys to the hunting camp—a sure sign all was not well for him, not to mention he had been spitting up blood.
There they stood.
At this time on a Thursday morning, my father would usually be gone before my mother woke to care for me, but today he stood in front of her, pale, holding his gut.
"If you won't go for me, will you go for her?" my mother asked, knowing he was ill and had been for several weeks.
My father died a week later. He was a POW, and a recipient of the Purple Heart. As an avid sportsman, he contributed time and money to start a little league (Little League) baseball club in the small township in which he and my mother lived. He owned a business.
Shortly after he died, a large memorial sign with his name was erected on the baseball field commemorating his short life.
When I was a young girl, my mother told me two things that burned into my memory:
1. She could tell for several weeks that he was sick, yet he refused to seek help or go to a doctor.
2. He did not talk about his experience in the war. She only learned of his time as a POW after receiving a telegram, and there was no mention of it once he returned.
His sudden death might have been prevented had he sought medical attention sooner. He didn't know how to ask for help—this tool can make the difference between a life of quiet desperation and finding our authentic journey.
Growing up, I sought to be worthy of a hero's lineage, grasping for some sort of illusive connection with my phantom father's life. My extended Italian family shared many stories with me of his bravery, and while I wanted to honor his legacy, I was left alone to determine just how to do that.
Without the language and emotional support to express the grief and confusion I carried inside, my misguided attempts at emulating his legacy put me on a quest for perfection that was impossible to achieve. When I was a young woman, my silent struggles to be worthy finally culminated in an eating disorder. Seeking assistance and understanding that these ineffective coping mechanisms were harming my body and spirit became my new quest.
I needed help.
It isn't our perfection that inspires others; it's what we do with our imperfections that matters most.
Recovering from my own addictive behavior and discovering the grief I carried for my father, I entered my own heroine's journey. Admitting I needed help and feeling worthy to have my story witnessed became ongoing practices in my life. My father, for whatever reasons, was unable to ask for help when he needed it. But who am I to question his path? He lived in service as he believed he was called. He was a human hero, after all—as we all are. Through his legacy, I learned that asking for help is often the bravest action we can take.
"Nothing ever goes away until it has taught us what we need to know."
~ Pema Chodron
The answer to the pain is in the pain. Without the gifts of a masculine presence in my life, I have learned to parent myself, to accept my father's imperfections, forgive his weaknesses and honor his strengths. In doing so, I have more compassion for all, including myself, and have incorporated tools and practices into my life that bring honor to both of us.
Our ancestors, parents, leaders and mentors should inspire us to aspire for greatness, but not perfection. When we are lost, in emotional or physical pain, or unsure of what direction to go, we can ask for help. We learn from what our mentors teach us and model for us, but more importantly, we learn from their mistakes.
"Do you have five minutes to listen?" This is a common request in my own circle of friends, family members and communities today. We also have check-ins, and often use a talking stick to do so. These native traditions are part of my life now, and so is asking for help, sitting in circles, sharing stories and seeking support.
Even though I lost my father when I was just a toddler, I believe he is proud of me. In my life's spiritual and healing journey, his soul has met mine. Today, our bond is great.
Most importantly, I believe I honor his legacy as I learn from his mistakes. One of my most practiced tools in life is asking for help when I need it, seeking assistance from appropriate people to witness my own story.
Thanks, Dad.
~
Author: Sally Bartolameolli
Image: Courtesy of Author
Editor: Toby Israel
~