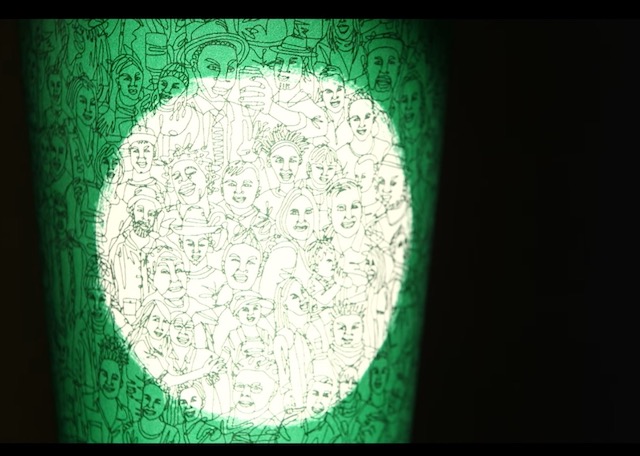 On November 1st, just in time for the election, coffee titan Starbucks released a creative new cup design. Naturally, people flipped out—and not for a good reason.
The cup, designed by artist Shoga Ota, is dark green with a white circle and depicts a diverse community of baristas, customers and everyone in between, all drawn in one continuous connected line.
Starbucks CEO Howard Schulz explains that, "During a divisive time in our country, Starbucks wanted to create a symbol of unity as a reminder of our shared values, and the need to be good to each other."
Yet somehow, a lot of people were still offended by this, and took to social media to decry the new cups and accuse Starbucks of liberal bias, political brainwashing and being anti-Christian. Unity, for the record, is not, and should not ever be considered a "liberal" value, and I have to say that I'm pretty sure Jesus himself would've been all for the idea of inter-connectedness.
Some of the current misunderstanding came from the fact that a lot of people mistakenly thought the cup was this year's holiday cup. Starbucks is no stranger to holiday cup drama. Last year their plain red cup drew the ire of customers who believed it was not "Christmas-y" enough, never mind that Starbucks sells a delicious roast known as "Christmas Blend" (not Hanukkah or Kwanzaa or Winter Solstice Blend) thus proving that the company is in no way fighting a war on Christmas. Also, they decorate their stores for Christmas and play carols, so all of this is totally unfounded.
The "Green Cup," as it is known, is not this year's holiday cup. That design hasn't yet been unveiled (though I'm sure when it is people will find a reason to get mad about that one too).
This cup was created as a response to this year's divisive and often vicious U.S. election, which has been responsible for a lot of arguments, hurt feelings, triggered emotions, and unfriendings. Starbucks tweeted that the new cups are "meant to represent the connections we have as a community and be a symbol of unity."
That is exactly the kind of reminder we need right now, when so many of us are fearful, disappointed in loved ones, and anxious about the outcome of this election and the long term repercussions that our decisions may have on global politics and the well-being of individuals everywhere.
Starbucks should be commended whole-heartedly for using their enormous platform to send a much needed message: we are all one. There is nothing offensive or wrong about unity, and we need to remember that all human beings are in this together and we all share a common experience. We all feel joy and pain, we all love our children, we all struggle and we all get scared. We have much more in common than we realize, no matter what we believe, what cultures we were born into, or how (or how not) we choose to evolve spiritually.
The Green Cups are a valuable tool of mindfulness. A lot of people visit Starbucks a few times a week, sometimes every day, and each time they hold one of these warm cups, filled with a delicious, caffeinated treat, they will be reminded that we're all in this world and life together. Some may say that it's just a cup, that it's political, that this is a gimmick, that Starbucks should just shut up and sell coffee, but right now, at such a critical time in world history, we can't get enough reminders like this.
Besides that, if someone is really upset over something ultimately as insignificant as a disposable paper coffee cup, they probably need to reexamine their entire worldview and get their priorities in order.
I think the new cup is beautiful and sends an important, positive message into a world that needs a little extra light right now. Even though I almost always make my coffee at home in ceramic cups, I plan on indulging in a nice Starbucks latte this week to show my support of their effort to do a good and decent thing.
~
Relephant:
~
Author: Victoria Fedden
Image: Flickr, Video Still
Editor: Travis May