We used to lay in the grass or and stare up at the sky, wishing we were on board every airplane we saw fly by.
It didn't matter where it was going, we just wanted to go. I couldn't put it better than the tattoo on Steph's forearm: "thoughts of a sun-drenched elsewhere."
Steph and I grew up in a suburb of Milwaukee, Wisconsin and developed a deep connection over a shared yearning for adventure. We saw the conventional path laid out before us and simply wanted a different kind of life. We didn't know where our path would lead, we just wanted to get out there and see what the world looked like.
I read On The Road when I was in my late teens. It was my first dose of Jack Kerouac. When I finished the book, I began to consider how the story of my life would read if it were made into a novel or a movie. It was a bitter realization: my narrative was not interesting. In fact, it was pretty much the same as everyone else's in my town, and it led me to seriously question things. I began to consider what a good life story might be, if I could write anything I imagined. I had no idea at that time how my story would unfold, but I decided right then and there that it was going to be interesting.
Steph shared that sentiment, and so we left for Taiwan on a one-way ticket after being together for about a year. It was a wild leap of faith—not just showing up in Taiwan with no jobs and no place to stay—but doing so together. It was a huge test, one that had a couple of bumps in the road, but that established an unbreakable pillar that our relationship rests upon.
We learned about Earthships on a rainy afternoon in eastern Taiwan, and we knew immediately that we were on to something.
An Earthship is a type of sustainable home designed to provide shelter, water, and even food for its inhabitants without burning fossil fuels. They're built with repurposed materials and operate off the grid, with no utility bills and no harmful emissions. They are sustainable in the truest sense of the word, and they empower individuals to create a healthier lifestyle, for themselves and for the Earth. We quit our jobs in Taiwan, made our way to Taos, New Mexico with nothing but our backpacks, and embarked on a journey that would take as all across the USA as we learned to build these Earthships.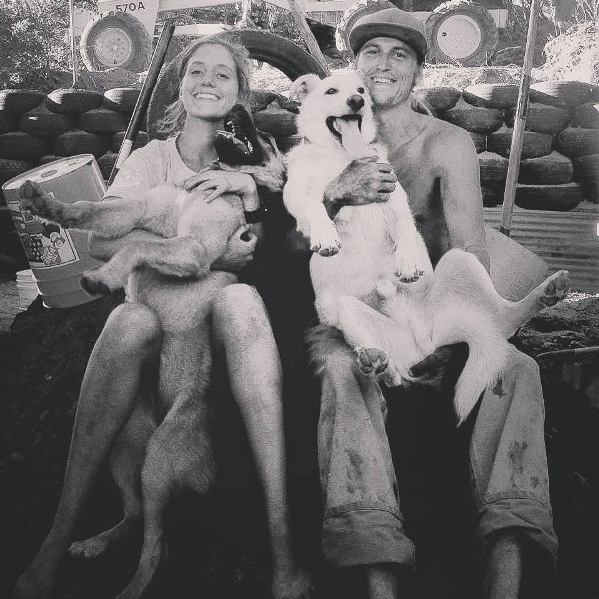 After a while on the road, the dream of one day building a house for ourselves blossomed into an obsession. So we acted on it, and made our way to California to find a place to plant some roots. An opportunity appeared in the Santa Cruz Mountains, and we got to work.
For six months straight, we worked long days on the house. We pounded tires and moved pile after pile of dirt, interrupted only by trips into town to hunt for free materials. As we got further along, we started searching for more specific things—windows, doors, lumber, sinks, furniture—anything we could use. We collected glass bottles and met people in the community who started saving their cool ones and donating them to our cause. We scavenged for anything useful, and thought outside the box about what "thing" might work for a particular new purpose. We worked in the garden, cooked on a camp stove, ate by the firelight, and went to sleep early. When we gave ourselves a break, we would hike in the redwoods, play with the dogs, or head to the beach for a surf.
Slowly but surely, the house started taking shape. For the most part, Steph and I designed on the fly, making every decision together. Lots of people told us that building a house as a couple can ruin a relationship, but we always seemed to stay on the same page, probably because we were both doing exactly what we wanted to be doing.
In some ways, we let the site tell us what it wanted, and on occasions the materials we had access to determined how things would come together. It was an organic process in every sense. The artistic elements, such as the colorful bottle walls, were mostly Steph's touch, and really put a warm stamp on the place as uniquely ours.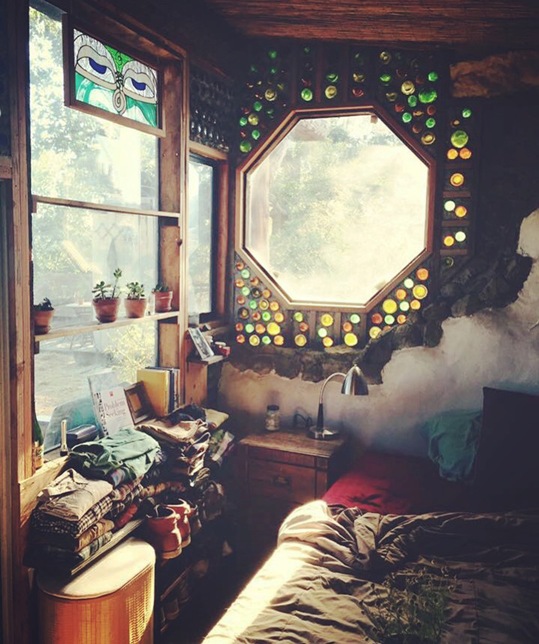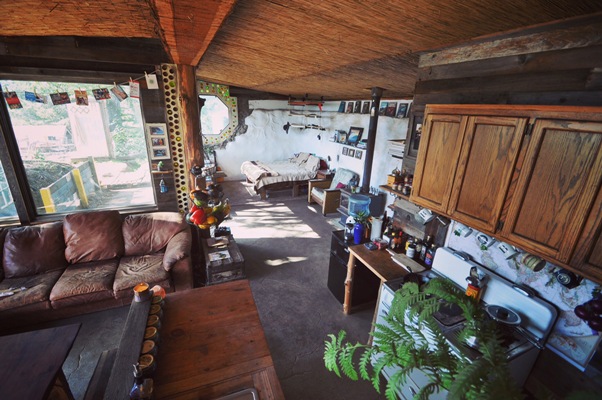 The experience was unlike anything we could have imagined. And for Steph and I it was always about making an impact. Our story is not just one of a young couple who wanted to get away from it all and build a cabin in the woods. For us, Earthships represent a philosophy deeply rooted in respect and cooperation with the Earth—a philosophy that questions why things are the way they are and offers legitimate solutions for people who want to take action and do something tangible that will make a difference.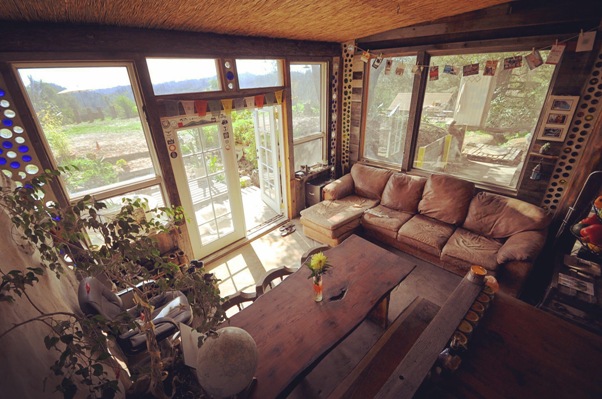 Building our home was proof to ourselves and to others that an alternative lifestyle is possible. If we can do it, so can anyone else.
Together, Steph and I have been very fortunate to be able to chase this dream of ours. Some folks never get the chance, and we vowed not to miss ours.
Authors: Steph and Taylor Bode
Images: Author's Own
Editor: Catherine Monkman