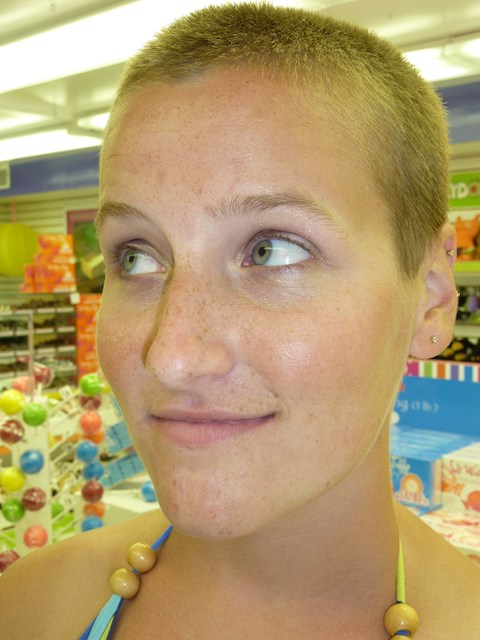 "Have you ever thought about growing out your hair and putting on a dress?"
I was on the phone with a guy I hooked up with in college. He was in the military, and I had a buzz cut and wore my brother's shoes to class. He was gone weeks after I met him, but his words stayed with me.
I've had a buzz cut for the better part of a decade.
At 16, I got my long, wavy blonde hair cut off after having dreads and also getting diagnosed with a debilitating illness. In the chair at the salon, a small man named George cut my hair off in increments, saying after each cut, "I could leave it this short?"
After he asked this a couple of times I had to say, "I want a buzz cut. If you don't give me one, I'll leave here and find someone who will."
My new haircut was gorgeous. I was too sick to remember if people reacted. A couple years after getting it cut, I do remember receiving a ridiculous amount of compliments from people who adored it. One woman whispered to me in the store, "It looks amazing, but I would never have the nerve to do that."
The nerve to do what? I was living my life like any woman. The only difference was my self-confidence didn't reside in my hair.
This is what having a shaved head has taught me about being a woman: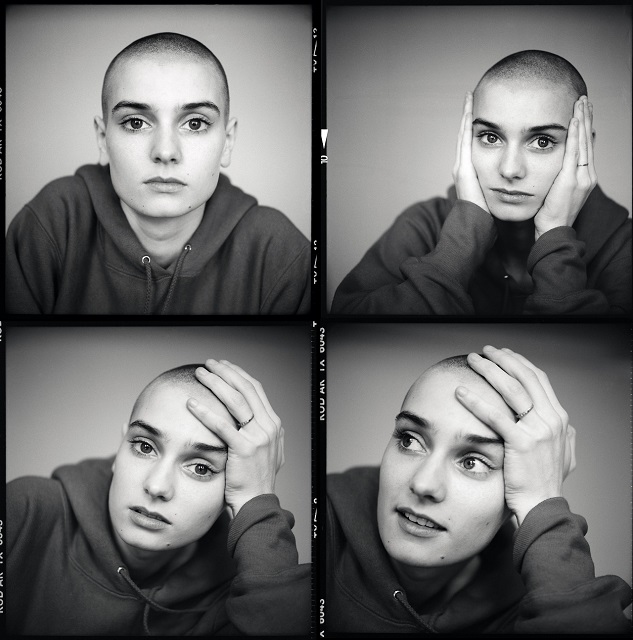 People will judge us.
"If you do that, people will think you're a lesbian."
I was at the mall, walking with a tall, biracial man I was in love with. I was talking about getting my face pierced. He told me that the piercing combined with my haircut would lead people to think I was gay.
Who cares?
It doesn't matter what we do—people will judge us based on what they believe a woman should be. If we don't have much hair, people think we're gay. If we have too much hair, people think we're bimbos. If we have tattoos or piercings or date people outside our own race, people will judge.
I'm proud to say I'm not the kind of woman who gives any kind of f*ck what people think.
We are expected to fit into a mold.
"Why don't you grow back your hair? It was so pretty."
I was talking to my grandmother. She's said this countless times over the years. She couldn't see the gorgeous person I was. She could only see the pretty young lady who shaved off her best asset.
We're expected to be pretty.
Docile.
Obedient.
Charming.
I've never really been any of these things.
Without hair, I was free to grow into the strong, beautiful woman I was destined to become. When we shed our skins and inhibitions, we blossom into women who are free to be anything they wish.
Shaving my head helped me to be free of the mold society expected me to fit in. Of course, I felt pressured at times to grow back my hair—so much so that I did for over a year before I shaved it off again. I couldn't stand it.
I had fallen in love with the perfect shape of myself—my shaved head.
We are infinitely stronger than we give ourselves credit for.
"Damn! You look sexy as hell."
I was at work talking to a woman who was formerly homeless but had secured housing through my organization. I had just cut my hair back off after growing it out for over a year.
I haven't looked back since.
Our appearance does not equal our worth. We are not the equivalent of our hair, our teeth, our nails, or our skin. We are stronger than that. We are better than that.
We are women who dare to risk everything because we see a better future. We see a world where our daughters don't have to wear a dress to be pretty. We see a reality where our grandchildren can dress or look however they please—and not be judged for it.
We are so much stronger than we give ourselves credit for. Shaving off my hair didn't make me strong—but it made me realize how bold, beautiful, and amazing I am with or without hair.
I grew into my best self because a ponytail wasn't holding me back. I was born to be the shape of a free-formed space and nothing—especially not my hair—matters compared to my happiness. It is incredibly insignificant.
Shaving my head taught me that I don't have to live within others' expectations of me. I only need to be at peace with myself and love myself before I can become anything worthwhile to the world.
We can be anything we want because we are strong; we are beautiful; and we are life.
~
~
~
Author: Jenn Ryan
Image: Author's Own
Editor: Travis May