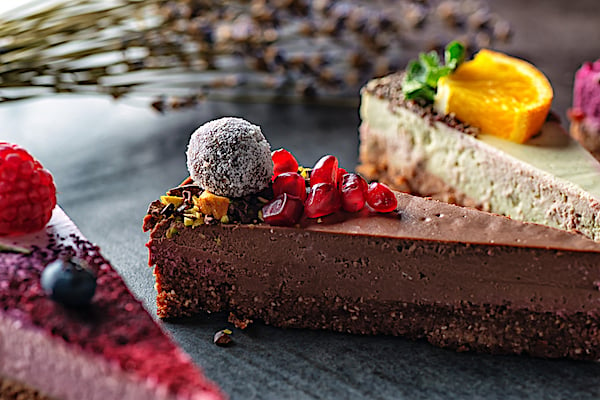 If you're craving a creamy, dreamy chocolate cheesecake, I recommend this raw, vegan recipe as a much kinder alternative for your body.
Full of nourishing, healthy ingredients, it also happens to be a pretty sexy dish to whip up when you have a guest over.
I didn't always know how to nourish my body like this though.
In the "old days," back before I started eating for my ultimate health and well-being, I used to sit and eat three pieces of cake in a row, or three Magnum ice cream bars. However, I was never satisfied—even after all that sugary "food."
Today, I know why. I wasn't nourished. Not really.
You see, our bodies are constantly looking to survive. We are animals, and if we aren't satisfied, then we're seeking to make up the deficit in the form of whatever calories are readily available.
For example, someone on a low-carbohydrate diet (even if it's a "healthy" one) will always be seeking more carbohydrates (hello, binge ice cream session). They could be satiated with healthy carbohydrates like fresh, whole fruits and veggies, but in desperation, they often reach for unhealthy, unsatisfying carbohydrates instead. Just as a person who is tired may reach for coffee instead of taking a nap.
So, if you're reaching for a cheesecake, this raw, vegan recipe is an excellent alternative.
Raw, Vegan, Dreamy Chocolate Cheesecake.
Ingredients:
Crust:
1 cup raw almonds
10 pitted Medjool dates (soaked 10 minutes prior)
½ cup raw cacao powder (Cacao is the raw, metabolism-friendly ingredient that cocoa (cooked chocolate) will never be.)
½ Tbsp coconut oil
tiny pinch Celtic salt
Filling:
2 cups raw cashews
¾ cup coconut oil
¾ cup maple syrup
tiny pinch sea salt
½ cup raw cacao powder
½ tsp vanilla powder
Instructions:
1. Soak the raw cashews for three to five hours.
2. Place all the base ingredients into a food processor or high-speed blender. (Must be high-speed!) Process until dough is formed.
3. Place the base mixture into a pan, pressing the mixture down with your fingers (it's more fun that way) until flat.
4. Place all the filling ingredients into a food processor or blender, process until smooth, and pour on top of the base. Spread evenly.
5. Transfer the cheesecake to the freezer for at least four hours. Place on a bench five minutes before serving. Remove from the pan, slice, and serve.
Enjoy!
~
Author: Donna Wild
Image: Author's Own
Editor: Catherine Monkman