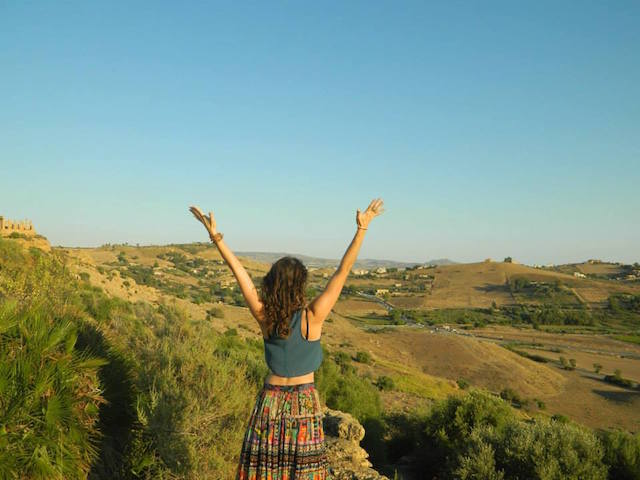 Travel costs money, no doubt about it. But, it can be a lot cheaper than many people think.
Before I found remote income sources to sustain my nomadic lifestyle, I traveled for two years cumulatively, on a tighter budget than any shoestring I've seen.
In my experience, these are some of the best money-saving techniques out there. I've used all of them at one point or another, and I suggest finding the combination that suits your unique needs and budget.
A few caveats:
>> Anyone seeking to pay off loans while traveling will likely require a steady income source, too.
>> Vagabonding isn't a nonstop vacation. Lying on the beach all day every day is going to cost money.
>> Long-term travel is not for the faint of heart. Commit. The rest will fall into place.
Enjoy this rough guide to vagabonding for a very long time with very little money, and please share any key tips I've left out.
1) Go slow.
Transportation is arguably the most expensive part of travel. So minimize it. Pick a country or region, and spend several weeks, months, or an entire year there. No, you won't have as many patches on your backpack, but you'll have depth, and that's worth quite a bit more. With all the time and money you save on getting around, you could learn a new language, immerse yourself in a vastly different culture, and achieve a nuanced understanding of the place you are in.
Taking eight months to move through Kenya and Zanzibar, I picked up basic Swahili, learned loads about the history, customs, and politics of a region I'd previously known nothing about, and carved a niche for myself in a few places only because I stayed for months.
Bonus: The slower we travel, the lower our environmental impact.
2) Stay flexible.
The more we cling to fixed plans, the more likely we are to spend large sums of money to stick to that perfect itinerary. Uncompromising expectations can lead to overdrawn credit cards and underwhelmed travelers. Rather than setting exact dates on which you must arrive to your next destination, consider leaving yourself a window of time (a week, or even a month) to leave space for cheaper transport options and spontaneous opportunities.
Bonus: Most things feel better and smoother when we stay flexible—as true for travel as it is for our bodies.
3) Find work trades.
Workaway, Wwoofing, and Hippohelp are just the tip of the iceberg. If you don't have personal contacts in a country, and even if you do, these are excellent databases for willing workers. Look for exchanges offering both accommodation and food, or you'll find your money leaking out in daily expenses. Don't be limited by these databases, however. A quick Google search of "ecolodge/yoga retreat/organic farm + [my destination]" will provide a long list of possible contacts. Craft a stock email inquiring about exchanging work for room and board, and send it to your top 20 spots. Only one needs to say yes.
Expect to work four to six hours a day. When you're ready to move on, your current hosts are your best resource; if you have a good rapport, ask them to connect you to their contacts in the next town, city, or country. It helps to have skills—yoga teaching, kitchen or hospitality experience, web development, marketing, art—that will set you apart from other travelers seeking work exchanges. Don't be shy about emphasizing your strengths; it's not a job application, but it is serious.
I've worked everywhere from farms in Sicily and yoga retreats in Zanzibar to ecolodges in Kenya and guest houses in Cambodia. Where there are tourists, there is work. Where there is work, the thrifty traveler can find a way to earn his or her daily bread.
Bonus: Entering into work trades gives us an immediate connection to a community that we might never find as a vacationer. If we seek work that suits our abilities and interests, we'll have a rich daily life, too.
4) Hitchhike.
When you do need to get around, consider hitchhiking. It's not for everyone, but maybe it's for you. Hitchwiki is endlessly helpful, especially for Europe, but a map and a thumb will get you far—far more often than you might think. Always, always trust your gut and stay aware. If hitchhiking sounds too crazy, ride share platforms like BlaBlaCar are increasingly common and user friendly, worldwide.
I've hitchhiked thousands of kilometers on several continents, and many of my favorite memories are from those journeys. Everywhere I go, I hear the same thing: "Hitchhiking used to be common here, but not anymore." Maybe we can still turn things around.
Bonus: The people who give us rides are liable to become friends, a valuable part of our travel network, or at least a great story to write home about.
5) Take side jobs.
Teach yoga? Give private lessons. Have tech, language, or writing skills? Take on freelance jobs in web design, translation, or editing. Some expenses are unavoidable. Think snacks, toothpaste, metro tickets, snacks, socks, books, snacks. If you're hoping to sustain a nomadic lifestyle long-term, at least a little bit of cash income helps. Be sure to find out what the employment laws for foreigners are in your destination, and try not to break them too blatantly.
Freelance writing work and private yoga classes have often covered my daily expenses and helped me stretch my savings many months further than I otherwise could have.
Bonus: Taking on odd jobs also keeps things interesting. Believe it or not, just chilling out all the time can get old.
6) Cook.
Stock up on fresh produce at local markets, and try to prepare most of your own meals (if food isn't part of your trade agreement). Find accommodation with shared kitchen facilities, unless you feel like switching to a full raw diet.
While living in the north of Zanzibar, I mostly lived on cucumbers, tomatoes, mangos, avocados, and eggs. Somehow, these never got old, and I got to be friends with the local vegetable vendor. Consistently, preparing my own food keeps me grounded and healthy as I wander.
Bonus: Cooking most of our own meals is a hell of a lot healthier than burgers and fries every night. We'll likely stay healthier (and keep medical expenses down) as a result. What's more, local markets are a great place to practice our budding language skills.
7) Prioritize it.
Put sustained exploration at the very top of your list. While traveling, skip the pricey safaris and fancy clubs. Maybe the beer, too. Opt out of the posh rooms, coursed meals, and guided adventures that vacationers tend to splurge on. When you're trying to save money before your trip, skip the dinners out, the new clothes, the latest iPhone; your smoking habit, car, and salon visits can go too. It all adds up. For a long time, I prioritized travel over just about everything so I could afford to go as long as possible. Would you?
Bonus: Looking for affordable alternatives to pricey gimmicks will usually lead us into singular adventures.
8) Just go.
Things have a way of working themselves out when we leap into the universe. Go with someone, or alone if no one will jump with you. It's not always easy, and it's not always comfortable, but it is cheaper than you likely think to be nomadic. Push your boundaries, stretch your comfort zone, and find a way to see the world that works for your budget.
Opportunities you could never have imagined will show up on your path. Try, and see what happens. If or when you decide to go back, most things will be exactly as you left them.
Bonus: I don't think anyone has ever regretted selling everything they own to go travel…but I could be wrong.
~
Author: Toby Israel
Image: Author's Own
Editor: Leah Sugerman
~