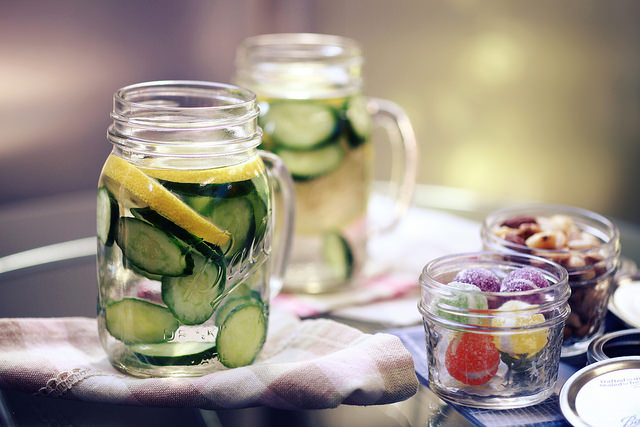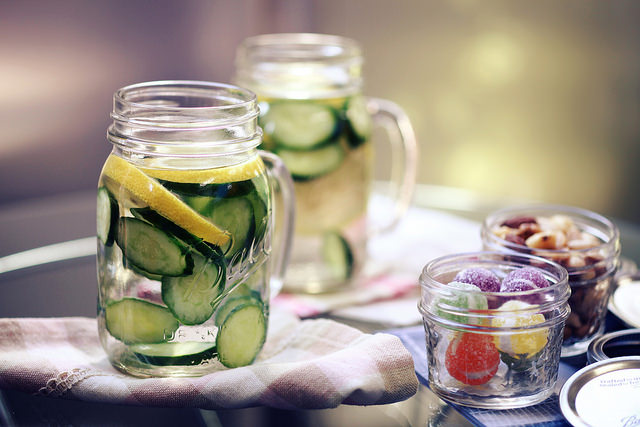 Although I know I should reach for a glass of water rather than juices, after a hard day in the office, I often fancy something a little more exciting plain ol' water.
And, if I've been drinking too much caffeine then, whilst simple water will help flush away the body's toxins, the addition of a few alkaline fruits and botanicals can transform a glass of water into a detoxifying masterpiece that is beneficial and delicious.
How to make delicious detox water cocktails:
It's super simple to make a range of detox waters and I love keeping a few different flavours in the fridge, ready to enjoy. I have young children and this is the best way to get them hydrated with something healthy and refreshing, too. They also love being involved with the process of making the detox water and enjoy coming up with new recipe ideas.
Method:
Slice your chosen fruits or vegetables into bite-sized pieces.
Gently bruise any botanicals' in a mortar and pestle
Take a 1 litre (sealable) glass jar, place the prepared fruits and botanicals into the jar, then fill with ice. 
Top the jar up with water and seal with a lid.
Allow the jar to sit in the refrigerator for at least an hour, this gives the fruit flavours and botanicals time to seep into the water and impart flavour.
The water will keep in the fridge for up to two days and is best enjoyed cold.
Some of my favourite detox water cocktail recipes: 
1. Refresh Me!
This recipe is super refreshing and I love to drink this if I've been exercising or out in the hot sun, but it's also a great drink to enjoy whilst relaxing in a hot bath.
Ingredients:
Half a cucumber, cubed
1 tbsp fennel seeds
10 strawberries, hulled and sliced
2. Comfort Soother.
This is a great drink that feels comforting and is absolutely delicious. I love to drink this when I am under stress and need a good night's sleep, because Star Anise is a very powerful spice that helps to aid digestion and insomnia
Ingredients:
2 apples cored and chopped
2 star anise
2 cinnamon sticks
3. Alkaline Detox Water.
In a book called, Emotional Detox by Mal Weeraratne there is a great chapter on alkaline diets; the author includes a lovely recipe for an alkaline detox juice in this chapter, but I prefer to combine the alkaline ingredients of this recipe in a detox water, so here is my reworked and adapted recipe:
2 kale leaves, chopped
Handful fresh basil
¼ cucumber chopped
½ bulb fennel chopped
1 carrot chopped
1 inch raw ginger root, peeled chopped
4. Tropical Escape.
Whenever I drink this, I always slip away to a tropical island in my mind. It's so refreshing and it has a beautiful, subtle smell and taste. On top of all this, the mint is great for cleansing the palette.
¼ water melon, peeled and chopped
¼ fresh pineapple, peeled and chopped
Handful fresh mint leaves
You can combine any fruit, vegetable or herb in this simple way. It is quick, easy, and a fantastic way to encourage yourself to keep hydrated.
~
~
Author: Seren Charrington-Hollins
Image: Freedom II Andres/ Flickr 
Editor: Khara-Jade Warren
Supervising Editor 1: Catherine Monkman
Supervising Editor 2: Sara Kärpänen