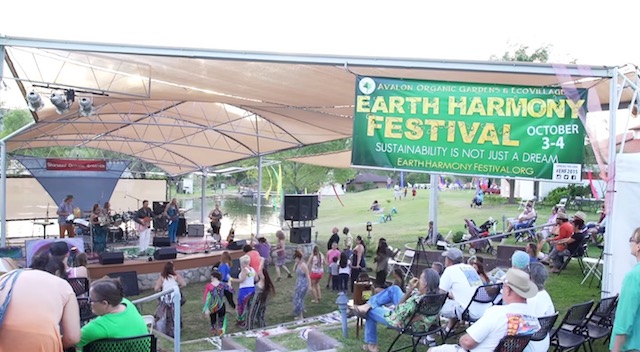 As an avid festival-goer, I've had a lot of broken promises from festivals
 that claim to be advocates of sustainability.
The festival scene 
is this fantastic moment in time where people come together, but once it's over 
there is rarely anything lasting that comes out of it. The Earth Harmony Festival in Southern 
Arizona sets itself apart because it provides lasting value through the 
education offered and the culture being built within the EcoVillage that hosts 
it.
Here's my five reasons why it's the only festival I'll be going to this year:
1) The EcoVillage: The Earth Harmony Festival is hosted by Avalon Organic Gardens & EcoVillage, which is America's largest EcoVillage, and is active and growing with over 115 members. Tours during the festival are held by Master Gardeners of the EcoVillage, and you get to see and learn about all the projects they have going on—from organic agriculture, to water reclamation, alternative energy, and sustainable building!
2) The Camping: The festival lets you camp under the stars within the EcoVillage, so you're never far from the other activities. Camping is a great way to get the full festival experience and gives you the opportunity to meet other people from around the country—and the world!—through the timeless tradition of sharing stories around a campfire.
3) The People: The Earth Harmony Festival draws a unique and high-consciousness crowd. As a drug-free and alcohol-free festival, the people who come have a genuine interest in sustainability and creating a new paradigm for this world. Meeting like-minded souls is encouraging and a great opportunity for networking!
4) The Price: The Earth Harmony Festival is the most reasonably priced festival I've ever come across. Admission is only $10, and if you pay for camping your admission is included! This is just another reason I feel the Earth Harmony Festival has a genuine mission of sharing education in sustainability. The proceeds they do make give back to the community by directly benefiting several nonprofit programs. Now that's something I can feel good about!
5) The Times: The festival's 2017 tagline, "Experience the Lifestyle of the Near Future" is a testament to the belief that the majority of the world needs to seriously shift their lifestyle to bring about the better future we all hope for. Festival organizer Amadon DellErba told me, "This festival is really about showing people that a new way of living is possible. We want to educate and inspire others to change their consciousness around what it means to be truly sustainable. "
Watch this video to see the lifestyle in action, and don't miss the 2017 Earth Harmony Festival this October 7-8 at Avalon Organic Gardens & EcoVillage in Tumacácori, Arizona.
~
~
~
Author:CaSeri Bajor
Image: YouTube
Editor: Travis May
Copy Editor: Lieselle Davidson
Social Editor