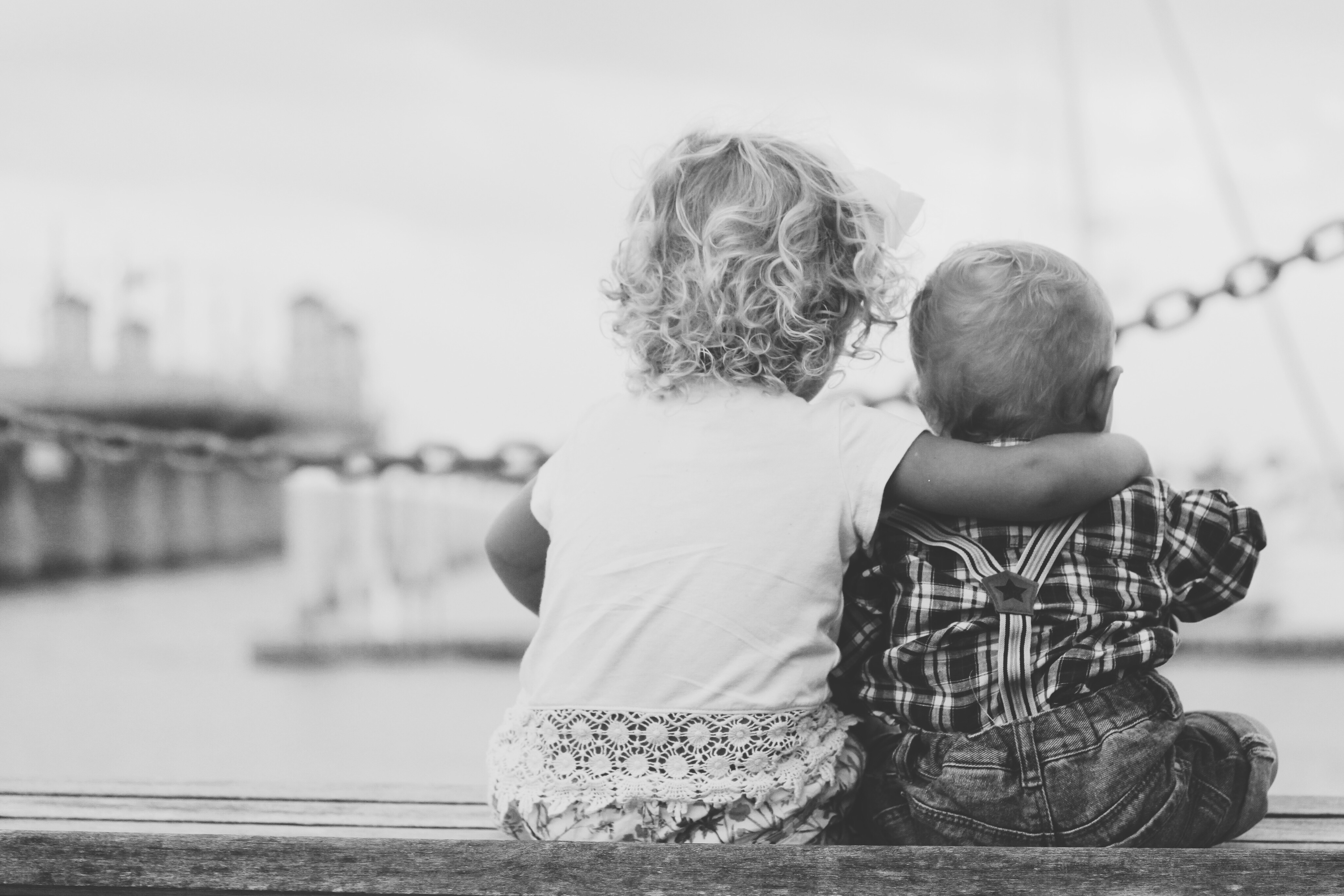 We live in a world so large, we try not to think about it. It's a little overwhelming. It's hard for us to know, for instance, the suffering of the Yazidis, when we don't know a Yazidi, personally. So we wall ourselves off from the news stories, and let the words bounce harmlessly off our eyes as we scan the headlines.
It's not just the Yazidis, of course. It's people anywhere who haven't got a safe supply of drinking water. It's girls forbidden to get an education or married off much too young to older men because their parents need the money. We can't talk about any of this with our children. We can only touch on it, because it's just too rough for them to hear.
It's too rough for us to hear. So we sigh and click on the next link. We move on.
But that's no way to make the world a better place.
So how do you make the world a better place? As a mother of 12 (that's no typo), I've come to believe that the key to making the world a kinder, better place can only be found through helping children develop a connection to others, in whatever way we can. All year long our children sit in classrooms and learn whatever they're taught. Summer vacation is when it's our turn—as parents—to give our children the values we want them to have.
There are so many things we can do with our children to help them develop empathy for others. It begins, of course, at home. But good things have a way of spreading far and wide. By teaching our children to care about others, it's as if we embrace the world and promise a better future.
Ready to get with the plan? Here are five ways to teach your children empathy and bring the world a little closer:
1) Abandoned Kitten Watch and Wait: Summer means kitten season. You're out with your child and discover a kitten that seems to have been abandoned by its mother. You're both moved and want to help, so maybe you take the little guy to a shelter.
But actually, the most important thing to do is wait and see if the kitten's mother returns. If the mother comes back and senses your presence, she won't come anywhere near her kitten. You want to stand at least 30 to 40 feet away, if not further. And it might be several hours before Mama Cat returns. But it is with Mama Cat that the kitten's best chance of survival lies, so that in this case, empathy means watching and waiting for as long as you possibly can.
Take the kitten only if you see that he or she is in immediate and serious danger. Because sometimes empathy means holding back, even when it hurts. For more about rescuing kittens, click here.
2) Brighten a Sick Child's Face: Read The Land of Counterpane by Robert Louis Stevenson and then talk about what it is like for children to be sick and confined to bed rest. Take a shoebox and have your child fill it with items such as a deck of cards, a Rubik's Cube, and other small games and puzzles. The two of you can then bring the box to a pediatric oncology ward of a local hospital and leave it for some lucky, anonymous child. When you get home, have your child draw a picture of the sick child as he imagines him or her, before and after receiving the activity box. Talk about why it was important to do this deed.
3) Join the Suspended Coffee Movement: You're out at the mall with your child and the two of you stop at Starbucks to recharge. Order three drinks instead of two and join the suspended coffee movement. The waiter will hold that cup of coffee for someone who can't afford to pay for it. It doesn't have to be coffee. It could be a nourishing bowl of soup or a salad. Just make sure you order it "suspended." After your child takes a nice long sip of her drink, ask her to think how it would feel to be thirsty and not have the money to buy a drink. Talk about why that might happen. Have her imagine the relief and gratitude involved in receiving a suspended coffee, a simple kindness from a stranger.
4) Donate Your Car to Educate Children: You could sell your used car, or you could donate it to a car donation program like Kars4Kids. This charity is unique because it is kind to the environment and helps children, too. Cars are resold or recycled and the proceeds are used to fund educational initiatives for children. Have your child listen in as you make the call. Show her the Kars4Kids Pinterest page so she can see the faces of some of the children that have been helped through car donation.
Family cars are like a second home, so make a farewell party for your car before the towing truck comes and have your child make a little speech about how you couldn't just sell her off, but had to make the parting a good deed. Have your child imagine what it would be like to come from a struggling home. Then have her imagine receiving a full scholarship to summer camp thanks to goodhearted people who donated their cars.
5) Give the Gift of Literacy: Children who grow up in homes with books do better in school and in life. Have your child go through her personal library and choose some books to send to children who have no access to the printed word. Go to the Books to Africa website to find out how to make a donation. Talk about what it would be like to grow up without books. Have your child imagine what it feels like to be a child in Africa receiving his first book ever, for keeps!
~
~
~
Author: Varda Meyers Epstein
Image: Unsplash/Joshua Clay
Editor: Travis May
Copy Editor: Leah Sugerman
Social Editor: Yoli Ramazzina