Traveling, teaching, and bouncing from country to country and island to island every few months in Southeast Asia.
No matter how nomadic or busy life can be, connecting with others over food is my favorite way to ground. This is my go-to recipe for small dinner gatherings with my partner, friends, or family for balancing a crazy schedule.
I first learned this Ayurvedic recipe during my Ayurveda educator training. It's inspired by the Kanyakumari kitchen with my own tropical island twist.
This recipe brings nourishment to the body and mind, and it's simple to make whenever you're craving a salad. Plus, even non-beet eaters love it and have even asked for the recipe.
Nothing makes me happier than taking care of myself and my loved ones in the most delicious way with this wellness recipe.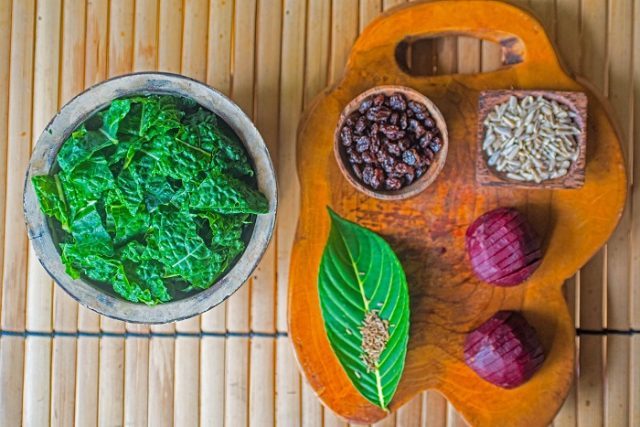 Warm Beet Salad with Miso Tahini Dressing.
Serves: 2 people
Total cooking time: 30 minutes
Ingredients:
Warm Beet Salad
½ tsp. cumin seeds
¼ cup sunflower seeds
¼ cup raisins
2 cups greens of choice
1 tbsp. coconut oil (plus a bit more for drizzling)
1 small beet
Miso Tahini Dressing
¼-½ cup water or vegetable stock
1 tsp. miso paste
1 tbsp. tahini
2-3 tsp. coconut oil
Lime wedge
Salt and pepper, to taste
Directions:
>> Step One. Cut beets in half lengthwise, and steam until tender. When cool, slice beets into half rounds.
>> Step Two. In a medium pan, toast sunflower seeds and cumin seeds lightly at medium/low heat. Add coconut oil, chopped greens, and raisins.
>> Step Three. Sauté greens until bright and tender, adding water if dry. Remove greens from heat and mix with beets and toasted seeds.
>> Step Four. Heat water or stock in a small pot. Meanwhile, mash miso and tahini together into a smooth paste. Then, gradually dilute the paste with warm water or stock to desired thickness.
>> Step Five. Whisk in coconut oil and a squeeze of lime juice.
>> Step Six. Serve half of the salad on each plate and drizzle with desired dressing amount. Season to taste with salt and pepper.
Tip: For a full meal, you can add a whole grain such as basmati rice, quinoa, millet, or buckwheat.
Enjoy feeding the people you love!
~
Author: Kendra Charts 
Images: Courtesy of Francis Tabin 
Editor: Leah Sugerman
Copy Editor: Catherine Monkman
Social Editor: Sara Kärpänen