Take me back—
to those red, rocky mountains
to that long, winding creek
to the lush green trees
and singing birds.
Take me back
to the brilliant sun shining
in a clear, blue sky.
Take me higher—
up above that small, hippie town,
a world of its own.
Take me higher,
way up the canyon
to that rustic lodge,
adorned with twinkling white lights.
Take me higher still,
higher up the mountain,
winding up the narrow mountain road,
as we spot rock-climbers,
dangling precariously from twisted ropes.
Take me higher—
let the elevation rise.
My ears pop and clear
as each mile marker goes by.
Until we come to that grand body of water,
that reservoir of blue,
amidst the green foliage
and sunny skies.
Take me to that small, mountain town:
Nederland.
The water land,
a quiet oasis above
bustling Boulder below.
Take me back to that quaint cafe,
with the dangling metal heart,
and warm patio,
and wooded walls.
The scent of strong, black coffee
in the air.
Fair trade, organic,
lemon, cocoa powder, and tobacco leaf.
Warmth,
and friends,
and coffee,
and laughter.
Bike bells chiming,
as cyclists drift in
for lattes—
or perhaps, a cold craft beer.
The scent of sativa in the air,
dogs barking,
crystals sparkling in the windows,
fresh-baked cookies from the co-op.
Take me back to my happy place…
Take me back to Nederland.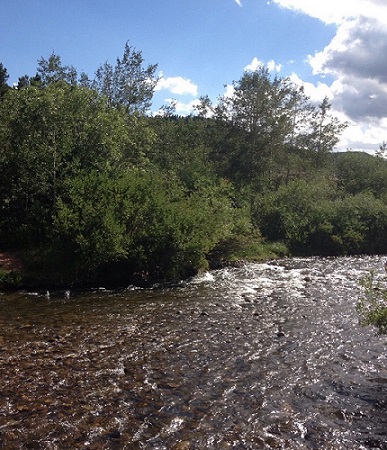 ~
Relephant:
~
Author: Yoli Ramazzina
Images: Author's own
Copy editor: Lieselle Davidson