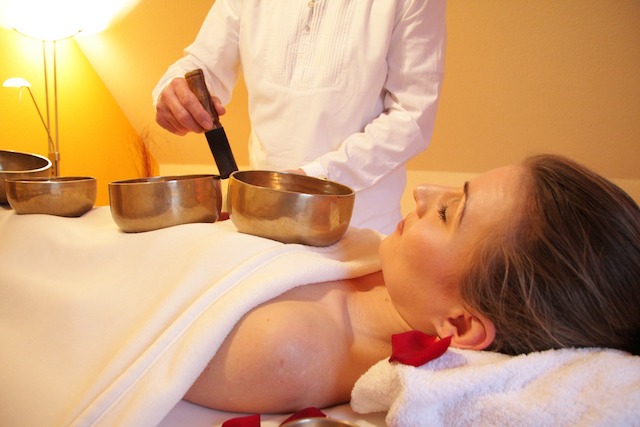 "May your choices reflect your hopes, not your fears." ~ Nelson Mandela
~
When it comes to making career choices, how often are we mindful in our decisions?
At 27, I felt crushed by work stress, and eventually (quite out of the blue) quit my promising corporate career of five years.
To figure out what to do with my life next, I headed to India and Nepal for a month and joined a volunteering group. By chance, my group was invited to attend a Buddhist mindfulness teaching, which was my first encounter with these metal bowls called "Tibetan singing bowls."
Their harmonic sound vibrations were so strikingly profound that they created a feeling of vastness the likes of which I have never experienced before. I felt a precious peace of mind for the first time, so I knew I needed to learn more.
Connecting to our Inner Rhythm
What happened next was nothing short of synchronicity. I met a hypnotherapy practitioner in Hong Kong who combined sound healing with her practices, and quickly got involved assisting her with an upcoming singing bowl workshop.
Sound healing is so powerful. Whether playing the bowls or receiving the healing, the vibrations envelop everyone in the room. The whole audience becomes in-sync with the rhythm.
It was fascinating to see how quickly the attendants fell asleep during our sound sessions—especially those who expressed that they suffered from insomnia. Most people in Western culture are constantly under stress—having difficulties in turning off their "monkey minds" at night. What's more, our bodies have memory just like our minds, so often, our cells store tension and sadness that we may not even be aware of.
During one of these powerful mindfulness sessions, I had my own eureka moment. I remembered how when I was young, whenever my teachers asked, "What do you want to be when you grow up?" I said wanted to be a doctor/teacher/writer/singer. I felt like a failure with this "all-in-one" profession. Fearing my classmates would laugh at me, I never spoke it out loud.
Now, with the help of the singing bowls, I can clearly see the connections between these callings. I realized that I was born to be a healer, and am gifted in helping others discover their strengths. Teaching, writing, and singing could all be channels to share these gifts with the world.
My previous career in human resources (although not too satisfying) was simply the universe preparing me to help others find joy and meaning in their work. We are all on our own Hero's Journey, and when we connect with our inner rhythm, we switch on our internal GPS. We never feel lost again.
Are you on your journey, searching for purpose in your career?
Here are three key mental shifts I've found to be crucial in the process of finding our purpose:
1. Self-understanding.
Sound healing triggers connection with our inner voice. I believe the answers we seek are already within us, we just need to listen. I've been doing inner work and self-exploration for years to better hear my own voice. Mindfulness practices, like sound healing, help put our scattered ideas together so we can connect the dots and understand ourselves and our own needs.
2. Recognizing our Purpose is Not a Job Title.
Too many people tie their identity to their job titles. When they are out of a job, whether by chance or choice, they feel lost for meaning. I have been there too, so I understand how awkward and frustrating this feels.
But our purpose is not necessarily our profession. Our purpose is an expression of our values and what gives us joy. Sometimes all we need is some creativity to interpret our purpose according to our strengths and life experiences.
For example, my dear friend discovered at 29 that her purpose was to save lives. She was already a teacher and well-past the age of medical schooling—and didn't even want to pursue that path. She is now an emotional health ambassador, helping to reignite hope in suicidal students and teachers. Now, she saves lives every day.
3. Taking Low-Risk Experiments.
Let's admit it: most of us chose our study majors and careers when we were not fully informed and with limited self-understanding. Luckily, even if we made bad choices in the past, it's never too late to change course.
That said, we need not take a blind leap; we can test-run our career ideas through volunteering, side gigs, or projects to verify what we truly love. Experimenting is so important in our career to gain clarity on what works and what doesn't for our lives.
I believe our career purpose is already there within us, waiting to be uncovered.
A journey of a thousand miles begins with a single step—take the first one today and see what happens.
~
~
~
Author: Ponny Lam
Image: Max Pixel
Editor: Danielle Beutell
Copy Editor: Callie Rushton
Social Editor: Nicole Cameron