get elephant's newsletter
"He did not touch my ribs. He did not touch my arm. He did not touch my hand. He grabbed my bare ass."

Too often, we put victims on the stand. Yes, we need proof—or overwhelming evidence—to hold someone responsible. There's a lot of gray area legally, if not ethically, in weighing justice. But this appears to be a strong case—read the NY Times article, linked at bottom—and, most powerfully, Taylor's own witty testimony skewers Mr. Mueller's behavior, and claims, in his suit against her.

"I'm not going to allow you or your client to make me feel like this was my fault, because it isn't.

"I'm being blamed for the unfortunate events of his life that are a product of his decisions. Not mine." ~ Ms. Swift. 

My personal favorite:

Wasn't Swift critical of her bodyguard, who didn't prevent such an obvious assault?

"I'm critical of your client sticking his hand under my skirt and grabbing my ass[.]"

"Pressed on what she could have done differently, she said " your client could have taken a normal photo with me". Excellent response Taylor, to yet another question that blames the assault victim for the assault. ~ NY Times comment.

Here's the photo in question, via…aghhhh…TMZ: (click for article at TMZ)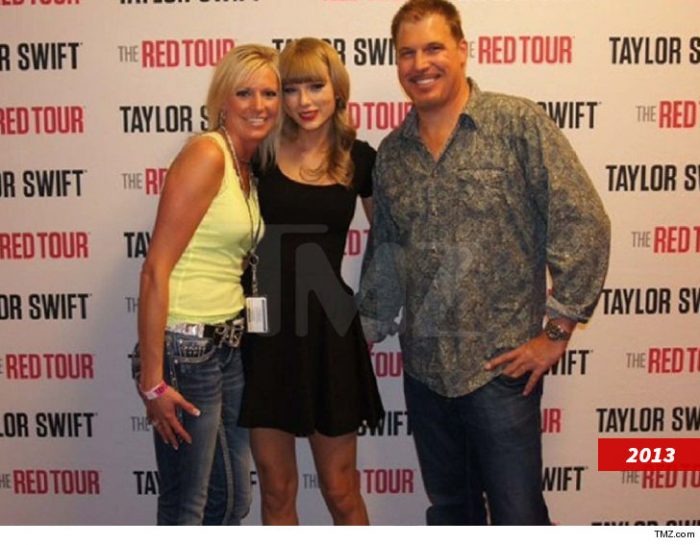 Via the NY Times, which notes that she defended herself with humor and strength on the stand (she is being sued by Mr. Mueller for destroying his career):
At one point, for example, Mr. McFarland asked why, in the photograph she took with Mr. Mueller, the hem of her skirt does not appear to be pushed up in the front.

"Because my ass is located on the back of my body," Ms. Swift said, earning smiles from several jurors.

She was firm in her depiction of Mr. Mueller's behavior.

"He did not touch my ribs," she said, referring to Mr. Mueller's testimony earlier in the week about the possibility he had inadvertently touched Ms. Swift. "He did not touch my arm. He did not touch my hand. He grabbed my bare ass."

When Mr. McFarland asked whether Mr. Mueller had groped her more than once, she responded: "Other than grabbing my ass against my will, underneath my skirt, and refusing to let go, he did not otherwise touch me inappropriately."
And, she looks out for others: Taylor Swift Shows Her Support for Kesha With $250,000 Donation Amid Ongoing Legal Battle With Dr. Luke.
Relephant round: