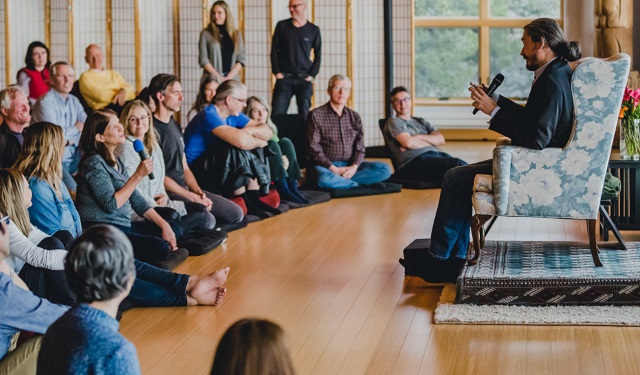 This is a post written on behalf of Thomas Hübl—an Elephant partner. We're honored to work with anyone who is this dedicated to improving our individual spiritual well-being as well as our relationships with one another. ~ Ed.
~
~
"You are present, right now, here, but that's just the beginning of the mystical moment." ~ Thomas Hübl
We're pulled in a million different directions every second of the day.
The complex communities we live in—both on and offline—can be so noisy, chaotic, and overwhelming that the idea of escaping to an isolated cave or monastery in the hills sounds pretty appealing at times.
Throughout human history, caves, and monasteries have served as a refuge for those of us seeking spiritual retreat from the world. But for most of us today, that kind of drastic move just isn't a practical option. However, do we really need such extreme quiet and extended contemplation, completely cut off from outside distraction, in order to live a rich inner life?
Ideally, most of us would like to find a way to plunge deeply into our spiritual practice whilst still engaged in the daily activities of the world around us. We want to become the mystic, right here in the midst of the marketplace.
What do we mean by "mystic?"
Academy of Inner Science founder, Thomas Hübl, often uses the word to indicate those who are adepts in spiritual practice—those who have dedicated their lives to what he calls the "inner science" of consciousness. From Hübl's perspective, we can explore consciousness through practices like contemplation, meditation, studying, prayer, and deepening our conscious awareness in the dynamics of daily life.
By this definition, many of us who are devoted spiritual practitioners, but might not have previously considered ourselves to be mystics, have the potential to be just that…
The Illusion of, "And After That, I'm Going to Awaken."
Rather than postponing our awakening until we can find the perfect environment, we can make our current environment—whatever it is—our laboratory for personal transformation. One place to begin is by learning to gradually create deeper honesty in our relationships, transforming them into relational spaces that can stay open, connected, and intimate. Learning to transform our relationships with the world immediately around us will help us gain a refined perception of our lives.
This refinement of our perception and an understanding of inter-subjective space is one of many keys to becoming a true "mystic in the marketplace."
In his online and in-person courses, Hübl frequently explores the idea of such space when considering the relationship between people. We can methodically study the dynamics of the information and energy between us, says Hübl, in order to improve our understanding of what is actually happening inside the "human marketplace."
Once our perception becomes more highly refined in this way, we can begin to see the deeper workings and true dynamics of the intersubjective space, gaining a greater understanding of our relationships and life in general.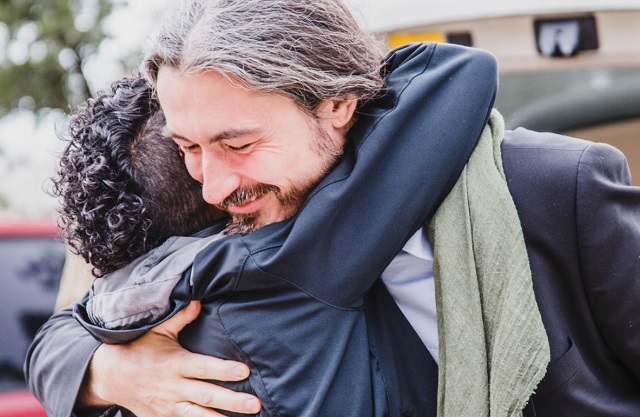 "And then it's really exciting," says Hübl, "because there is no boring moment. Every moment is a study-moment—a moment of spiritual practice."
How do we accomplish this refined perception of life? Going to a Himalayan cave may not be an option, but daily practice is an option for everyone. And in addition to our own daily practice, undertaking a focused, extended practice under the guidance of a knowledgeable teacher can boost the development of our inner skills to the point where we can quickly tilt our perception to an entirely new and illumined perspective.
To provide practitioners with just such an extended practice environment, Hübl has, for over a decade, taught a popular two-year intensive program called Timeless Wisdom Training. Offered through a highly supportive platform of ongoing online teachings plus eight in-person retreats over the two-year period, the program combines deep mystical teachings with an evolving practice that can yield profound transformation.
The program is offered in both the U.S.A. and in Europe. Students are selected through an application process, which is underway right now for the course beginning in February 2018.
Participants in the Timeless Wisdom Training often speak about how much they value the personalized study with Hübl, a warm, charismatic, and engaging teacher. Hübl's 15 years of study and teaching worldwide (preceded by a four-year retreat from society in to meditate and expand his own inner awakening) enables him to offer profound and unique insights to those who want to remain engaged in the marketplace while exploring mysticism more deeply.
Connect to your Inner Fire
"The Timeless Wisdom Training reconnects us to our inner fire," says Hübl. "Mystical fire is something that we will never be able to to grasp with our current understanding and education—it's something that we can only reveal in ourselves."
The Timeless Wisdom Training is a rare opportunity to work with Thomas Hübl. This course, which opens enrollment only once every two years, helps you truly embody spiritual practice, rewiring your body and emotional system to create a sustainable and stable home for mystical consciousness.
Sound interesting? You can meet Thomas Hübl in person and learn more about the upcoming training at an Introductory Workshop being held at 1440 Multiversity near Santa Cruz, California, on December 8-10, 2017.
Praise for Thomas Hübl's Work
Here's what people are saying about Hübl's work and the Timeless Wisdom Training: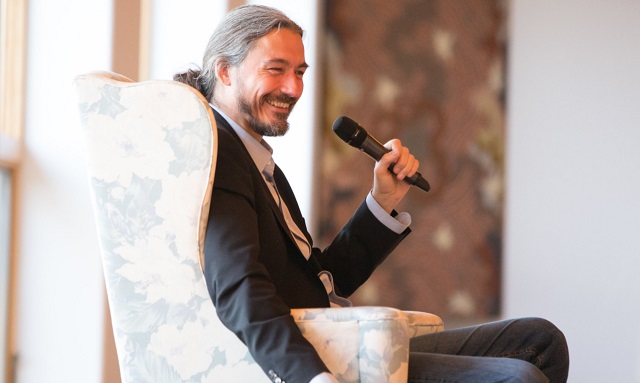 ~
"Thomas Hubl delves deeply into both timeless wisdom and the specific needs of our time. I have found his work with collective healing to be tremendously innovative and eye-opening…. This type of engagement with what appears to be "other" is what we need, in my opinion, to learn what it truly means to take multiple perspectives and live in an open-hearted way." ~ Tami Simon, Founder and Publisher, "Sounds True"
~
"When Thomas Hübl teaches, a clean, fresh, lighted spacious clarity naturally opens up in and among people—shifting the energy of the room. His presence … activates intuition, shines Light into shadow, and reveals the insubstantial transparency of whatever seemed to be in the way. It also frees up a tremendous amount of joyful energy." ~ Terry Pratten, Author, Integral Life Practice and Founder, "Bay Area Integral and Beyond Awakening Series"
~
"Thomas Hübl is a spiritual teacher for our time, illumined and practical, rational and deeply profound. His teaching is clear like a mirror. He is at once sharp and cutting, yet gentle, receptive, and compassionate. You can't help but expand in his presence." ~ Diane Musho Hamilton, Facilitator, Mediator, Spiritual Teacher
~
~
Editor: Khara-Jade Warren