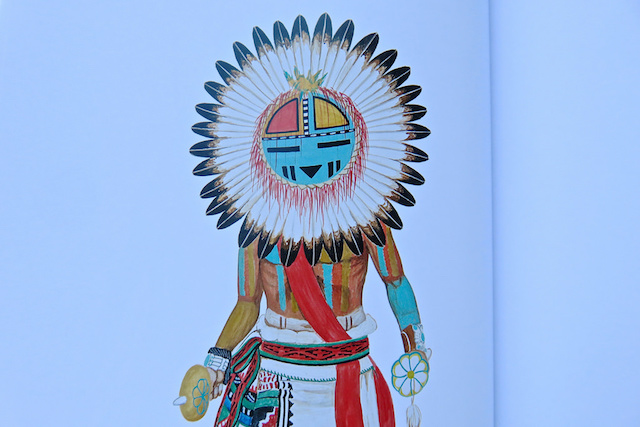 "Even before you knew of love, you knew of the wind." ~ Rick Bass 
~
As the year comes to a close and we enter the period known to the ancient ones as the Mid-Winter Wind, it is a perfect time to add ritual and ceremony back into our lives.
The Winter Solstice has always been a time of joyous celebration throughout the world. Evidence of its importance remains across the globe as artifacts and sacred stone sites in Egypt, Ireland, South America, Russia, Africa, and China.
In the Americas, the Hopi and Zuni tribes would have 12 kachinas—masked members of the community embodying a spirit being during sacred rituals—dance to court the sun's return.
In Europe, pagan rituals are still alive and well as pilgrims gather at Stonehenge at daybreak to witness the return of the light on the ancient sentinels.
In Peru the most celebrated festival of the year is called the Inti Raymi, a celebration of the Sun God. Granted, the seasons are reversed, so this takes place in June—but I digress.
Our ancestors understood that the sun and wind were essential to the very existence of humanity. For many, faith has been tested this year and uprooted by the ferocious, brisk, swirling winds of change. In 2017, we saw a haboob (fast-moving dust storm) sweeping the continents that formed large sand dunes, creating illusionary barriers between good-natured, noble people all over the world. This year has seen greater-than-normal turbulence as well. Collectively, these inclement winds have been battering us with natural disasters, crumbling political institutions, terrorism, epidemic health crises, and unreliable, conflicting information.
Are you sensing the intense energy of this collective Dark Night of the Soul? As we come to the end of this tempestuous year, many of us are feeling lost, lonely, angry, out of balance, tired, and even hopeless. If you're feeling this way, trust that you are not alone.
Let's be honest: it's difficult to find accurate coordinates in darkness, and even harder when we are being bombarded with chaos wherever we turn. As we approach the Winter Solstice in the Northern hemisphere, we are reminded that after darkness, there is a return to light.
Listen to the calls from the Winds of Spirit inviting us to return to the ritualistic wonder of chasing snowflakes with your tongue on a cold winter morning. Can you hear? Here are six simple customs we can incorporate into our lives to reconnect with joy, even as we are surrounded by darkness.
1. Invite Light into your Life.
Light a candle or fire, or keep a light burning throughout the holidays. Try visualizing a purple flame. There are GIFs (animated stickers) we can include on our social media platforms. Or, if we are traveling, we can say a prayer to invite light into our lives in lieu of a creating an actual flame. Do what works best for you!
2. Celebrate with Community.
Rather than fall prey to commercialized holiday noise, we can respond to the call of wonder. If there is a local gathering to usher in the light, join in. Even if we are not religious, we can go appreciate the magic of holiday carolers at a local church. And even if we live in a remote location, there are options! Consider this free online Winter Solstice event during which 30 minutes of inspiration will be shared daily beginning on December 21st and concluding on the 12th night of Christmas, on January 6.
3. Gather in the Kitchen with Friends.
When we get caught up in the trade-making schemes of December, it is easy to get engulfed in chaos and greed, which only drains our inner resources and puts further strain on our relationships. How about we light a fire on the stove and share in the preparation of food with family and friends? Perhaps start a new ritual of a healthy cookie exchange. Celebrate your bountiful or fallow harvest by feasting with families and friends.
The ancient ones knew how to weather out bone-chilling winter winds. Although food supplies were scarce, they relied on community support and a central fire to keep warm. They knew that after the mid-winter sun, spring would follow.
4. Tell Stories around the Fire.
The path of ritual beckons us to venture inward and remember who we really are. Rituals are wind shelters. This season, explore storytelling. We can restore our relationships both with ourselves and others by resting by the fire as herbs simmer on the stove.
5. Add Color to Your Life.
Decorating our homes with vibrant candles and greenery and sharing homemade gifts from the heart is a great way to reconnect with our roots this season.
6. Reconnect with the Wind.
We can learn to navigate life as our ancestors did by awakening to our innate internal compass, which is aligned to the Earth's magnetic energy. Fifteenth century compasses were inspired by nature, and the information they provide is still relevant today. The wind taught sailors how to navigate the sea. The directions on Aristotle's compass card were wind points, and pin locations were determined by the location of the sun in the sky on special days such as the equinoxes and solstices. Even in the endless ice and snow of the arctic, hunters relied on wind patterns and the sun to find their way, and farmers have long relied heavily on the solstices to determine planting cycles.
Since the first utterings of the wind, people have sought universal truth. The study of weather has fascinated humankind since the beginning of recorded time. Temples and pyramids also reveal an understanding of the sun, moon, stars, and winds. Wonder creates a sense of awe.
To do this, become a close observer of the natural world. Begin with wind. As we reclaim our ability to hear the wind, we will intuitively receive guidance and direction. Remember the same frosty wind that caresses your face in the darkest hour of winter will soon make its way elsewhere on the planet, arriving as a fresh summer breeze. Wind is an inherent and persistent reminder of the sacredness of all life on this planet.
This year's brutal and uncompromising storm season is a reminder that we should take nothing for granted. Although we have mastered certain technical aspects of our environment (indoor heating, air-conditioning), the past year's events remind us that mother nature can easily erase everything.
By introducing or restoring ritual in your life, we naturally begin to live in harmony with all of creation. Light will return to our planet when we collectively move forward with a stance of a compassionate heart, for ourselves and others.
~
~
Author: Renee Baribeau
Image: Fabrice Florin/Flickr
Editor: Callie Rushton
Copy Editor: Lieselle Davidson
Social Editor: Waylon Lewis