"The goal isn't how much money you make, but how much you help people." ~ Blake Mycoskie [Chief Shoe Giver and Founder of TOMS]
~
~
The Bank that's Proving Money doesn't need to be the Root of all Evil.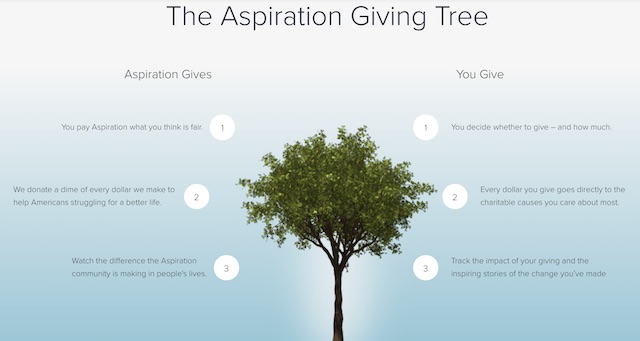 Waylon Lewis recently sat down with Alexandra Horigan of Aspiration, an online financial firm with a conscious.
We live in a culture that raises an eyebrow over the idea of a financial firm that has the best interest of our wallets in mind.
Big banks are evil. Only eight percent of Americans trust their financial institution. For big banks, and Wall Street, greed is good.
Aspiration wants you to understand that money doesn't have to be the root of all evil and that where you bank can help you feel like you're doing good for the world.
It sounds too good to be true, right? Why would a bank have your best interest in mind and want to put your money where your mouth is in terms of the values you stand for in this world?
Aspriation is a mission-driven business which works with clients instead of against them and helps them make a difference in the world. Aspiration doesn't charge late fees and reimburses all ATM fees. Accounts through Aspiration can earn up to one percent interest, and 10 cents on every dollar is donated to charities, including the support of microloans.
Waylon and Alexandra discussed why there is no reason other banks can't be using this same model and building relationships with their customers.
Accounts have an Aspiration Impact Measurement score (AIM score) that allows you to see where your money is going. Aspiration collects data for retail and services on the social responsibility score of where you are spending your money. In other words, your AIM score tells you if your grocery store is doing good for the world. This helps you see where your money is going and if it's good for the planet—informing your rights as a conscious consumer because an enlightened society is founded upon seeing where your money is going. There is value to banking with a small giant because you're learning about your consumption decisions in the process.
Aspiration supports individual bank accounts, not businesses, because individuals have been the least best treated by financial institutions.
Where you bank doesn't have to be shady.
~
Interested?
~
~
We got your social mediums right heah:
Listen: Walk your Talk on your commute or over dishes with Soundcloud.
Subscribe directly to our award-winning Youtube Channel.