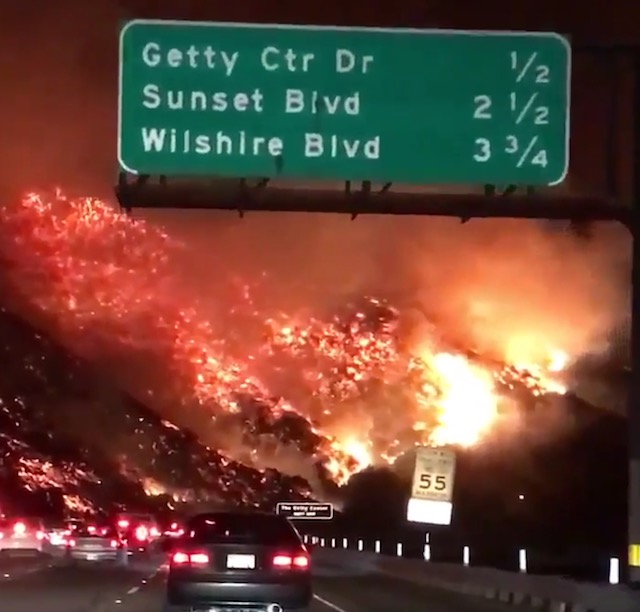 I spent yesterday crawling around dog kennels in the dirt.
I'm just petite enough for the job.
I climbed inside at least 30 dog kennels, baby wipes in hand. My once white Converse shoes were covered in a layer of dust and dirt—and maybe even a little bit of dog sh*t.

In the distance, the hillside burns. I'm in Ventura County, the epicenter of raging and uncontrollable wildfires that broke loose this week in Southern California. Hundreds of thousands of acres have burned, are burning, and are at continued risk of destruction and devastation all throughout Southern California. Maybe it's just me, but I'm having the sense that Mama Earth is not happy with us humans as of late. 
We're at the whims of these Santa Ana winds, an ominous, threatening force to be reckoned with around here. My eyes are burning as I write, remnants of wind and dust caught in them from earlier.
In conjunction with an unseasonably hot summer, a rainy winter where vegetation grew and then dried, climate change, and now the almost mystical Santa Ana winds, Southern California has been the perfect combustion storm for uncontrollable wildfires to rage. 
This follows our neighbors to the north in Santa Rosa, California, that were ravaged in October by similar destruction. It felt almost apocalyptic. Hillsides engulfed with flames. Animals have died. Neighborhoods completely leveled and burned. Hues of red and yellow and orange enveloped our most traveled highways.
Something has struck me though: the relative apathy and lack of concern from many about the severity of these fires. We may be prone to fires here, but are we going numb? In the wake of Santa Rosa's fires, I found myself feeling helpless.
Where do we begin?
I get the sense that Mother Earth is trying to shake us awake. This year has been harrowing on the natural disaster front. Hurricanes, earthquakes, and the like. I fear we may become desensitized with the massive amount of natural disasters and destruction we are facing on the daily in our news feeds. Is a constant stream of information paralyzing us into a state of apathy? 
Also, why was I in dog crates with dirt in my eyes and dog sh*t on my favorite pair of converse sneakers? What does this have to do with Mama Earth and her fires?
I drove out for the afternoon from Los Angeles to a local Doberman rescue. Over 100 Doberman Pinschers and a number of small breed dogs were forced to evacuate from the ranch and rescue under the threat of wildfires approaching. We waited on pins and needles with periodic Facebook updates to hear if the fire line had crossed to the ranch. And hundreds of large breed dogs were suddenly without a place to go. An already frightened group of dogs without owners were displaced once again.
I'm a mama to a Doberman rescue pup. My stepmother is a Doberman lover, and they've been in my family for years. Like our dogs, Doberman mamas can be loyal and protective of a wildly misunderstood breed. My dobie girl Cielo is a sweet bundle of love that came to me terrified of everything and the world around her. I can't imagine what she would feel in the midst of an evacuation, thwarted into an unfamiliar scenario yet again. My heart ached for these sweet animalsknowing the fear they must be experiencing. Not to mention their humans have been terrified of losing their ranch and were scrambling to keep these animals safe and out of harm's way. 
But something amazing has happened with this dog rescue: they've been bombarded by a constant stream of volunteers, more than they could handle at times. Word erupted on social media that they were in need and volunteers, like myself, drove from neighboring counties to lend a helping hand. Mountains of supplies to clean out dog crates were donated.
And yes, these animals are scared and some defacated in their crates out of fear. We cleaned their crates so they had a warm and dry place to sleep. We folded their blankets so they didn't have to sleep on the hard ground. We worked together. We got dirty. We took them on walks and loved on them. One sweet boy nibbled on my ear on our walk. I saw children refilling water bowls eagerly. I climbed in dog crates to make their beds. Other volunteers brought us donuts. People showed up with trucks and trailers to aid and assist in the moving of dogs to safety. We came together for the betterment of these majestic animals and the humans helping them. 
My eyes filled with tears at one point. Have we stopped to think how many countless thousands have been displaced this year due to natural disasters? This could be me. This could be you. This could be us.
At times, it's felt like unless our own homes are on fire, or the ground beneath us is shaking, or we're in the hurricane zone, it's increasingly challenging for us to be compassionate and deeply concerned with what's going on in the bigger picture.
Today, from inside a dog crate, I felt a little more hope toward my fellow humans. 
And here's the real kicker: we need each other now more than ever.
I'm not telling this story to garner praise or adoration. I'm telling this story because I have been afraid these last few months. I live in a part of the world prone to earthquakes and wildfires. I've been lucky. We are lucky if we have not been touched or directly impacted severely by a natural disaster in our lives.  My dogs and I are safe today, but I don't know what tomorrow brings. And, since climate change is real, we all need to brace ourselves for the reality that we are in this together.
We might have the luxury of turning a blind eye right now by closing Twitter or turning off our screens because we can't take anymore news about natural disasters. But we don't have the luxury of shutting down Mother Earth. If anything, she's just getting started. Climate change isn't slowing by any accounts I have read.
We live in a world right now that is more digitally connected than it's ever been. Tweets and Instagram and Facebook posts can spread like, well, wildfire.
But we're missing a critical piece: translating our social media flurry into action.
A few text messages, Facebook messages, and phone calls rolled in this week from loved ones and friends. Some I hadn't spoken to in quite some time. People were asking if I was okay and safe. And it went a really long way to hear from them. Taking action doesn't mean you have to hop on an airplane. It might mean calling a friend in an area impacted by a natural disaster. It might mean making a donation to an organization that resonates with you if you are far from what's been going on. It might mean you actually scroll through the pictures so you understand the gravity of the situations at hand. It may mean bringing a warm meal to disaster and relief workers in your area.
It might mean scurrying to save a rabbit off the side of the road in a blaze.
It might mean giving up part of your Saturday to volunteer and help those in need with two or four legs. We can all find where we are best of service (I have a hard time with blood, but cleaning dog crates doesn't seem to faze me).
It might mean calling a friend or Instagram messaging her if she lives in an impacted area and saying "Are you and your loved ones okay? How can I help from afar?" It might mean just listening to someone who lives in an at-risk area that is frightened and saying, "I'm here if you need me. I love you."
It might mean being kinder to Mama Earth. It might mean committing to driving less, taking public transit, and making choices that positively impact our world, our globe, and our environment. It might mean educating our little ones about being kinder to our planet. 
This isn't about fear mongering. This is about being realistic to the reality of the times we are in and being loving toward one another, our planet, and its inhabitants in light of the reality we find ourselves in.
Mama Earth needs us to move beyond simply liking one another's photos of the blaze in Southern California and posting sad faced emojis if we are going to save her. She needs more than our prayers and our good vibes and meditations. She needs us, and she needs us to show up for her.
You might be far from California, but we're all living on this place called Earth together. Mother Earth is here, right now, and she's screaming for our love, help, and attention. Will we rise to the occasion, or will we participate from the comfort of our tweets and let her burn? 
If you've been moved by this piece, please considering making a donation to the dog rescue organization referenced above. At the time of this writing, their ranch is at continued risk from the fires. They've been severely impacted by the recent and ongoing fires in Southern California.
You can also check out this Newsweek article on how to assist those impacted by the fires in Southern California.
~
~
~
Author: Whitney Easton
Image: Imgur
Editor: Travis May
Copy Editor: Nicole Cameron
Social Editor: Waylon Lewis