President Trump has Oscar Brown Jr. screaming from the grave. 

I blow a fuse every time I'm forced to hear President Trump demonize immigrants. But when he does it by reciting "The Snake," my indignation reaches volcanic proportions.
That's because Trump has no idea who wrote those words, and if he did he'd appropriate them anyway, even though the late singer/songwriter Oscar Brown Jr. stood for exactly the opposite of Trump's divisive, demeaning message.
It may seem odd that I take this offense personally, but I do. Back in the 1960s, when I was a pseudo-hip college student in New York City, I saw Oscar Brown perform several times in Greenwich Village clubs I was barely old enough to get into. I owned all his albums and wore out their grooves. He was, to me, some combination of Ray Charles, Bob Dylan, Nina Simone, and the great Belgian singer-songwriter Jacques Brel, who brought to life the streets of Paris and Brussels through musical portraits of ordinary people (for me, in translation from the French).
Oscar Brown brought to life the mostly African American characters of his native Chicago, spiced with pungent social commentary—some explicit, some veiled—wrapped in infectious tunes with jazz, blues, and pop inflections. I savored the music, learned life lessons from the lyrics, and delighted in the live shows because Brown was a consummate performer with an uncanny way of inhabiting the characters whose tales he so cleverly weaved.
The height of Brown's musical career spanned the peak heat of the Civil Rights Movement, and he was part of it, educating fans with his poignant songs and putting his body on the line for social justice. There was bitter indignation in some songs, often laced with sharp humor, and in others a tender hope of reconciliation and a brighter future. He sang of the destitute, the oppressed, and the struggling citizens of forgotten neighborhoods, rendering their portraits and their tales with dignity rather than pity.
His was a potent message of what we now call "inclusion." The Trumpian exclusion and not-so-veiled racism would have infuriated Oscar Brown, who later ran unsuccessfully for public office and died at age 78 in 2005. If his soul is anywhere in the cosmos watching today's America, he might be glad he missed the Trump era—or else he's pissed that he can't employ his vivid wit on behalf of the resistance.
Whatever he was thinking when he wrote and recorded "The Snake," Brown surely would have resented it being misused as an anti-immigrant screed. The song is based on an Aesop fable called "The Farmer and the Viper." In it, a "tender-hearted woman" comes upon a frozen snake on her way to work, and, moved by its plaintive plea, brings it home for warmth, nourishment, and care. When the snake revives, it repays the woman's compassion with a venomous bite. "Why?" cries the woman as she succumbs to the poison. And the snake shuts her up: "You knew damn well I was a snake before you took me in."
For Trump, that's an allegory for what happens when compassionate fools open the nation's doors to immigrants. For Oscar Brown, it may have been a take on the Adam and Eve story or, more likely, a cautionary tale for women who might be lured by needy men with bad intentions. If he had to interpret the song for today's political theater, I'm guessing he would say it's about the hazards of being conned into electing a lying, narcissistic snake.
Judging from their recent statements, it would seem that Brown's daughters agree.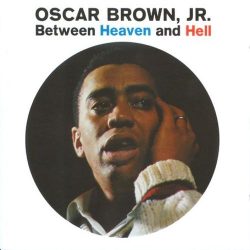 But don't take my word for it, or even the daughters'. Check out the Oscar Brown Jr. songbook. Read the lyrics, hear the voice, lean into the music, apprehend the sensibility.
Listen to his version of "The Snake." Hear anything in the tone suggesting xenophobia? Brown celebrated cross-cultural friendship ("Finding a New Friend") and universal kinship ("Brother Where Are You").
Half a century before "Black Panther" and Trump's "sh*thole" slur, he celebrated his African roots in Afro Blue.
When Black History Month wasn't even an idea, he taught about the legacy of slavery in songs both poignant ("Bid 'Em In") and wry ("Forty Acres and a Mule").
He called out systemic poverty and unjust incarceration in, for example, "Work Song," about a man doing hard labor for robbing a store out of desperation ("I committed crime, Lord I needed / Crime of bein' hungry and poor"). In "Brown Baby," he dreams of a future where his firstborn son can "walk down the freedom road," "stand up tall and proud," and "speak up clear and loud."
It wasn't all protest and socio-political commentary by any means. Brown was a great observer of the modern human condition. He had fun with obsessive, unrequited lust in "Hazel's Hips." He exposed the futility of thrill-seeking in "Mr. Kicks," the hazards of alcohol in "One Foot in the Gutter," and the posturing of those obsessed with coolness in "But I Was Cool." He captures the existential despair of an era of whirlwind change in "World Full of Gray." And in "Signifying Monkey," based on a Yaruba fable, he mocks a primate who traffics in lies, insults, and humiliation—see if it reminds you of someone we know with an orange appearance…
And now for a phrase I never thought I'd type: Thank you, Donald Trump. Thank you for the opportunity to revisit an under-appreciated genius, and an excuse to turn people on to Oscar Brown Jr.'s musical and social legacy.
~
~
Author: Philip Goldberg
Image: Album cover
Editor: Callie Rushton
Copy Editor: Travis May