Editor's note: while we have received many submissions on both sides of the fence, our objective is dialogue, not drama, and we have therefore only published a few that are 1) in-depth and/or 2) offer a new insight or perspective. 

The images and facts in this article are public record and do not represent all facts of the case—only what is known by the authors at time of publication. ~ Waylon, ed.

Note: Here's another point of view, also delving into the legal situation, not "merely" the moral situation.

The below is an op-ed, of course, and intended to support open dialogue, not us vs. themism. We support open, honest, respectful dialogue without threat between Alo/Cody and Kino/Dana and all supporters of each. Hating on either side is not helpful. Some have said: be quiet. I say, Elephant is here to support yoga, bring awareness to the ethics of the business of yoga, yoga practice, and the effect of social media and respectful dialogue on yoga community and practice.  ~ Waylon, ed.

For reference:

> When one Big Company picks on one Yoga Teacher. ~ Kino MacGregor
> The Truth behind Kino's letter. ~ Paul Javid
> Alo, do the right thing—and we will all thank you. ~ Kino MacGregor
> Kino talks with Waylon about Alo and Dana & the Path of Yoga in an Instagram culture.
> From one non-famous Instagram Yogini to another.
Cody v. Falsetti and ALO v. Falsetti: A Legal and Ethical Commentary, by Rachel and Zach Dyer.
Disclaimer: Our article is not written in the course of and does not create or constitute an attorney-client relationship, is not intended as solicitation, is not intended as legal advice, and is not a substitute for obtaining legal advice from a qualified attorney. We do not represent any individuals mentioned or any parties to the lawsuits discussed in this article.
A. Introduction
I, Rachel, first heard of Kino MacGregor in late 2016 during my study of various methods of yoga in a yoga teacher training that Zach and I were navigating together. I went home and downloaded "Ashtanga Yoga Primary Series" videos featuring Kino from codyapp.com. A few days later, having hardly any knowledge about and no experience practicing Ashtanga Yoga, I turned on the 77-minute, 58-second full primary in our basement and started practicing to Kino's cues. I was in pretty good shape, I thought.
Well, by the time Kino got from garbha pindasana to kukutasana, I paused the video, picked up my phone, called Zach, and said something like, "You have to see this…" I had never seen such a remarkable practice nor been so inspired to learn.
We attended the Ashtanga Practitioner's Intensive at Miami Life Center in Summer 2017, where we got to practice for a month with Kino, Tim Feldmann, and other world-class teachers. We returned to Miami Life Center for a week in December 2017, and got to learn personally from Kino again in Pittsburgh in February 2018.
Now, we see our teacher, Kino, sparking interest in two lawsuits. We wanted to use our legal education and research abilities to fully understand the cases and determine for ourselves what we think is just. So we have obtained and read all pleadings available at the time of writing.
Through this article, we hope to help readers understand the current lawsuits among Cody, Inc., ALO, LLC, Dana Falsetti, and other unnamed individuals, so that readers might make an informed opinion. In order to do this, we present some facts, procedural history, and discussion.
B. Some of the Facts, as Stated by the United States District Court, Western District of Washington, Seattle Courthouse
The two lawsuits, (1) Cody, Inc., a Delaware corporation, Plaintiff, v. Dana Falsetti, an individual; and Does 1 through 10, inclusive, Defendants, Civil Case No. 2:17-CV-01833, ("Cody v. Falsetti"); and (2) ALO, LLC, a California limited liability company, Plaintiff, v. Dana Falsetti, an individual; and Does 1 through 10, inclusive, Defendants, Civil Case No. 2:18-CV-00208, ("ALO v. Falsetti"), arise out of the same set of facts.
I. Agreement Between Cody and Ms. Falsetti
According to the Order Granting Motion to Dismiss Counterclaims; Denying Motion to Strike Affirmative Defenses, filed March 8, 2018 in the United States District Court for the Western District of Washington at Seattle, some of the facts are as follows: "Cody produces online health and fitness content…Ms. Falsetti is a well-known yoga teacher who offers videos and related content on Cody's site…Ms. Falsetti describes herself as a 'large-bodied woman' who 'advocates for those with similar body types who want to find the confidence to live life more fully." Cody v. Falsetti, No. 2:17-CV-01833, 2018 PACER, 9th Cir. D. W. Dist. Wash. Dkt. No. 27.
On August 1, 2016, Cody and Dana entered into a Talent License and Release Agreement ("TLRA"). This "TLRA granted to Cody and 'its agents, subsidiaries, affiliates, licensees, successors, and assigns, and to other such entities or persons as [Cody] may designate from time to time' the rights to produce, promote, and own video and other content using Ms. Falsetti's 'physical likeness, name, voice, image performance, persona, and exercise routine,' and the rights to 'any marketing collateral associated therewith' (collectively, the 'Falsetti Content')." Id.
Further, "The TLRA granted Cody an irrevocable license to 'use and exploit' the Falsetti Content 'in whole or in part, either alone or in conjunction or combination with other words…for any advertising, marketing, and promotional purposes'…Notwithstanding the foregoing grant of rights, Cody agreed not to use the Falsetti Content 'in a manner intended to harm' Ms. Falsetti's reputation…The TLRA included a provision by which Ms. Falsetti agreed not to disclose to any third party the content of any of Cody's or its affiliates' 'business plans, marketing strategies, advertising campaigns, and the like' without Cody's prior written consent." Id.
II. Cody's Merger with ALO, LLC
Next, "Around September 27, 2017, Cody informed Ms. Falsetti that it had been acquired by ALO, a yoga apparel company. Cody claims it informed Ms. Falsetti that this information was not public…On October 31, 2017, Cody sent an email to its subscription-based customers advertisting a 'last chance' sale featuring Ms. Falsetti's yoga videos…Ms. Falsetti claims she was not informed of this advertisement before it was sent, that it generated 'considerable concern'…among her followers…" Id. Subsequently, "On November 22, 2017, ALO sent an email to Cody's subscription-based customers advertising its apparel. Ms. Falsetti claims this email led her students and followers to 'reasonably believe[]' she was affiliated with ALO,' which they viewed as 'antagonistic to her advocacy for the health and wellness of large-bodied persons." Id.
Further, "Ms. Falsetti claims ALO sells clothing in sizes limited to 'slender-bodied' customers, and that its advertisements feature only 'very thin' models…According to Ms. Falsetti, ALO's clothing and brand image are incompatible with her own brand image." Id.
Finally, "Around, December 5, 2017, Ms. Falsetti posted a statement on Instagram explaining that Cody and ALO were now affiliated, and that she was no longer working with either company." Id. The post read, in part, as follows:
Exhibit 1 of Defedant's Notice of Motion and Motion for Partial Summary Judgment on Plaintiff's Claim for Trade Libel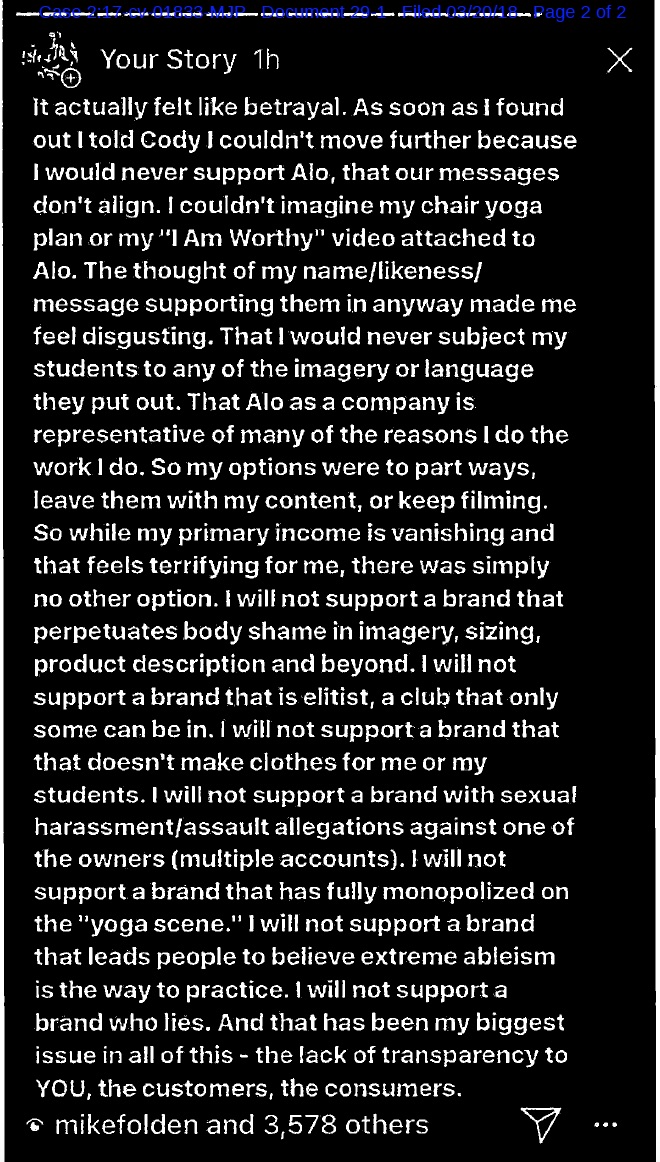 Cody v. Falsetti, No. 2:17-CV-01833, 2018 PACER, 9th Cir. D. W. Dist. Wash. Dkt. No. 29-1.
C. Some Procedural History, Claims, Counterclaims, and Defenses
Based upon this Instagram post, the very next day, on December 6, 2017, Cody filed a Complaint for Breach of Contract and Trade Libel in the Federal District Court for the Western District of Washington, Seattle Courthouse. In this Complaint, Cody states that Dana maintains an Instagram account with 306,000 followers, a Facebook account with at least 190,000 followers, and has been featured in multiple media outlets. Further, in the Complaint, Cody alleges, among other things, that "Cody has been damaged in an amount which is uncertain at this time, but which will exceed $75,000, attributable directly to Falsetti's notoriety …" Id. Dkt. No. 1.
Two days later, on December 8, 2017, ALO filed a Complaint for Defamation – Trade Libel in the Superior Court of California, County of Los Angeles. In this Complaint, ALO alleges, "On or about December 5, 2017, Defendant Falsetti defamed ALO, by making the following false and defamatory statements, in writing, on her Instagram account, that: a. there are 'sexual harassment/assault allegations against one of the owners (multiple accounts),' of ALO, and b. ALO 'lies'." ALO v. Falsetti, No. 2:18-CV-00208, 2018 PACER, 9th Cir. D. Cent. Dist. Cal. Dkt. No. 1-2. Further, ALO alleges that Dana's Instagram "comments were directly aimed at ALO and at California, as the focal point of both the intended harm suffered and of [Dana's] motives toward ALO, and that [Dana] knew and/or hoped that her statements would potentially have a substantial negative impact on ALO, and that the brunt of that injury would be felt by ALO in [California]." Id.
As to Cody v. Falsetti, on December 29, 2017, Dana timely filed an Answer to Cody's Complaint, in which Dana stated, among other things, that another unnamed Cody coach had divulged ALO's acquisition of Cody to protect the other Cody coach's own students, prior to Dana's disclosure of the acquisition, made counterclaims of Breach of Contract and Equitable Indemnity, and raised multiple affirmative defenses. However, the court dismissed Dana's counterclaims largely because, per the court, the facts presented did not support Dana's arguments. The court declined to dismiss Dana's affirmative defenses. Currently pending before the court in Cody v. Falsetti is Dana's Motion for Partial Summary Judgment as to Cody's claim of Trade Libel.
The gravamen of this Motion is that Dana did not make damaging statements toward Cody; even if she did, Dana argues, those statements were protected; and even if the statements were not protected, the statements were about ALO, not Cody. This Motion and other pleadings state Dana's comments at issue were only posted for approximately one hour and drew only 3,578 views. The hearing for this Motion is on April 20, 2018. If this motion is granted, that means Cody's claim of trade libel would be dismissed by the court, and Cody could no longer pursue this claim. Cody would be left with breach of contract as its only remaining claim.
As to ALO v. Falsetti, the main motion that has been litigated is Dana's Motion to Transfer Venue. Dana argued that ALO v. Falsetti should be transferred to the Western District of Washington, due to the similar case brought by Cody in that district, for judicial and economic efficiency, among other reasons. Ultimately, Dana's motion was denied. The court acknowledged the actions were closely related but found no basis that ALO is subject to the forum selection clause of the TLRA because ALO was not part of Cody's contract with Dana. Since ALO only has a single trade libel claim, the court reasoned that the location of the defamatory statements and location of the injury have no direct connection to the Western District of Washington.
Most recently, on February 26, 2018, Dana filed a Motion for Summary Judgment, which was withdrawn two days later, without an explanation for the withdrawal.
D. Discussion.
Should these complaints have been filed in the first place? In our opinion, no, Cody and ALO should not have been filed complaints so seemingly hastily without first good-faith attempts, by all parties, to explore alternative routes to resolving the parties' issues.
Let us start by saying, we do not know the intimate facts of the case. We are merely going off of the court record.
Maybe other attempts at resolution were attempted, without success, but we are unaware of those. However, court records state Dana posted the Instagram comments at issue on December 5, 2017, Cody filed its complaint the next day, on December 6, 2017, and ALO filed its complaint on December 8, 2017, so it appears Cody and ALO resorted almost immediately to litigation.
We disagree with this approach wholeheartedly.
Litigation is expensive. It can be financially and emotionally draining. A typical attorney can charge anywhere from $225 – $500 per hour. The longer these lawsuits persist, the more likely it is that Dana, who, according to court records, lives in Philadelphia, Pennsylvania, will be required to travel to the states of Washington and California for depositions, mediation, or hearings. If any expert witnesses are called to testify at trial, these expert witnesses may charge thousands of dollars per day to attend a trial.
The discovery process is also expensive and time-consuming. All parties want certain information from other parties, who have to take the time to gather and provide the information. There are also court costs and jury fees associated with trials.
As such, because of the high cost of litigation, litigation is usually regarded as a last resort to resolving a dispute.
Further, forcing a party to defend cases in multiple states is sometimes used as a litigation tactic, potentially making the costs of litigation much greater. This can sometimes play a role in influencing a party to take a settlement agreement not in that party's best interest, just to bring an end to cases to reduce cost.
As to Cody v. Falsetti and ALO v. Falsetti, pleadings show that Cody and ALO are represented by the same firm in these two lawsuits, that Dana's attorney attempted to reach an agreement with ALO's attorney to move ALO v. Falsetti to Washington, where Cody v. Falsetti is being litigated. ALO's attorney could have stipulated to that agreement, but declined, and ALO v. Falsetti remains in the state of California.
There are a multitude of avenues that ALO and Cody could have taken before resorting to litigation. What comes to mind first is a simple Cease and Desist Letter basically saying something like, "Dana, please stop what you are doing, or we will take legal action against you." Another route is a representative from Cody or ALO reaching out to Dana about her concerns, and trying to reach some resolution where all parties could each go their separate ways, or figure out a way to keep their relationship going forward. Again, if any of these alternatives were attempted, they are not reflected in the court record.
For all these reasons, after our study of the cases, we agree with our teacher, Kino, when she says that these lawsuits are analogous to the story of "David vs. Goliath," as, in our opinion, these companies, that presumably have the funds, arguably appear to be using litigation as a way to punish —as the cost to litigate, regardless of legal arguments, is so great.
The GoFundMe page that Kino started will help Dana defend herself.
To go into the merits of claims and defenses or predict the outcome of a single motion, let alone predict anything about trial, would likely far exceed the character limit allowed by many platforms. Fortunately, the large majority of cases settle before trial.
We hope that, and we believe the entire yoga community hopes that, these parties are able to come to an amicable resolution long before trial.
Maybe something good can even come out of this dispute. Maybe Cody, ALO, and Dana could work on a positive body image campaign or a clothing brand for all body types.
In closing, what we wear is an ethical issue and ethical choice just as much as is what we eat, how much money we spend on ourselves, and many other issues in our daily lives. We can give our lives meaning by living in accordance with our values. There is a plethora of companies that sell yoga clothing and clothing in general. How do we choose? We can actually make choices easier for ourselves if we tell ourselves something like, I choose not only what looks good but also what is in accordance with what I value.
What do you value? Do you value animal welfare and want to see better treatment of animals? Do you value equality and wellness in the workplace? What is important to you? For example, some research may show that certain companies transparently use only vegan material, donate some proceeds to certain causes or nonprofits, or abide by strict standards.
For now, the ALO apparel that we, Zach and Rachel, bought in the past is tucked away in the back of our drawers. We hope Cody and ALO show good will so we can all proudly wear ALO clothing someday.
~
Relephant bonus round: