Basant or Vasant in Hindi, is springtime in India.
The Hindu calendar marks the New Year with springtime festivals. Various parts of India celebrate the spring season in the months of February and March.
I grew up in the western Indian city of Mumbai. In my state of Maharashtra, we celebrated spring by erecting a cloth and bamboo arrangement called "Gudi." 
My dad was in charge of erecting the figurine. He used a long wooden stick, draped it with a new colorful sari, and tied it to the wooden stick. He then placed a copper pot on the Gudi. We worshipped this Gudi on the auspicious spring day, praying for a bountiful harvest, and for health and prosperity for the upcoming New Year.
The sweet offering after prayer was a bittersweet chutney made with jaggery (raw form of sugar) and neem leaves. Neem leaves have medicinal properties and they are quite bitter; they help cleanse our blood. Adding jaggery to ground neem chutney symbolizes that life will be bittersweet. Each person in our family was given this offering and then we all sat together for a traditional family meal.
Here in the United States, the temperature has begun to rise as spring sets in and we look ahead to the warm oncoming summer months. It is important that we take care of our bodies during this changing season. After a long period of winter when vata dosha has dominated, we now enter the kapha dominated spring season. Kapha is heavy and stable, and to balance kapha, we need to consume light foods.
Kapha Khichari 
Khichari, an Indian porridge made with lentils and rice, is the go-to food in Ayurveda. It is a lightly spiced balanced meal that provides us with a good amount of carbohydrates and protein, and is easy on our tummy, thus enhancing digestion. Both white basmati rice and lentils, are light on our bodies and are great for kapha dosha people. Ghee is favorable for kapha dosha people and so are light seasonal vegetables used while making this delicious khichari. The yellow color of this porridge is an ode to the color of spring.
Ingredients:
½ cup split yellow mung lentils or split pigeon peas (tuvar dal)
½ cup white rice, preferably short-grain
2 Tablespoons ghee
4-5 black pepper corns
½ cinnamon stick
2-3 cloves
1 jalapeño, stem removed, and finely chopped
1 teaspoon cumin seeds
½ teaspoon ground turmeric
½ cup peeled, diced carrots
½ cup green peas
½ cup finely chopped green beans
2 teaspoon salt or as desired
2 ½ cups boiling water
½ cup finely chopped cilantro
Instructions:
In a colander add lentils and rice. Rinse under cold running water for one minute. Empty lentils and rice in a medium-size bowl and add 1 cup water. Set aside for an hour.
In a medium-size sauce pot over medium heat, melt ghee.
Add black peppercorns, cinnamon stick, cloves, jalapeño, and cumin seeds. Sauté for one minute.
Add turmeric, carrots, peas, green beans, and salt. Mix well and sauté for three to four minutes.
Add boiling water and then add soaked lentils and rice along with the water in which they were soaked.
Cover the sauce pot with a lid and reduce heat to simmer. Cook covered for 25 minutes.
Remove from heat and garnish with cilantro. Serve warm for two.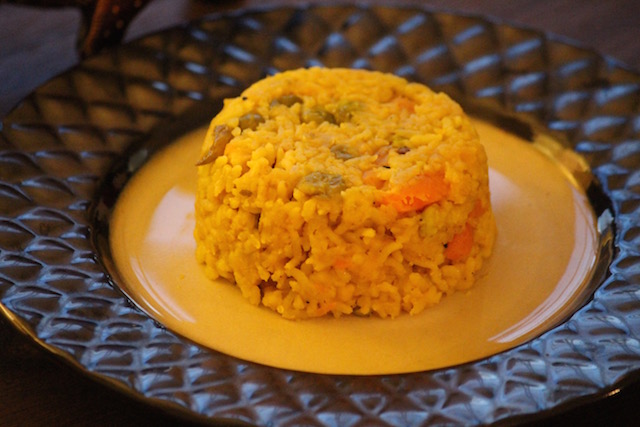 Basant Pulao (Spring Pilaf)

This sweet rice pilaf from the Indian state of West Bengal, is yet another way to welcome spring. This rice dish includes ground turmeric instead of saffron—which is usually used for preparing a sweet rice dish. Regional short-grain rice is normally used for this preparation, but white basmati rice is a perfect substitute. It not only has longer grains, but acts as a coolant for our body during the warm season. The combination of the three spices—green cardamom, cinnamon, and cloves is a wonderful combination for kapha dosha people.
Ingredients:
1 cup white basmati rice
2 Tablespoons ghee
¼ cinnamon stick
2 whole green cardamoms, muddled
2 cloves
½ cup cashew nuts
½ cup green/golden raisins
1 teaspoon salt
½ teaspoon ground turmeric
½ cup brown sugar
Instructions:
In a colander add rice and thoroughly rinse under cold running water. Set aside.
In a medium-size sauce pot over medium heat, melt ghee.
Add cinnamon, green cardamom, and cloves. Saute for one minute.
Add cashew nuts and golden raisins, and sauté for another minute.
Add salt and turmeric, and mix.
 Add rice and toss the rice grains for about three minutes. Try not to break any rice grains.
Add boiling water and reduce heat to simmer. Cover the pot with a lid.
Cook for 20 minutes or until most of the water has been absorbed by the rice.
Sprinkle sugar and gently toss rice. Cover again and cook for five minutes. Serves two.
~
Author: Rupen Rao
Image: Author's own
Editor: Kenni Linden
Copy Editor: Yoli Ramazzina