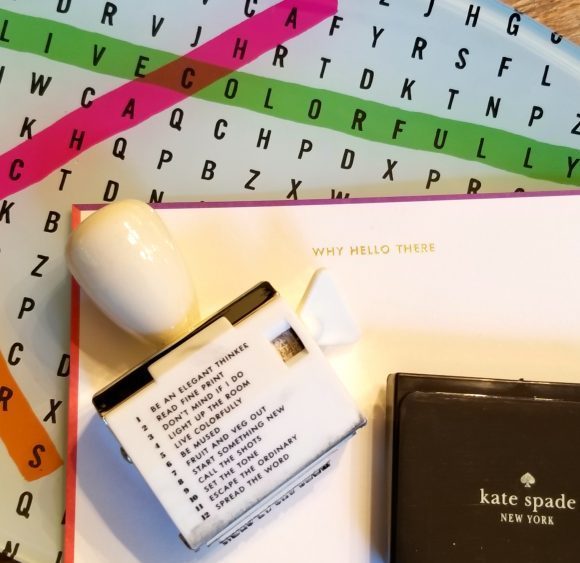 Not only have I adored her name, but her creations filled my eyes and fingers with joy.
At first sight, her stores looked like a blast from a ladylike past reinvented in technicolor. Hot pinks, true greens, rich navy, and bright whites stole my gaze and drew me in off of the street.
The cuts and patterns of her clothing spoke of a fearlessly feminine and classy woman with an air of undeniable whimsy stirred with strength.
She followed the footsteps of Lilly Pulitzer by famously branding and bringing to life her bold personality through a namesake business.
Regardless of stepping away and selling her brand a decade ago, Kate Spade's voice has lived on. Her words linger inside or are still printed upon everything within the label.
These mindful messages offer hope, confidence, or a giggle. For example, my own eyeglasses from her line are inscribed with the message, "Find the Magic in Everything." It lifts my spirits with a smile daily.
However, making it big in business, being an icon in an industry, or reading little, uplifting messages daily are sometimes not enough. Kate Spade chose to take her life yesterday, at the age of 55.
I cannot imagine what mental state brought her to her actions. I pray for her family and friends as they sit in shock. Also, I pray for her. We will never know the suffering she held inside.
Kate Spade has left behind a legacy of colorful words. So as a tribute, I offer these…
20 Whimsical, Inspirational Quotes from Kate Spade:
"I adore pretty things and witty words."
"I think playing dress-up begins at age five and never truly ends."
"Be Happy. Be Bright. Be You."
"Eat cake for breakfast."
"A smile and a wink can get you farther than you think."
"Be your own kind of beautiful."
"Think. Travel. Celebrate. Charm. Decorate. Dress. Live colorfully."
"Never get lost in the crowd."
"Forgive Endlessly."
"Style is the sense of so many things beginning with the sense of who you are and having self-confidence."
"She eats takeout on china and serves pizza with champagne."
"She looks for adventure around every corner."
"She leaves a little sparkle wherever she goes." 
"She is quick and curious and playful and strong."
"She is a voracious reader and a fantastic dancer."
"Her emails pile up, but she always remembers to call her grandmother."
"If you are honest and fair as can be, not only in business but in life, things will work out."
"Tell someone it's going to be a good day because it is."
"She is the first to give a toast and the last to say goodnight."
"It's the start of a new year. 365 Days. 365 chances for joy. Go get them."
Farewell, Kate Spade. Your sparkle will be remembered.
Do you or someone you know hold suicidal thoughts? You are not alone.
For support and assistance in the United States, call the National Suicide Prevention Lifeline at 1-800-273-8255. In an emergency call 911.
For support and assistance in the United Kingdom, call 111 or ask for details of the nearest CRT (Crisis Resolution Team) team. In an emergency, call 999.
For support and assistance in Australia call, 13 11 14.