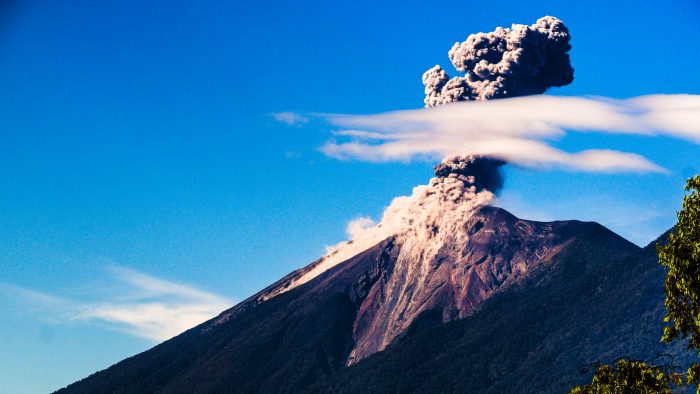 "Breathing in, I see myself as a mountain. Breathing out, I feel solid." ~ Thich Nhât Hańh
~
I live in a land of volcanoes.
Three magnificent (and thankfully, dormant) ones are our daily view. They are mesmerizing, commanding the eye's attention as they tower patiently, solidly, and powerfully over the lake. One never tires of la vista hermosa (the beautiful view). The natural beauty in Guatemala, thanks in large part to its volcanoes, is simply breathtaking.
On the other hand, naturally, volcanoes erupt. It's easy to take that for granted when living in close proximity to three such peaceful ones.
Last Sunday, June 3rd, el Volcan de Fuego erupted violently, killing more than 100 people. Two hundred human beings are still missing. It is one of 22 volcanoes in Guatemala, although only a few of them are active. Fuego sits several miles outside a popular tourist destination, the colonial city of Antigua. It is known for its impressive shows of smoke puffs which are a regular fixture on the skyline visible from Guatemala City, Antigua, and even from where I live, three hours away, at Lake Atitlan. Usually, it just puffs harmless smoke. For the first time in over 40 years, the explosions have turned highly dangerous and harmful.
A village called San Miguel de Lote near the base of the volcano was the hardest hit. Thousands of people and animals have been burned or otherwise injured, displaced, and traumatized by this natural disaster; hundreds of homes and buildings are destroyed. There was no possible evacuation when pyroclastic (hot, high-speed gas and volcanic rock mixture) explosions sped down the mountainside. Fuego's activity makes the recent, slow-moving lava flows on Hawaii's big island look tame.
The destruction is unfathomable, and the pain and suffering are palpable. All of us "gringos" who live in Guatemala have received countless messages this week from friends and family checking in to make sure we are okay. We are. We haven't been affected, except emotionally, by this event.
The ones who are not okay are the people who lived close to the volcano and lost everything, most of whom were struggling to get by financially day-to-day even before the tragedy hit.
Adding salt to the wound is that fact that the Guatemalan government, if you can even call it that, is so defunct and corrupt that the powers-that-be are neither able to give people ample warning when volcanic activity is expected nor willing to provide meaningful aid. International aid is hesitant and minimal, since the leaders of affluent countries are well aware that most of the money they send will not be applied toward the disaster at hand but instead pocketed by politicians at every level from national to municipal. This display of rampant greed and ignorant cruelty is beyond disgusting.
At the same time, thousands of people have been contributing to the relief effort—rich and poor, Guatemalans and expats, everyday citizens and trained emergency professionals—searching for and rescuing survivors from the toxic aftermath, collecting and distributing donated supplies for those who lost their homes and all their possessions, building long-term shelters, and comforting the brokenhearted with an outpouring of compassion, love, and kindness.
Overnight, hundreds of crowdfunding pages were created by caring individuals to raise money for the medical care of those injured and the rebuilding that will certainly take years. (Hopefully, they are caring; as always with tragedies, there are some who look to profit personally.) Guatemala is home to hundreds of NGOs (non-governmental organizations) due to the ubiquitous issues in this country stemming from the extreme poverty of the mostly Mayan-indigenous population. These organizations are the ones to support.
If you would like to donate to the relief effort, here are a few highly-recommended, vetted, grassroots non-profits that will doubtless use every dollar in the most effective and efficient way to alleviate suffering:
>> SERES
Thank you for caring! May all beings be safe.