This post is via The Ayurveda Experience, an Elephant Mindful Partner. We're honored to work with them—they're dedicated to making Ayurveda more accessible to everyone and using only quality, authentic, healthy ingredients.
Head's up: this product contains cow's milk (in Ayurveda cow's milk is sacred, as are cows). This does mean, however, that it's not suitable for vegans. ~ ed.
In case you haven't noticed yet, the bare-faced look is in.
Or to put it another way, it's time to address the real needs of your skin so you can glow naturally without needing loads of foundation, concealers, and other high coverage makeup.
You may have seen celebrities and influencers who seem to be comfortable and confident without an ounce of makeup on. But what about those of us who don't feel the same?
There's only one simple answer to this (and no, it's not a new Instagram or Snapchat filter).
Imagine, just 5 minutes' evening facial massage gives you almost everything you need—gorgeous gleam, smooth skin, and a clear-looking complexion. And it only takes 3-4 drops of the fast-absorbing, non-greasy, beautifying oil formulated specifically to tackle dry, dull texture, and uneven skin tone.
With Manjish's 3 mysterious Ms, your skin is nourished by life-infusing nutrients through the night, leaving it with a new level of freshness, radiance, and softness in the morning.
A lot of people have been impressed by this skin-transforming elixir, by how only a few drops of it can help them feel absolutely comfortable in their own skin.
For instance, Skywalker Payne relies on this nightly ritual to maintain a youthful glow. She says, "My skin feels soft and it glows. And I'm so grateful to The Ayurveda Experience for creating this natural product. If you're looking for something to make your skin glow, feel soft, feel healthy, you want Manjish Glow Elixir. I have no makeup on my face except for a little lip gloss and I'm 67 years old. So, if you want your skin to glow and look youthful, this is the product worth the investment. Just 3 drops at night, every night and you'll be amazed!"
Similarly, Stephanie S. swears by this power-packed night oil. "I have always worn makeup, I am 45, and I finally don't need foundation. I love my nightly routine now because I look forward to taking my makeup off just so I can put my 'glow' on," says Stephanie.
Manjish is not just any oil. It penetrates deep into the skin so that your natural, youthful beauty is able to shine from within.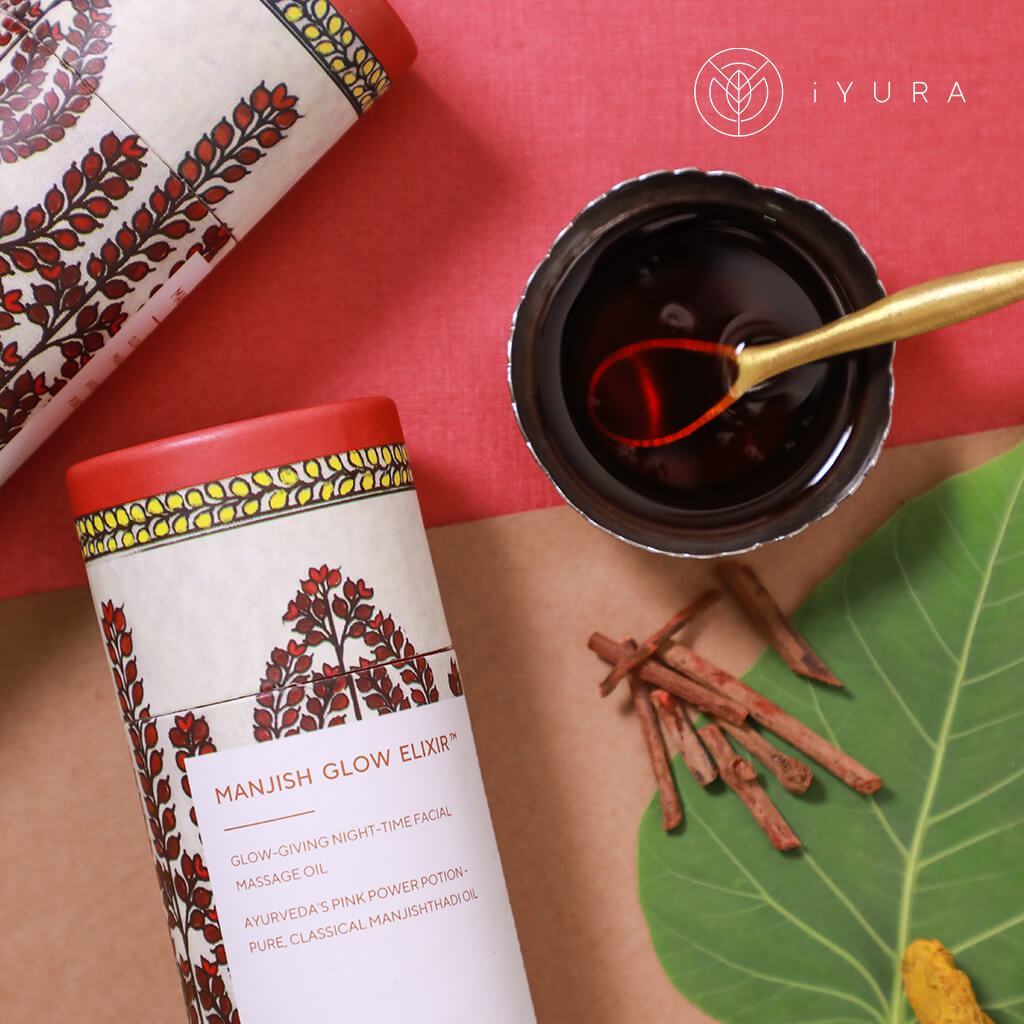 While the recipe of this oil is inspired by a recipe that was written thousands of years ago in an Ayurvedic text called "Chakradutt," it is more widely used today here in the West as it meets most contemporary skin needs of the modern, Western user. So, you can expect this oil to be non-sticky, easy-to-use, and light. And guess what? People love that it's absolutely fragrance-free and has no added essential oil or fragrance at all. 100% pure and natural, Manjish Glow has no added binder, preservative, or chemicals at all.
The ancient Ayurvedic texts speak volumes about the gold-like, subtle, natural glow it tends to bring to your skin.
So what are these 3 Ms that turn your glow all the way up?
1.   Manjistha
The wonder herb of Ayurveda—Manjistha or Indian Madder—is cultivated for its power-packed roots that are dried and powdered for use. It's Ayurveda's herb of choice for total self-care, as its benefits are wide ranging. It supports the skin in balancing dryness and an uneven skin tone, Manjish Glow Elixir is formulated by teaming Manjistha with other herbs and ingredients for an extra glow and lustre for your skin.
2.   Matulunga
This soothing herb looks like a bigger version of a lemon, with thicker skin and lesser pulp. According to Ayurveda, it has many uses and is considered excellent for imparting a lustrous glow to the skin. And if you're familiar with the three doshas of Ayurveda, it helps in balancing the Pita type skin that is prone to excess heat buildup. It also helps to promote a smooth, clear complexion while boosting the natural sheen and lustre of the skin.
3.   Mahua Bark
From its seeds to its leaves, every part of the Mahua or Butter tree is known to possess some valuable properties. But, unlike many skincare products that use its seeds to obtain the Mahua butter which keeps dryness at bay, this oil contains its bark. As modern research shows, Mahua bark has the characteristics of enabling youthful, healthier looking skin. It also helps to assist the skin's natural rejuvenation process at night.
The abundance of such rich exotic herbs combined and prepared following an ancient, meticulous method is what gives Manjish Glow Elixir its reputation as a luxurious skincare product.
A formula that is not only time-tested but also people-tested.
Here are 7 benefits you can expect, guaranteed by customer experience: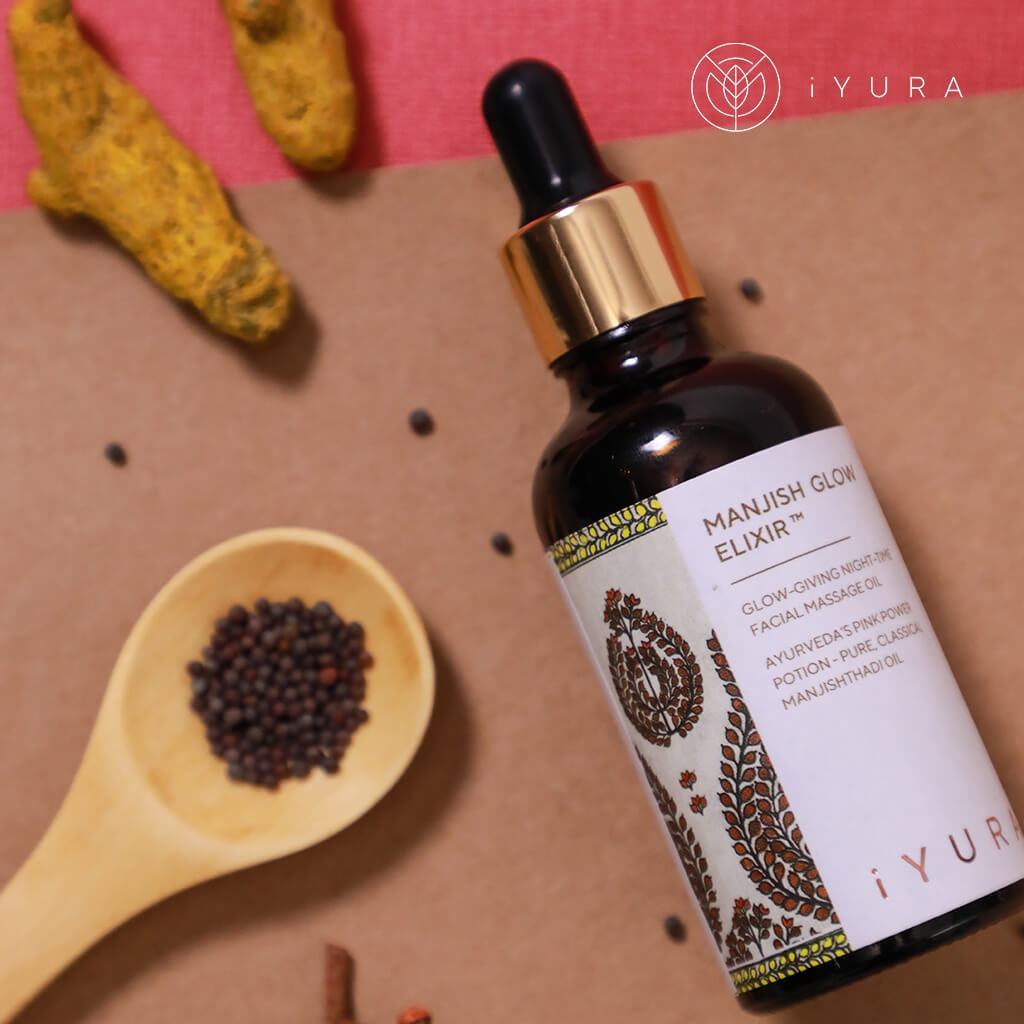 1.   Clearer looking complexion
"Using Manjish Glow Elixir has made a huge difference in my complexion and overall facial health. For the first time in ages, I can actually go out during the day without makeup and feel comfortable in my skin. It must be a regular from now on as a top-notch facial care product. Thanks!" ~ Gloria L.
2.   A deep, natural glow
"I love this product!!! My skin is softer, definitely clearer and has a natural glow since using this wonderful oil. So easy to use and penetrates the skin easily without that oily finish that can hang around from some oils that won't soak in. 10/10" ~ Christine R.
3.   Even skin tone
"I put the Manjish Glow Elixir on at bedtime and wake up with smooth even skin tone. I get much better results with this product than anything else I've tried. I am very happy with the results of the Manjish Glow Elixir." ~ Marcia B.
4.   A gleaming, dewy glow
"I really love this oil…. It makes my skin look and feel amazing! I use it before bed each night and can really tell a difference. It gives a youthful dewy glow." ~ Robin G.
5.   Non-sticky softness
"I was pleasantly surprised at the ability of this product to moisturize my skin without it being oily! It absorbs easily into the skin without a residue. I was a bit sceptical as to using it in the summer, but my skin has not shown any signs of dryness from the sun. Truly loving this product for all seasons usage!" ~ Marilyn S
6.   A lovely, makeup-free look
"I'm in love with this wonderfully formulated face oil! I apply a few drops in the morning and sometimes mix it with my moisturizer. No need for foundation with this. It would just cover up the glow that it gives. I also use it at night a couple times a week after exfoliating and massage it in. It really does bring beauty to your skin!" ~ Shawn B.
7.   Lots of compliments
"… I need to give some friends a gift to honor their acts of generosity. I have decided to give each one a bottle of Manjish Glow Elixir. For one of these women it will be a particularly special gift as she has mentioned several times how my skin glows of late. I can't wait to give her a bottle of this and tell her this is where the glow came from!! Thank you!!, this is an awesome product!!" ~ Sean B.
But, that's not all…here's how you can maximize these skin-glow-ifying benefits:
The most effective way to use Manjish Glow Elixir is to combine it with another Ayurveda's best-kept beauty secret, the Kansa Wand, for a relaxing, beautifying, and refreshing face massage.
Why is this oil different than other iYURA facial oils?
While other iYURA face oils have their own merits and can be used during the day, the Manjish Glow Elixir is specifically made to be used at night as it complements the skin's night-time renewal process with the restorative power of its ingredients. It is thoughtfully crafted to soothe the look of irritation caused by makeups, environmental factors, and everything that your skin goes through during the day. It has a profound power of skin-transformation at night.
In fact, Manjish Glow Elixir works wonderfully well with iYURA Kesaradi Oil to complete your day and night skincare regime.
The Ayurveda Experience is your one stop shop for all things Ayurveda: a place for you to meet your healthiest and happiest self.
Here, you not only get to access pure, premium Ayurvedic skin care and wellness products but also get exposed to Ayurvedic education from the best of Ayurvedic practitioners, doctors, and experts. iYURA is a premium Ayurveda brand brought to you by the Ayurveda Experience, that brings classical Ayurvedic formulations mentioned in the ancient Ayurvedic texts and validated by the Ayurvedic Formulary of India (AFI) to the modern beauty and wellness seeker.
All iYURA products are designed to meet contemporary needs but are pure, authentic and do not contains any parabens, mineral oil, preservatives, or any harmful chemicals. The generations that have actively handed down these ancient formulations over thousands of years are evidence of their effectiveness—iYURA brings them to you in the most beautiful form and the highest quality.