View this post on Instagram
"Talk to yourself like you would someone you love." ~ Brené Brown
~
Self-love is a phrase tossed around so often now that it's become somewhat of a cliché.
So let's talk about what self-love actually means.
It's not just two new age words that are used to make us sound spiritually enlightened. It translates to pushing ourselves to do things that we may dislike, like eating healthy/not drinking/exercising/cleaning the house, because these choices can bring health, clarity, and satisfaction to our life.
In essence, self-love is doing things that may be uncomfortable in the short term, but bring a long-term payoff. It's accepting ourselves for who we are, and not who we think we should be.
I have a cat, Aspen, that's been with me for eight years. We recently welcomed a dog, Solo, to the family. Aspen was none too pleased with our new addition, and her greatest act of aggression was destroying our succulent plant. She wanted to make her disdain for our newly adopted family member known and remind us that she was, in fact, still here.
Did Aspen stop eating when the new family member arrived? No. Did she stop meowing at us once Solo found his way to us? Nope. Does she still meow at the bedroom door nightly? Yes.
Aspen is practicing self-love. Because being kind and treating ourselves the way we deserve to be treated is self-love.
When Solo joined us, Aspen had to change up her playtime routine and seek higher ground, where Solo couldn't reach her. Having time and space to exercise is important to her, so she made adjustments. Exercise can reduce our stress and anxiety, and making room in our lives to do this is a form of self-love.
Taking time to rest is another important self-love practice. Aspen ensured she didn't go without her usual nap time when Solo came on the scene; she just had to move her napping spot to a more inconspicuous location so as to not be disturbed by her new sibling.
Healthy eating is another great form of self-love; it's like giving your body a big hug. Once Solo began eating Aspen's food straight from her bowl, she put Solo in his place and made it clear to us that she would no longer be eating food that Solo had put his nose in. We quickly moved her food to higher ground to accommodate her.
And sometimes, self-love means being an asshole—as cats can be at times. It means being nasty or difficult, but then recognizing our actions, owning our mistakes, and loving ourselves through it all. It's recognizing that putting ourselves first is not a selfish act.
Even with a huge life change, Aspen was able to proclaim her needs as an act of self-love, which meant we were able to continue meeting those needs. This helped make Solo's transition into the family less bumpy for all of us.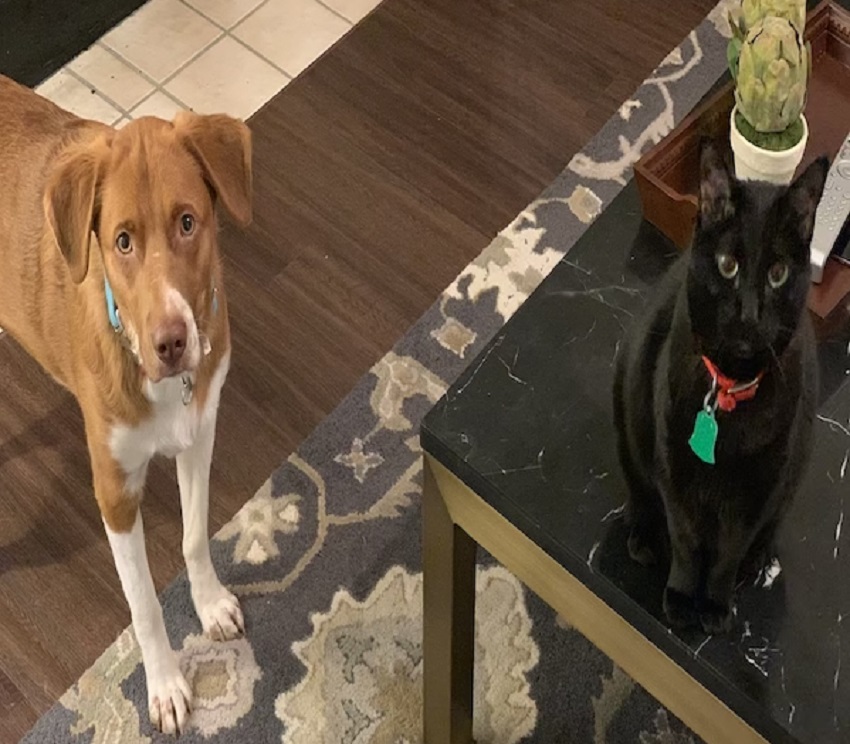 ~