View this post on Instagram
Spring is about families.
First, it is the early signs.
The robins busily build nests, flying from the branches to our lawn and back again with tufts of dried grass clenched in their beaks. Ducks chase each other across the pond.
At night, the peepers are busy. "Netting," my daughter calls it—her two-year-old attempt at the word "mating."
We wait, and eventually results of this frenzy appear. Tiny beaks are glimpsed over the edge of nests. Baby deer tiptoe delicately onto our lawn after their mothers. At night, the peepers are suddenly silent again. "They are done netting," my daughter solemnly explains. "They are taking care of their babies now."
This spring, I've obsessed over a family of loons. They appeared in April, two sleek bodies on the surface of the pond, circling each other in a ritual as old as time. My daughter delighted in watching them dive and resurface as they sought food.
As we sat and watched the two loons, day after day, my breath caught in my throat.
The beauty of a new family and the hope threaded through that beginning juxtapose so much of what is happening in the human world right now, where hopelessness and helplessness rage. The loons simultaneously embodied self-sufficiency and vulnerability. They built their home and caught their food, carefully creating a place for their young while eagles circled and snapping turtles swam and countless other predators loomed.
Climate change alarmed me before the birth of my daughter. But when she came into my arms and my life—in the spring—my fear for the future of this world soared to a new height.
I had thought a lot about the pairing of climate change and the hope involved in becoming a parent, deciding to bring a vulnerable new being into a world with such an uncertain future. I resolved to work in every way I knew to simultaneously prepare my daughter for that world and to make it better for her. Some days the path is clearer than others, but at no point have I regretted choosing hope over fear.
However, the fear certainly lingers. It whispers at me as I watch my daughter greet the world with soft hands and big eyes. It screams at me as I listen to national and international "leaders" choose power over science and continue to publicly deny climate change.
It seems an act of daring so sweeping that it borders on insanity to cast my daughter into the world today.
While any number of rationale bang around in my head, the best I can offer is this: I love my daughter and I love this earth and I believe the two just might be good for one another.
And, I must remind myself, I do not cast her into the world empty-handed.
As we watch the loons raise their baby, I am not only teaching my daughter to love and respect the rest of the natural world. I am exposing her to a fundamental and life-sustaining truth: in that world, we are never alone.
This is a truth that comes with responsibility, yes, but also with deep nourishment. She will be fed by the sound of the wood thrush, the sight of the harvest moon, and the smell of pine needles baked in the sun. Delight will always be available to her, a kind of delight that costs nothing but attention. The "why?" of life will be abundantly clear to her in the pulse that surrounds her, always, threading her to every other family, whether walking, swimming, flying, or unfurling leaves to catch the spring sun.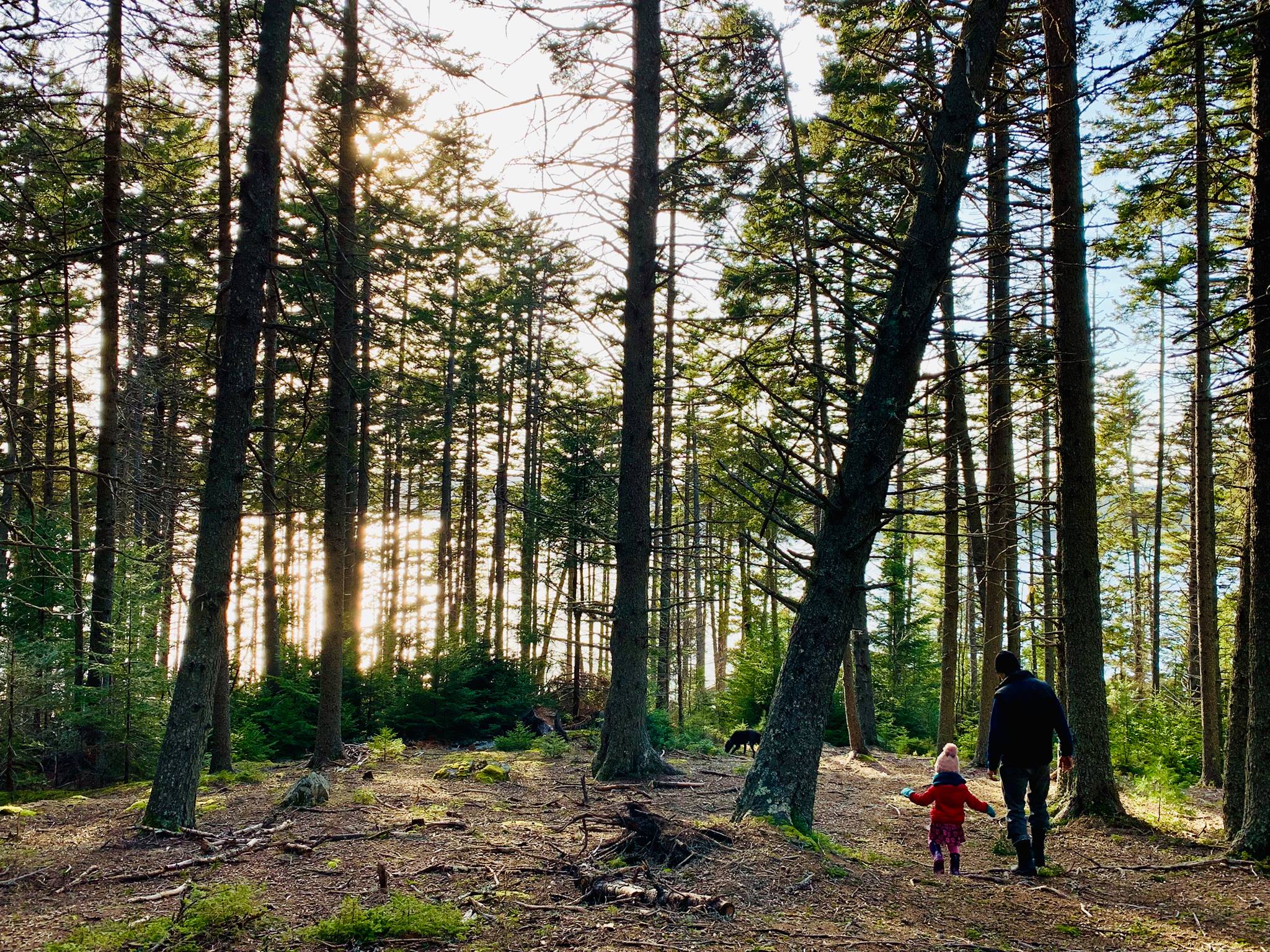 ~