Time is a fickle thing—we often find ourselves wanting more of it, or for it to go by faster; we rarely seem to stop and enjoy the time that we have.
Today, I had to say goodbye to my father, and time made a fool of us all.
My dad was one of the toughest, most stubborn and compassionate men that I have ever known, and as much as I try to deny it, I have a lot of his same traits.
As we grow up, we are determined to become our own person, and we fight against a lot of the traits that our parents have passed down. As time goes on, I realize more and more just how much like my dad I really am.
My love of classic rock, old cowboy movies, muscle cars, cooking (and more importantly eating), my incredible ability to bring humour to the most inappropriate times, my love of the outdoors for camping and hunting, my work ethic, and my pig-headed stubbornness are a few of the things that, despite my best efforts as a teenager, I still picked up from my dad.
Reflecting on this now, I have never been more glad to have been wrong.
Speaking of time and the fool it made of us, my dad and I ran out of time. We had a falling out about six years ago, and we never got a chance to fully recover from it. We went days, weeks, months, and even years without talking or seeing each other. In this time, I started a family and he sold my childhood home and moved to the same city I have been in for the past decade—and yet we still never talked or saw each other.
We are both stubborn to a fault and neither of us wanted to admit any wrongdoing, and time wore on, leaving us in the dust.
But days turned to weeks, weeks to months, and months to years, and finally, slowly, we began to work at repairing our relationship. With the eventual goal of him seeing my family and I, we started with just phone calls.
After all the time that had passed, I was happy to have him back in my life, and more importantly, my kids' lives. And he was never far from my thoughts—but that damn stubbornness always held me back from just going for it, from swallowing my pride, even though I knew he had health issues (ones I never thought would be serious).
We worked on repairing what we had both broken and we were making progress.
A week ago, I got a phone call saying that my dad had been taken to the hospital and they were not too sure what the issue was. I did not even think—I just knew I needed to get over to the hospital to see him. By the time they admitted him, they had it narrowed down to pneumonia (which was good, it's treatable, and I had time to get to see my dad again).
When I got there, he was asleep and had been for most of the day; and suddenly time stopped for me. I sat in the hospital room looking at him and I realized that we had missed so much of each other's lives. The doctors told me that they had a couple other concerns about his health and that they would follow up with some tests the following day.
But the next day, he was not able to complete the tests—he had complications that led his doctors to re-review his x-rays, and they then ordered a CAT scan believing that he had cancer. The results came back, and they were right…and it had spread to most of his body. We had no treatment options due to its severity.
Again, we had to talk about time, which was not on our side. We had no idea how much time we would have left, and all that we cared about was how we were going to spend the time we did have.
As I sat at the edge of his bed letting the news sink in. I took his hand in mine, and my mind wandered back to my childhood when his hands were the biggest hands in the world. Time went on, I got older, and so did he, and now my hand makes his look so small.
I thought of all of the things we did when I was a kid, working on his Ram Charger, going hunting, helping him at work, driving in his truck when he worked in the patch, walking to 7-11 to get snacks (kippered beef, orange crush, and ketchup chips), and eating KFC hot wings. I have memories of when he once told me a bar of soap was candy and that I should take a bite, teaching me to drive, taking me for my first beer, all of our camping trips, and him waking us up by blaring Copperhead Road at 3 a.m. after he'd been out for the night.
These were all things that I quite honestly took for granted and never realized the significance of what they would mean to me as I got older.
I spent the time thinking about all of it, staring at my hand holding his, and I realized that my hands are now almost as scarred as his, and that my kids hold my hands thinking that they are the biggest in the world. In that moment, all I wanted to do was keep that moment forever. This man who raised me, shaped me, and helped me in more ways than I would ever realize was now winding his time on this earth down and I was helpless to stop it.
In that moment, I hated time.
As his health declined over the past week, my brother, cousins, uncles, and aunt did a lot of reminiscing and talking about, "That time your dad did…" and it made me realize that our entire existence is made of snippets of time and memories, and we should relish in them all, good and bad.
My daughter and he got a chance to see each other, and the smile on his face made me glad that I did not hesitate to see him in the first place. I know I can't turn the clock back, but I knew the rest of his time would be a little bit better because of his granddaughter.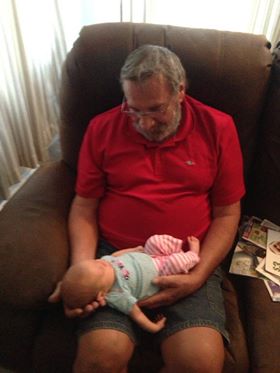 Today, almost a week to the minute that he was taken to the hospital, my dad waited for all of us who could be there with him to say their goodbyes, and for me to make an inappropriate joke at an inappropriate time, and he took his last breath.
He was surrounded by his loved ones; his sons, wife, sister, and niece, and just like that our time together was over. I know that I will always cherish the time that we had and regret the time that we missed.
If you're reading this, please do me a favour and call your loved ones, regardless of what your squabbles in the past have been. Time, as they say, marches on and has no regard for your hurt feelings or stubborn ways. It will not stop if you suddenly realize you're missing out. Talk to them, love them, and spend as many minutes of as many days as you can with them—because you never know when it runs out.
Ron Westhora was a father, a husband, a brother, a son, a fighter, and one of the greatest men I have ever had the pleasure to know.