Update: there's a reason folks are either 1) attracted to or 2) offended by Jennifer Lopez getting nearly nude and very explicit with her fit body at 50:
~
And Now Let Us Condemn Powerful Women.
Sexy Super Bowl? NFL fans eat it up. Sexy Empowered Latina Super Bowl? This isn't appropriate!
My view on 43-year-old Shakira & 50-year-old Jennifer Lopez's Super Bowl Half-Time Show.
"Remember when people complained about Adam Levine singing shirtless last Super Bowl?"
"Me neither."
When you see a blond, white woman dance sexually without complaints (America loooved Britney, say, when she started out), and then you see two kick-ass Latina women shake their booties to a firestorm of "this isn't appropriate…" well now.
Boomer Snowflakes unite:
He should learn to write in "America." "It takes guts to be offended that something is in another language when you don't even understand your own language."
There is no official language in the US. The American dream is about opportunity, not class—diversity or melting pot, assimilation not uniformity.
America!
Women in charge? At 43, and 50? Let's push 'em down, says the same NFL culture that'll let a player keep playing after abusing his 3-year-old son on one team, while effectively blacklisting the QB on the other side for daring to offend the NFL's Fox News fan base of bigoted old white men.
Never forget: this is just straight up racism, and sexism, in a toxic yummy sandwich. Never forget: conservative states love their porn-viewing—nothing wrong with that, unless you're pretending to condemn sexuality by day, when what you mean to condemn is a powerful woman, empowered, in charge, feeling her sexuality and owning it, without your hungry permission.
For a much better article on this, here.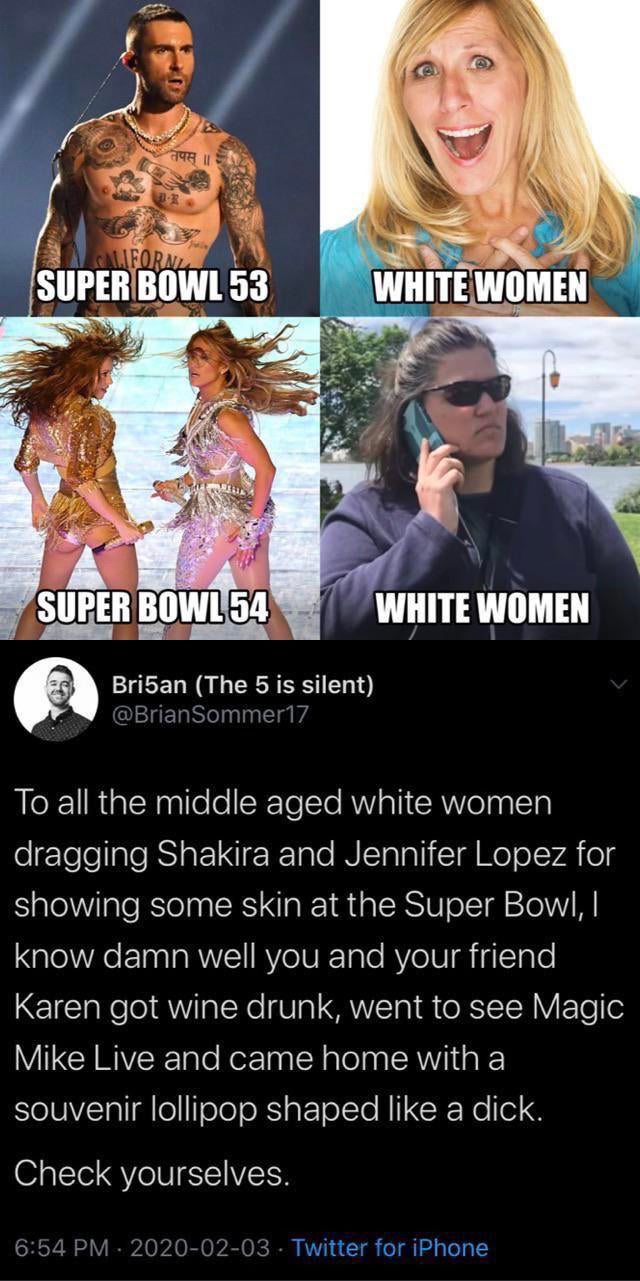 I appreciate this comment string via Reddit, here:
To everyone crying about j.lo and Shakira being 50 and 43, if I look that fucking good at that age I am damn well going to be shaking my ass. They look phenomenal and if they're happy doing what they're doing, power to them
~
Who the fuck cares about any of this
~
Everyone should. It's intrinsically about how we perceive gender and the roles men and women should play, how they should act and dress. It doesn't matter that it's J.Lo and Shakira, it's about people telling two women that they shouldn't act like that and they shouldn't dress like that. I think that's pretty important.
Here's the full show:
Bonus: