This article is written in partnership with Beducated—they're dedicated to increasing sexual happiness with mindfulness, communication, and hands-on techniques. We're honored to work with them. ~ ed.
~
I'll never forget the time that a friend asked me if cum is glittery.
We were freshmen in college, sitting out on the lawn one afternoon, when she said:
"Is it normal for cum to have glitter in it? I once gave a guy a blowjob, and it looked like his ejaculate was sparkly."
I informed her that no, that was not normal—and have spent the past eight years wondering who that mystery man was and why in the world he had glittery cum.
My friend had spent years wondering this, with no one to ask. Which is, unfortunately, the norm.
We're Kind of Clueless when it Comes to Sex
The first sad truth is that we don't—in adolescence or adulthood—talk often enough or openly enough about sex. The second sad truth is that, as a result, we remain clueless about having sex in general, having good sex, and having healthy sex.
Both of these facts show just how damn useful it would be to have sex education that goes beyond what we're taught in awkward middle school classrooms with condoms on bananas—in other words, sex ed for adults.
And, as a matter of fact, there is sex ed for adults: Beducated.
Beducated is a platform that provides online sex ed courses for all the things you wish you'd learned as a teenager. The mission is to unlearn our unhelpful sex perceptions and behavior—and to come to understand sex and pleasure better.
There are three common misconceptions that adults have about sex that ruin our sex lives:
When you're having sex, you intuitively know how to please your partner.
You know what you like in bed from the get-go.
Couples in long-term relationships have a boooooring sex life.
And because no one is born a great lover, there is one necessary, fundamental truth that we should all remember:
Sexual happiness is trainable.
We can train ourselves to be better in bed. Which is exactly what Beducated intends to do—and, I might add, is damn good at.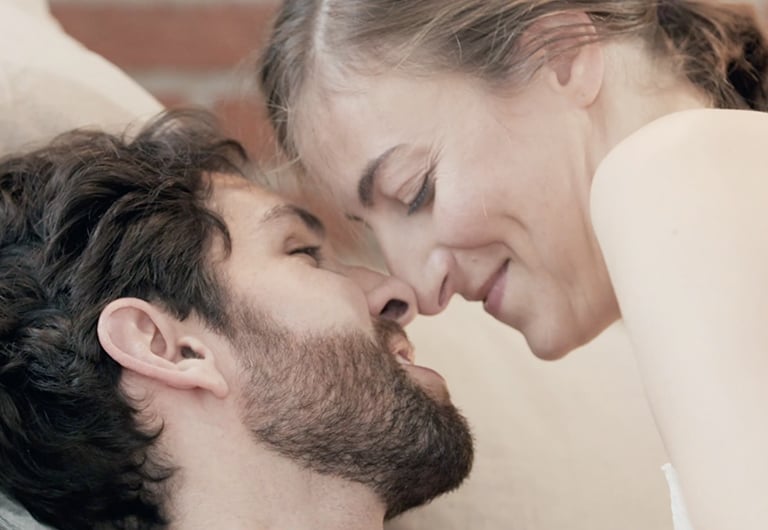 The One Skill You'll Actually Enjoy Improving
Around the world, many of us are (at least mostly) trapped in our homes—and some of us are lucky enough to be trapped at home with our significant other. And, while times are still undoubtedly tough and worrisome and, at times, frightening, we can still make the best of our situation.
So, if you're tired of baking bread, learning how to knit, or doing your 100th puzzle, it might be time to improve on a skill that you'll use for the rest of your life. Nobody taught us how to have hot, healthy, heavenly sex—but that doesn't mean we can't still learn.
We Suck at Oral Sex (pun intended)
Have you ever watched two people have oral sex? And no, porn doesn't count—because we all know how realistic (not!) porn is.
If you're like most people, the answer is no. And, if the answer is yes, it's probably not been a common hobby.
So, if our only example of oral sex is wildly inaccurate (and typically male-focused and misogynistic), how the hell are we supposed to become pros at blowjobs or cunnilingus?
Yes, we can become better at it by doing it. (I shudder to think of how much worse I was at oral when I first started out, as a young, slobbering, clueless teenager.) But just practicing it doesn't help us get tips from others, find out about tried-and-true techniques, or gain a full understanding of genitals and what gets them off.
Which is why Beducated created the Oral Sex Online Courses.
They actually created two extensive courses, with many lessons in each—one course called Cunnilingus and the other called, you guessed it, Blowjob.
The courses have thorough advice on how to handle oral sex—before, during, and after. They also offer tips on how to communicate desires, preferences, and needs with your partner. There is a worksheet; a techniques library with animated videos; and—the heart of the course—detailed instructional videos that were filmed by a brave, sweet, real, un-Photoshopped, and uncensored couple. They demonstrate how to perform each of the basic and advanced techniques that are taught in the courses, so that you can actually see how they're done. They even offer a section where you can practice oral sex techniques without a partner.
It's all, quite frankly, genius, and the best way I can think of to improve your oral sex skills.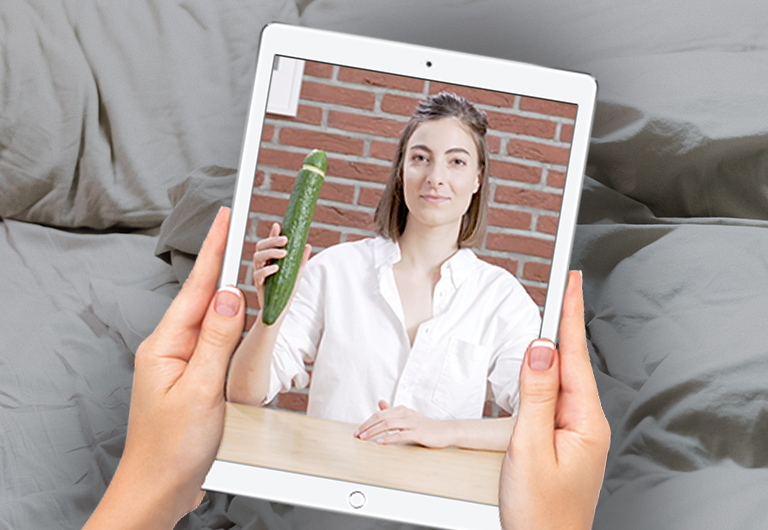 How to Master Oral Sex Techniques
For starters, having the right preparation, mindset, and communication are probably the most essential parts of good oral sex (or good any sex, for that matter). Work on being open with your partner about what your preferences are, what's working and what isn't—and encourage them to do the same. Having a safe space for our sexual desires isn't common enough, but it greatly improves sex.
Being enthusiastic and wanting to give your partner pleasure is also hugely important. I can't count the number of times a sexual partner made me feel guilty or undesirable—or like they just weren't that excited to go down on me. Don't be that person.
The Beducated Cunnilingus and Blowjob courses are broken down into basic techniques and advanced techniques, all of which are pretty much essential to have in your back pocket for whenever the moment strikes. As most of us have experienced, just doing one technique over and over again can get dull before long.
So, without further ado, here are three must-try techniques of cunnilingus and three must-try techniques of blowjobs.
3 Must-Try Techniques of Cunnilingus
1. The Kiss
For this first one, use the exact same technique that you would use to kiss your partner on the lips—the mouth lips, that is. Start kissing around the inner thighs, then make your way to the outer labias, the inner labias, and then the clit. It sounds basic, but it can actually be one of the most pleasurable techniques.
2. The Flick
For the most intense sensation, try this one on the clit. Flick your tongue up and down or side to side. Check in with your partner to find out what they like best, and which intensity and speed they prefer.
3. The Suck
Create an "O" shape with your lips, surround the clit with it, and suck it in to create a pleasant vacuum sensation. You can also suck on your partner's labia one at a time, pulling it gently.
Advanced Techniques
In addition to these fundamentals, the Beducated Cunnilingus course has instructions and demonstrations for advanced techniques, like The Lollipop Lick, The Clit Swirl, and—my all-time favorite—The Deep Dive. These and other advanced techniques take the art of oral to a whole other level.
And now, blowjobs.
3 Must-Try Techniques of Blowjobs
1. The Kiss
Just like described above for cunnilingus, use the exact same technique that you would use to kiss your partner on the lips. (Tip: Kiss from the outside toward the inside—start kissing the inner thighs, and then make your way from the shaft to the head of your partner's penis.)
2. The Classic In-and-Out Motion
Keep your mouth open and slide your partner's penis in and out. (In-and-Out 101: Don't forget to wrap your lips over your teeth during the act. This will help you avoid painful slip-ups.)
3. The Suck
Wrap your lips around your partner's shaft to form a seal, and start sucking. You'll create a vacuum that makes your cheeks and tongue rub up against the shaft.
Advanced Techniques
In their Blowjobs course, Beducated also offers some awesome, lesser-known advanced techniques, including The Acupressure Tongue, The Spiral, and Frenulum Techniques. One of my personal favorite advanced parts of the course was their lesson on Deepthroating breathing techniques, to practice Deepthroating better, longer, and deeper.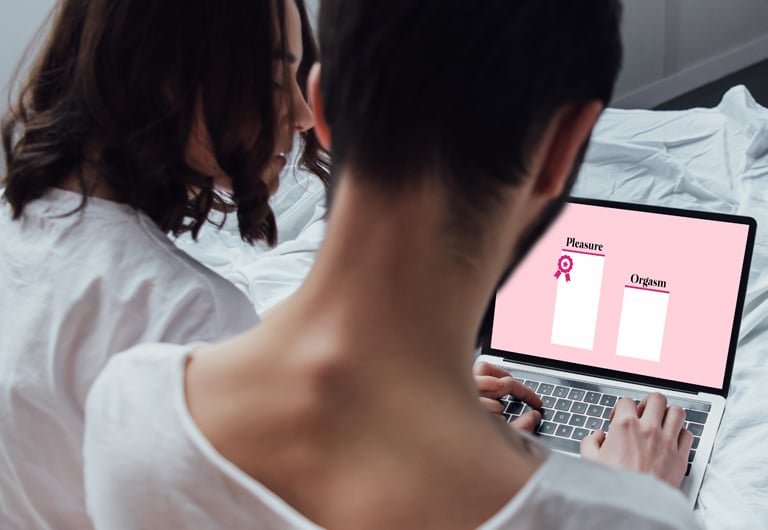 Let's All Get Better in Bed
These awesome, helpful, enlightening oral sex courses are available to Beducated subscribers. And, if you subscribe, you can also get access to tons of other equally educational courses (such as Tantric Massage, Anal Sex, and Female Orgasm, to name just a few).
Like all things, we'll only improve our sex lives if we practice, communicate, and are willing to learn. Training ourselves to be better in bed can have a huge impact on our relationships, our pleasure, and our self-esteem.
And, well, it's also just really f*cking fun. Pun intended.