We are all struggling. Reach out. Be kind. Mean it.
Commentary:
When you're tired. When you're frustrated. When your head and neck ache. When you haven't slept well in days. When you've been grinding your teeth. When folks don't help you, they don't show up, they don't meet you halfway, they don't appreciate you. When you begin feeling sorry for yourself; being short with those you ordinarily love and respect. When every couch seems to invite you to take a nap. When we feel claustrophobic, or put upon.
Sit up straight, really straight…then relax. Rather than avoiding your heart, breathe right into that tension.
What we need most when we're struggling is precisely what we don't want to or forget to do.
Refuse to take yourself seriously. Remember to think: how can I help this situation? How can I take care of myself? And, if all else fails…go for a walk.
Finally: remember others in world are in pain, right now. Reach out to them with the kind consideration that you wish for when you're struggling. This is all basic…but we don't do it, enough. Do it…and feel the wholesome pleasure that basic kindness returns to you.
[Excerpt from Waylon Lewis' 2nd book, It's Never too Late to Fall in Love with Your Life]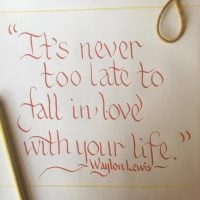 The above is an excerpt from Waylon H. Lewis' forthcoming book, It's Never too Late to Fall in Love with Your Life: Practical Buddhist advice for Everyday Life. It's 108 quotes, with commentary. Pre-order it here and save $5.