What is life without a little love to fill it and what is love but the present moment.
My new book is coming out. Here's an excerpt.
Eyes open, head up. Look out for your fellow. Look out for yourself.
Trust the fundamental goodness in others, but do not trust appearances.
Trust this present moment, but do not trust assumptions.
Life is a dangerous and wholesome, and horrible and precious thing.
Learning to trust in this present moment, you'll find your mind once again clear, and open; and your heart once again caring, and joyful. You'll do better with stress and communication, you'll fall in love with craft and humor, activism and the details in Nature. You'll fall in love.
This present moment is not a small thing—it is as strong as a big old oak.⁠ You can depend on it, lean into it, relax into it.
You can walk this path, your life—with an awake heart, full of caring, with confidence in what is.
[Excerpt from Waylon Lewis' 2nd book, It's Never too Late to Fall in Love with Your Life]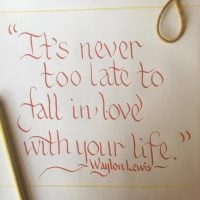 The above is an excerpt from Waylon H. Lewis' forthcoming book, It's Never too Late to Fall in Love with Your Life: Practical Buddhist advice for Everyday Life. It's 108 quotes, with commentary. Pre-order it here and save $5.
His first book, the best-selling Things I would like to do with You, is also available at that link.