I gave up setting New Year's resolutions many years ago.
I wanted to set myself free from the cold, judging expectations that settled on my shoulders for the first month of each new year until I grew courageous enough to admit they were never going to be achieved and threw them off. But I missed the ritual aspect of setting resolutions.
As humans, we need the promise of possibility and fresh starts that the new year brings. It is the cues associated with rituals, celebrations, and the setting of resolutions that sends physical cues to our minds and bodies, which then influence our motivation and behaviour. Whether it is buying new school shoes for the beginning of the new school year, giving thanks before a meal, or calling our parents every weekend.
My favourite daily ritual is washing my face with cold water and then spraying a single spray of my aura protection mist just before I head to bed. The scent gives me a gasp of joy and sends my body the sign that it's okay to let go of the day and prepare for a new beginning tomorrow.
So, to celebrate the beginning of 2021, I adopted a new ritual, which I borrowed from the Newari new year ritual celebrated by the Newari community in Nepal—a ritual called Mha Puja. Mha means "me" in Newari and Mha Puja is a worshipping ritual that celebrates our individual essence to cleanse and empower the soul.
This sounded like a much warmer, more nurturing way to inspire me and motivate me to embrace the reset that a new year brings, rather than the expectation of "doing better" with a shove toward failure, which resolutions usually achieved. This seemed especially necessary after the challenges that 2020 threw our way.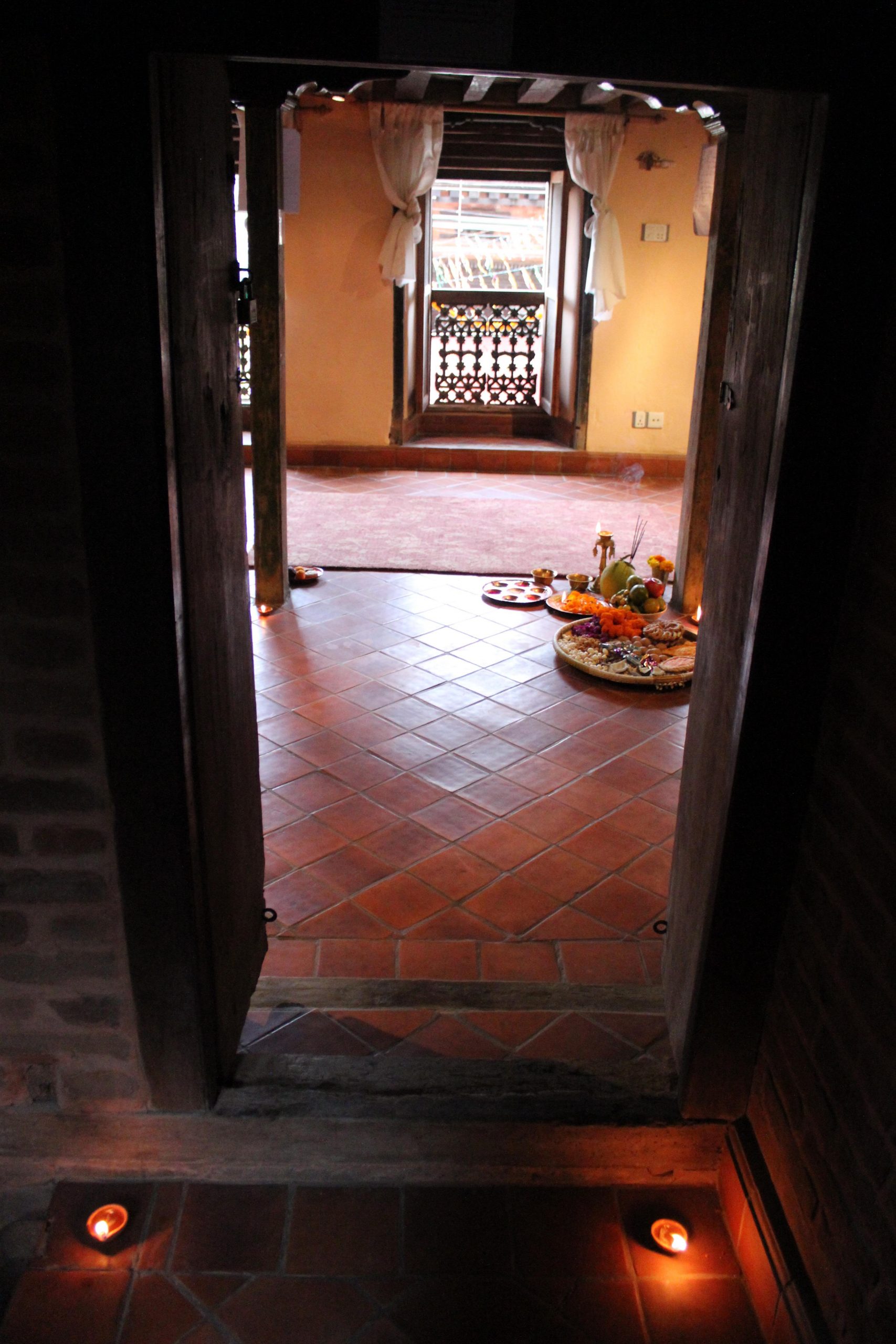 The Mha Puja has a number of variations depending on the particular community, but the essential elements are similar: a sacred space (usually near the kitchen) is created by sprinkling water in a circle. A candle or oil lamp is lit to bring light to the puja. Then a mandala is created in the circle with flower petals, grains of rice, and walnuts with the handwoven cotton wicks used in oil laps around the outside to cleanse the soul. Bowls of fruit are placed in the circle to represent a fruitful life.
Blessings (tikkas, rice mixed with a bit of yoghurt and red powder) are placed on the forehead of all present. Then a white cotton thread is tied around the wrist of each person as a sign of connection and blessing. Some families have a priest present and others do it themselves with the most senior family member taking that role.
I adopted the core elements of the puja, infusing it with my own elements. I created a sacred space, lit lamps (called diyo), and created a mandala from flower petals as I focused on sending cleansing thoughts and messages from my heart to create a feeling of calm and possibility. I also completed the ritual by tying a white thread as a reminder to myself.
I'll be embracing Mha Puja for future new year beginnings—a ritual to celebrate the soul and set it free from the challenges of the previous year, while nudging us to embrace the possibilities of the reset being granted to us.
~