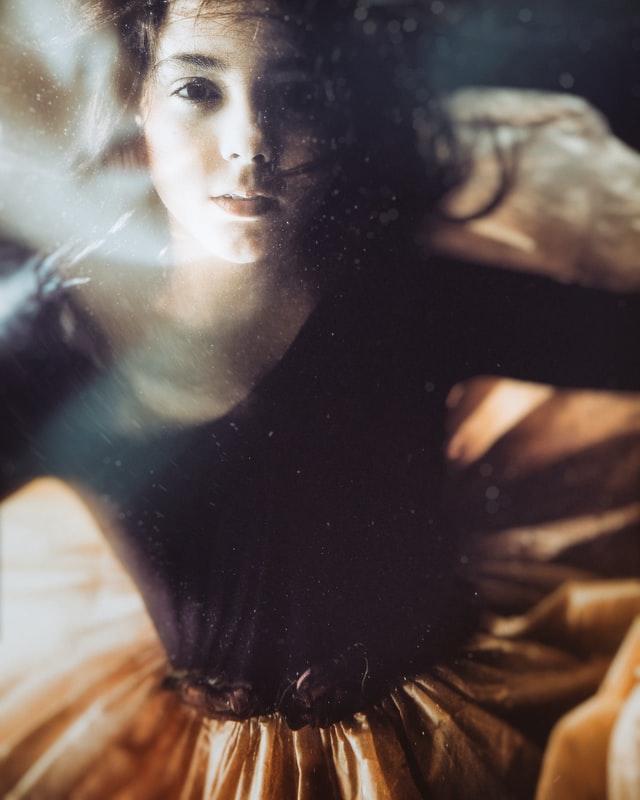 If we grew up in difficult or painful circumstances, or even happen to carry a heavy load of intergenerational pain, our nervous systems developed in a state of tension prepared for, if not always living in, fight, flight, freeze, or people pleasing mode.
We grew up not feeling fundamentally safe on a soul level.
There's this subconscious idea that if we do enough shadow work to clear all the pain and difficulty, then we will feel safe, be happy, and flourish.
If we have enough money, then we will feel safe. If we have the "one," then we will feel safe. If we have the "vision," the part of us that developed around our pain to protect us from it has for our lives, then we will finally be safe.
We place our sense of safety on things outside of us, which is fundamentally always going to leave us feeling insecure and in a trauma loop of some kind or another. If we are doing our healing work to obtain these things outside of ourselves, we stay trapped on a wheel and it's that wheel I think we need to get off, to find safety on the stable ground of something that does not actually ever change.
There is a place in the healing process for these kinds of wounds, where an excavation of the past shadows and grieving what was is necessary. We need to unwind ourselves from the legacy and difficulty we inherited—but healing doesn't require that we also wait and suffer in this way.
There's a place we arrive at in the crossroads of the spiral of grieving and healing, where we must sacrifice some aspects of ourselves, and our past conscious awareness, into the fires in order to receive more of our wholeness. Where the paradigm of our healing changes into something kinder, softer, and more sustainable over time.
There is a very real shift, where the "shadow" work actually becomes about learning how to feel safe, learning how to flourish, learning that our own genius is safe, and learning the ways of pleasure.
Flourishing and abundance unfurl when we feel safe; they are not the prerequisite to our safety.
There's a gap between every contraction and expansion, where we meet this space where we don't know how to do the thing, how to feel safe, how to flourish, how to have more capacity, how to be more full of life because that space where our soul is pulling us, the desires mapped out in our soul's bones, live inside the mystery we haven't learned how to trust on a visceral level.
This is where grief and Eros intersect—when we are dying to a way of life and the new one is not yet imprinted in our psyche.
We meet energies and expansiveness and possibility that we haven't known before. We know what we want, where our soul is pulling us to our greatest possibility, but our systems might not trust it because it's also absolutely unfamiliar in a contracted state.
Our flourishing was never reflected to us as a good thing if we learned to stay loyal to pain as love.
Being in a contracted state doesn't feel good, but it's familiar. It's not something we are "addicted" to, which just shames the level of trauma most people contend with within a culture that fears its truth rather than normalizes it as an event that requires massive attention in our society. There is a certain level of safety because this is what hypervigilance does—it gives us a sense of control over potential danger.
It's not safe to relax.
There's always something we need to do.
Our Being is not safe.
As we die and are reborn over and over again in our evolution, it's easy to hover in the crossroads and keep doing the shadow review, to keep mourning for what was, but there's a shift there that gets us unstuck and reveals what is, perhaps, the truer shadows that block us from flourishing.
We see where we do not trust life. Where we might even be angry with God. Where we do not trust Eros, our own divine life force that connects us with God, the source of Light and Love and Life, however this is for us in our hearts.
It doesn't matter how many negative beliefs we try to change or shadows we try to face when we are deeply angry and mistrustful of the source of life itself, because that source of life is us.
It's a powerful space, opening to trusting expansiveness and flourishing. Surrendering into a potent possibility within us that we've been trying to protect ourselves from for a long time.
There's a pathway of grief that opens up, a wound of separation from this flourishing source of life and our longing, yearning to come back into union with it.
This is where we encounter what it is to be embodied, to draw this energy into our bodies, what it is to pray, to go into ceremony to collaborate with the soul of life itself to bring us harmony, to align with our deepest selves, to grieve the spaces that haven't felt loved for so long and to allow the wisdom of creation to bring us back to life.
To resurrect us to flourishing.
To feel that life wants us to flourish and we only need to learn how.
Sometimes when we are recovering from a lifetime of trauma, our shadow work is about learning how to flourish.
Learning how to receive our own joy and pleasure.
Discovering what we love and what makes us feel good.
Finding how our bodies like to move and who we enjoy being around, where we want to live and what nourishment our roots want to draw from.
We get to heal our relationship with life, and that safety doesn't come from being cleared of enough of our shadow (because shadow doesn't go away; it's an aspect of infinite consciousness), but from allowing the light of love into our hearts and learning how to trust it.
It is a tender unfurling.
A beautiful one.
What arises in those for healing is what brings us back to our rightful, sovereign, authentic freedom and belonging in the forest of humanity in the world. Over and over and over again.
The more we learn to trust the God in this space, the less we need to resist our own becoming.
So, it's okay to be angry with God, to not trust life…but that's not the shadow work—that's the beginning of an entirely enlivening conversation with life itself.
What do we need to cultivate a deeply felt sense of safety right now?
From that safety, everything else will follow.
More love.
Not less.
~