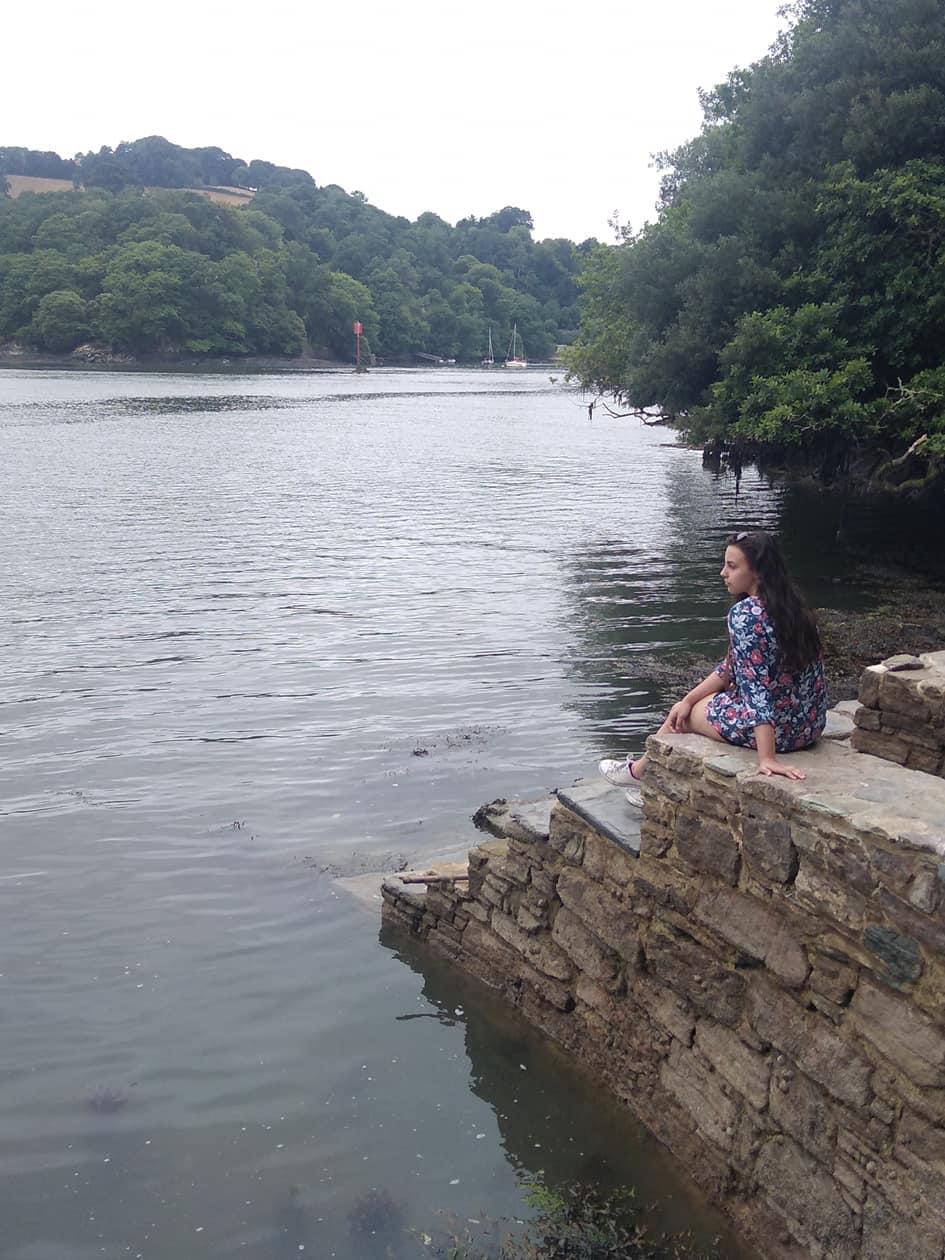 As I sat on the mossy, stone wall of a creaky boathouse on the banks of the River Dart, I watched the glistening white sails of the small fiberglass and wooden vessels meandering down the river, their occupants enjoying the early June sunshine.
Medium-sized pleasure vessels passed them by, and I smiled as I watched the smooth, sparkling currents of the Dart subside into foamy waves lapping gently against the wall that I was sat upon. The river is flanked by woodland, its name in Celtic translating to the "river where oak trees grow."
The air is salty sweet; bright bluebells and other wildflowers grow on the banks and sheltered coves that are unreachable from the bank yet provide respite and a scenic stopping point for the families of kayakers and solo canoeists that glide past daily.
The scene was breathtaking, magical, and oozed romantic vibes of years gone by. The view, whilst populated by many, seemed isolated to me, as if only I were seeing it, and delivered food for my imagination to create stories whilst I absorbed the atmospheric energy that this mystical river expended.
It is no wonder that this region is a magnet for artists, creatives, poets, and writers. It is a geographical muse.
The River Dart runs through Devon, a county in the South West of England known for its breathtaking beauty, hidden coves (think pirates and castaways), fishing heritage and of course decadent clotted cream. It is also home to Greenway, a whitewashed Georgian mansion house with a literary heritage like no other. Greenway is where I stood in that very moment and observed the scene I depict above.
Greenway was the home of the world's best-selling author: Agatha Christie.
The wall I was perched upon was that of the boathouse, reached via the romantic woodland that edged the heavily scented gardens of the majestic manor house. And any Christie fan knows that this was not just any boathouse, but the scene of the fictional crime in the "Dead Man's Folly," one of her much loved and hugely applauded detective novels.
And here I was. In Christie's beloved holiday home. Treading in the same steps her feet would have trodden a million times, looking out at the views that inspired many of her novels—I was enthralled. I could almost feel her presence.
Christie is the best-selling female novelist of all time. She is widely known for her 66 detective novels and 14 short story collections, as well as the world's longest-running play: The Mousetrap. Her books have sold over a billion copies in the English language and a further billion in translated languages.
As a child I would watch her characters every Sunday evening, a firm family favourite. She is and continues to be one of the only authors who truly keeps you guessing whodunnit until the very end. Her complex storylines are almost always staged against epic backdrops, like the Nile, the Orient Express, Mesopotamia—the list goes on. Not only are we transported into mystical and mysterious opulence, we are also pulled into a game of cat and mouse the whole way through. A literary review of Christie's first novel published by the Times in 1921 stated, "The only fault this story has is that it is almost too ingenious."
As a fan, my visit to Greenway was a bucket list item ticked off; as a "wanna-be" writer I was nothing short of mesmerized. Whilst my trip was part of a wider family holiday, for me it was a personal pilgrimage.
Agatha Christie is my literary hero.
Her first novel was published when she was 30 years old, written in part in retaliation to a bet by her sister-in-law, who wagered that Christie could not write a murder mystery novel. It's safe to say that Christie won that bet; her debut novel, "The Mysterious Affair at Styles" went on to sell millions of copies!
I write this as I consider penning my own novel (as I have for years). I, now six years older than Christie was when she first published, have procrastinated on this fantasy of mine for far too long. My mundane Sunday of jobs and endless cleaning was interrupted as I stumbled on a photograph that I had taken whilst I sat on that wall overlooking that river, from the famous boathouse at the home of the greatest author of all time and I instantly felt my passion for my own novel creep back into my body.
It reminded me of a quote by Christie that I have always loved, and the timing was nothing short of perfect—and so I thank her.
"The best time to plan a book is while you're doing the dishes." ~ Agatha Christie
Here are 10 more quotes from the late, great Agatha Christie for you to enjoy. (I hope she inspires you too!):
"I don't think necessity is the mother of invention. Invention…arises directly from idleness, possibly also from laziness. To save oneself trouble."
"There was a moment when I changed from an amateur to a professional. I assumed the burden of a profession, which is to write even when you don't want to, don't much like what you're writing, and aren't writing particularly well."
"The secret of getting ahead is getting started."
"An archaeologist is the best husband a woman can have. The older she gets, the more interested he is in her."
"When the fact doesn't meet the theory then let go the theory."
"It is the brain, the little gray cells on which one must rely. One must seek the truth within—not without."
~