This article is written in partnership with Zolt—they're dedicated to helping people navigate the complexities of life with plant power on their side, thanks to their tiny drink packets (packed with a whole lot of science). We're honored to work with them. ~ ed.
We've completely given up on a primal instinct.
It happened gradually at first—and it's become the most rejected, yet most commonly prescribed health fix by physicians, fitness gurus, and mental health professionals—drinking more water. I know, I can hear you already, saying tell me something I don't know.
There isn't a single What Can I do to Improve my Health article without drinking water prominently on the list. And yet, I find myself skimming over it every time. I know why it's good for me—our bodies are made up of 80% water. We can't function without it, if we don't drink it we'll literally die, and 70% of the population is still willing to leave it on the table.
Why do we neglect the most basic building block for our well-being?
After decades of our cups running over with carbonated drinks, flavored drinks, sodas, juices, you name it—we've collectively undergone a phenomenon called neural adaptation—the decrease of our body's sensory response to a stimulus over time. (1) We've unconsciously trained ourselves to function without water, and it's impacting our lives more than we realize.
When we're cruising on autopilot through our days, the scare tactics circulating the interwebs about high blood pressure, obesity, and kidney failure just aren't enough to overturn the hard-wired neural adaptation permeating our better senses. Even when it's recommended for our mental health—the source of our anxiety-ridden routines—we drop the ball.
Each morning, without fail, I grasp for my Verdana coffee blend like I'm Jack Dawson reaching for more room on that floating door in the icy Arctic Ocean next to the sinking Titanic—I need it. I pour myself green tea each afternoon (with slightly less desperation) and round out my beverage intake with a glass of wine after work to wind myself down. This all happens without hesitation, a second thought, or any sort of effort, and all without good ole water.
So, now what? Life's hard, getting myself to do what's best for me when my taste buds crave flavor over function is even harder—so where do I go from here?
Well, it's simple, really: get back to the ABC's of living, and drink more water.
Okay, yeah sure, but how exactly? What brilliant idea has anyone brewed up to circumvent this whole psychological water dance?
Well—a damn tasty one, with a whole lot of (simple) science behind it. Co-Founders Douglas Siegel and Ani Collum—entrepreneurs, parents, and seekers of solutions—built Zolt with a mission to make our mental and physical health as simple and attainable as possible. With Doug's rich beverage industry experience and deep knowledge of food science applications, and Ani's marketing magic, their balanced backgrounds came together to create an equally balanced (and super smart) wellness solution.
With a diverse range of full-spectrum hemp, hemp CBD isolate, and plant terpene-powered packets of botanical beverages—it's designed to fit seamlessly into your water bottle, and what you already do, every day.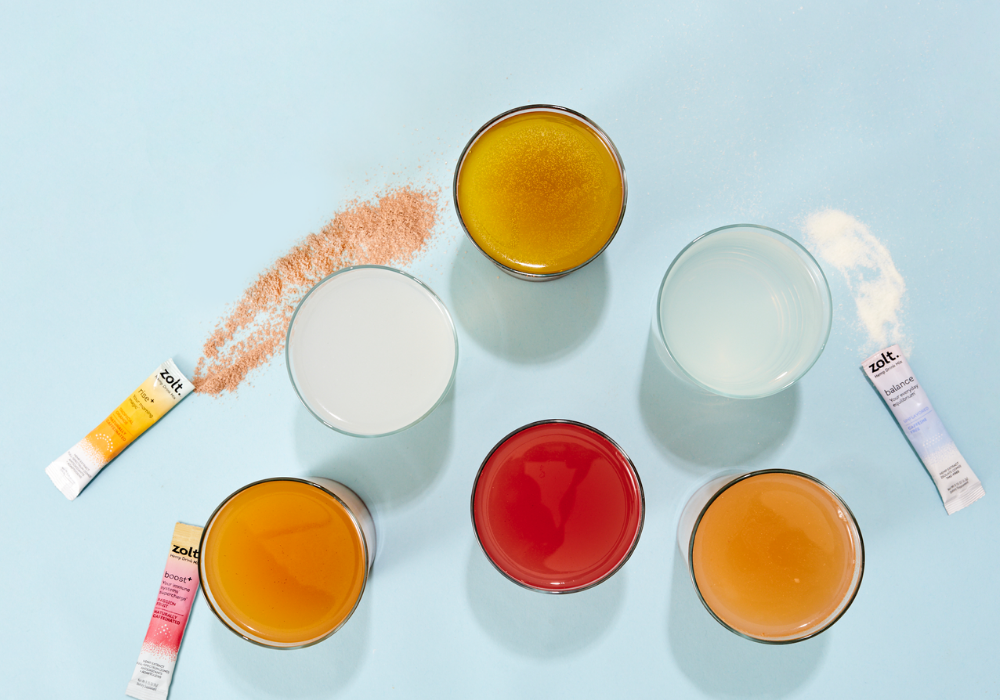 From Neural Adaptation to Adaptogens.
Doug was inspired to find a way to resolve his own mental and physical fog when he was confronted with his forty-ness. You know, when suddenly your body starts seemingly tying an anvil to your leg every time you try to keep up with your kids, or exercise after work, or face the debilitating hangovers that used to last five minutes in your twenties?
No matter what age we're at, especially after this past year, most of us are striding at snail speed—and with overwhelm becoming the latest epidemic among us, we've got to keep it simple. That's where adaptogens come in. Adaptogens—ashwagandha, for example—are emotional support plants for your stress and immune system, and they're present in every packet of Zolt.
All you have to do to tap into the adaptogen power of each packet is drop a Mixie into your water in between, or in place of, the coffee/tea/wine trifecta that hasn't ever quite cut it for you, anyway. They're tiny, sleek, easily thrown in your pocket or purse before you head out on the go, and you don't even have to make your iced coffee pit stop that makes you late to work every day.
You'll trick your brain into getting your water with your Mixies, and start seeing the scales tip toward a balance that's felt out of reach for a long time. The best part? There's grounded, plant science behind why you'll go from snail-ing to skipping, too.
Let's Talk Terpenes.
It's time to drink your plants. I know it sounds like a leap from not drinking water to drinking plants—but trust me, this is an easy one (especially since you're already skipping).
Terpenes are naturally occurring, aromatic compounds in nature that give your favorite flowers their mood-enhancing scents—like the calming linalool found in your can't-live-without lavender—and they're present in each Mixie packet. Terpenes make magic happen in nature by supporting propagation and attracting the critters that ultimately spread the plants' seeds. They also defend plants against predators by helping ward them off or even killing them—now that's badass.
Since Zolt is all about getting back to basics, they've formulated each of their hemp-free packets with a blend of terpenes that naturally occur in plants when they're in nature, so you know you're getting exactly what you need from their transformative benefits.
Let's really crack into the purity of these powdery, organic plant elixirs, though. They boast notes of mood-stabilizing funghi that people rush to their local health hub to drop top dollar on—ones like: reishi mushrooms, lion's mane, and cordyceps. Choline, an enzyme to support brain cognition, is also prominent in Zolt packets, as well as organic ashwagandha for overall relaxation.
These Mixies aren't just rich in biodiversity, they're diverse in offering you whatever unique solution you specifically need to get through your day. CBD? Got it. Not into CBD? There's terpenes for that. In fact, you can get the same neurological benefits that you would from CBD, from terpenes, if you haven't quite jumped aboard the CBD train yet, or don't plan to.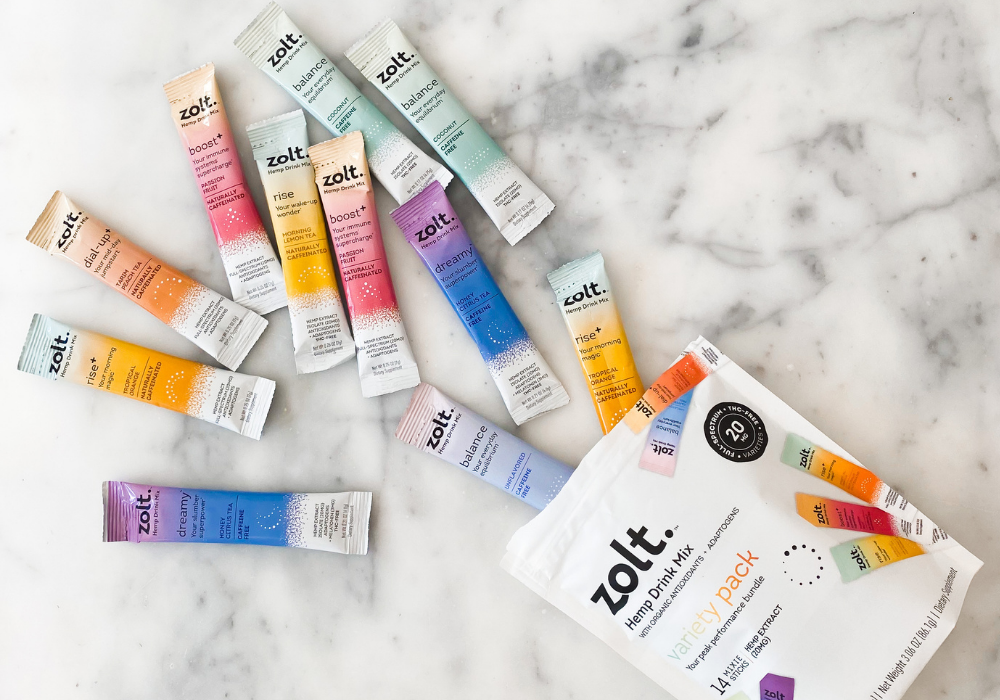 These are just a few ways you can amp up (or mellow out) your 24/7 routine with some Zolt zest:
>> Peak Baseline will give you a reason to swap out your coffee and jumpstart your morning with some herbal magic—like organic lion's mane, a.k.a. the brain booster, and organic reishi mushroom, otherwise known as the "Mushroom of Immortality."
>> Even + Collagen Boost, my personal favorite, puts anxiety at ease and hits your breath with a fresh hint of mint and lime so you don't have to worry about your coffee breath being a little less masked by your, well, mask these days. It's got organic agave inulin for your gut, astaxanthin to turn the dial down on aging, and more body-boosting goodies.
>> Dreamy + Collagen Boost will get you straight to sleep instead of binging Mare of Easttown for the second time (seriously, so good) thanks to GABA a.k.a the goodnight ingredient that calms your nervous system and ginger oil to soothe your stomach.
>> Well + Collagen Boost is a much-anticipated Mixie that's getting into the mix at the end of July and its immunity-supporting benefits are too good not to mention. In a crisp Meyer lemon tea flavor, Well's got vitamin C and vitamin D3 on its side with our favorite antioxidant, ashwagandha, to reduce inflammation and support your body's immunity.
And although plant power is at the center of each packet, there's a new boost in the Mix(ie) that we're all buzzing about. Vegan Collagen is the supporting player in several of the pouches, and remember—there are no small parts, only small players. Tremella mushroom and hyaluronic acid activate your inner glow by strengthening your hair, skin, and nails, support cognitive function with their antioxidant assets, and support your joints so you can literally move smoother throughout your daily life.
The Vegan Collagen Boost is like a boxing coach massaging your shoulders before you step into the ring—err, after your morning alarm goes off and it's time to do the damn thing again.
With their Beyoncé-caliber ingredients, Zolt is a one-stop wellness world in a tiny pouch, and it'll move you all the way from avoiding water to drinking plants. It's a crisp, delicious way to get out of your funk and into a groove that could possibly have you feeling like your twenty-year-old self again. Forty, who? And when you feel good, your family, your friends, and your community will feel it too.
Tap out of the beverage relay race, and back into your instincts. Grab that water, get your Mixie, and watch your brain and body get back into balance—you deserve it.
Peak Performance around the Clock (Yes, even when you're Sleeping).
Meet the Mixies. 1. Gang's all here.
1/4
Function meets flavor with Zolt's power ingredients—from ashwagandha to lion's mane mushroom to astragalus. Some are core to Zolt's base formulations, while others appear in specialized varieties with specific use-cases, like sleep or immunity.
Get 15% off with code PLANTLOVE
~
References:
(1) https://en.wikipedia.org/wiki/Neural_adaptation