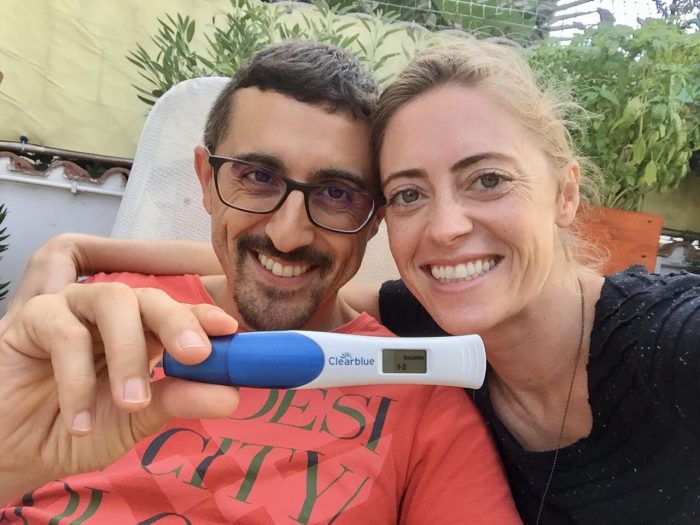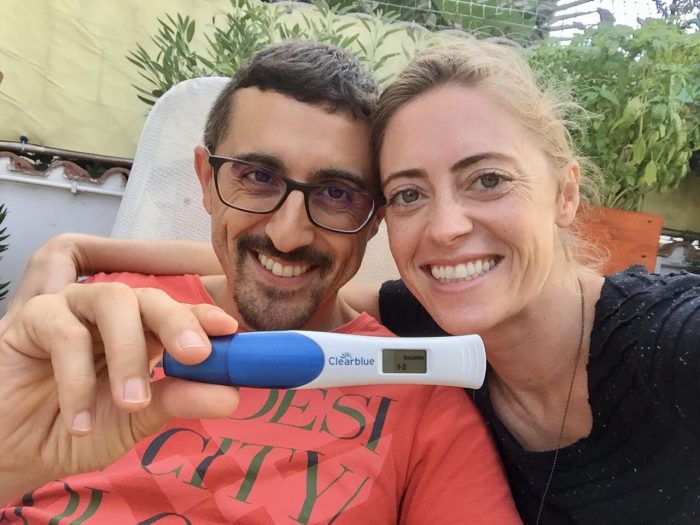 Growing up, I never dreamed of a fairytale wedding. I never dreamed of being a mother. I didn't even really like babies or kids, except my nieces and nephews.
Four and a half years ago, something changed after I serendipitously met the love of my life while on an Italian vacation with my girlfriends.
It was love at first sight. Massi tried to kiss me within 20 minutes of us meeting. I let him.
After just a few months of Skype dating and talking over WhatsApp in a mixture of English and my newly-acquired broken Italian, I had plans to pick up and move from my beloved home in La Jolla, California to a small seaside town outside of Rome.
Even while organizing my work and personal life in preparation for the big move, I started fantasizing about having a baby. I wanted that perfect little bundle of joy, created out of love—half his DNA, and half mine. I'm already a bonus mom to Massi's two boys from his previous marriage, but luckily, he wanted my baby as much as I wanted his.
Almost before the wheels of my one-way flight touched down at Fiumicino, we were trying. It was fun! We started playing with name ideas—we both liked Maya for a girl and Liam for a boy. We wondered if our future bambino would have my green eyes and his dark, curly hair (one could only hope!). We even bought a canvas print of Leonardo da Vinci's Vitruvian Man in teddy bear form. It was the perfect start to decorating our future baby's nursery.
I got pregnant after about a year of trying. We were ecstatic!
I miscarried about 10 days later.
I was heartbroken. But, I've always been a positive person, so after a few days of understandable wallowing in my grief, I surprisingly felt ok. I knew everything would work out, and it did.
I got pregnant again within just a few short months. Yes! We were so excited! We knew we had been unlucky the first time around, but this time we knew the pregnancy would go smoothly.
It didn't.
I spontaneously miscarried at just six and a half weeks.
Wow. Maybe the Universe was trying to tell me something. Maybe I needed to get into better alignment. Maybe I was experiencing resistance. I definitely needed to upgrade my vibe.
I've loved personal development since I was a kid, when I was semi-forced by my loving parents to attend the Landmark Forum for Young People.
This second miscarriage renewed my sense of urgency for personal growth.
In order to get through the pain and to get my head on straight, I read books about how to get in touch with my soul through soul journaling and how to overcome resistance (The War of Art, by Steven Pressfield).
In an effort to upgrade my vibe, I voraciously watched Abraham-Hicks and Matt Kahn videos on YouTube and listened to a billion self-improvement audiobooks and podcasts. I meditated. I did yoga. I took meticulous care of my health and even increased the number of supplements I was taking; though the battery of tests we took to see what was causing the miscarriages didn't uncover any serious issues.
I was truly becoming a better person. I felt more connected to others and less judgmental. I was more grateful than I'd ever been in my life.
Once again, we were blessed with another pregnancy within a matter of months. Wahoo! Third time's a charm, right?
Wrong.
I was nine weeks into my pregnancy, undergoing my second ultrasound, when the look on my OB-GYN's face said it all. We'd lost another one.
I couldn't believe it. Who has three miscarriages in less than a year and a half? What did I do to deserve this? Even as I asked myself the question, I knew the answer. When I was in my teens, I had ended an unwanted pregnancy early. This was karma.
Or was it?
Everything I had been reading, watching, and learning said that life doesn't work that way. God/The Universe/Source doesn't punish us for our past mistakes. There wasn't anything physically wrong with me or Massi, so what was going on here? I wasn't sure, but I did know I needed to work more on myself. I knew I had to overcome some serious self-limiting beliefs. I had to forgive myself, so I could open my heart to the possibility of creating new life.
With a lot of work, meditating, journaling, and some very expensive 1:1 personal coaching, I did.
I was finally able to look back on my childhood mistake without feeling a hole in my heart and a burning sensation in my gut; without feeling a sense of self-loathing. I realized I deserve anything I want. I am not perfect; I am human, and I'm worthy. I learned to love myself, no matter what.
Yet months and months went by without another positive pregnancy test.
A new wave of despair set in.
A year passed. No baby.
I started ugly-crying nearly every month when I knew, yet again, that I was not pregnant.
I was so confused. I felt more aligned than ever. My self-love and connection to my soul were unshakeable. I even felt I was helping others more than I ever had before. Why couldn't I get pregnant? Why couldn't I create a tiny little human—the thing I desired most in the world?
Last month, after seeing a shooting star and multiple other positive signs, I was sure I was pregnant. I felt it in my heart. This was it! I bought a test.
It was negative.
In desperation and in tears, I came as close to praying as I ever have; or likely ever will. I asked my soul to please help me to stop feeling so disappointed. These feelings of lack, despair, and fear had to go. I couldn't live like this.
Interestingly, looking back, I didn't ask my soul or Source/God/The Universe to help me have a baby. I just wanted to feel better about the process.
I started journaling about how connected, supported, and loved I am. I wrote about how, like Mama Earth, I am meant to create.
While all of that was true, it wasn't making me feel any lighter. The heaviness on my shoulders and in my heart still felt like a ton of bricks. The weight wouldn't let up.
I stopped writing. I took another deep breath.
I started writing again. Instead of coming from my head, instead of writing what I thought I needed to hear, I started writing from my soul (remember all that soul journaling I'd done?). I knew it was her, because it felt like the Truth, with a capital T.
"Everything external to you has told you that you should be a mother by now. Is that what you really want? What is it that you really want?"
If I had started listening to my head at that point, I would've heard, "Are you f*$%ing kidding me? Have you not seen what I've been through to make a baby? Have you not watched me dream of this for years?"
But, thankfully, all the work, practice, and personal growth I'd done, much of it inspired by my miscarriages, allowed me to block out all logical reasoning.
I realized something crazy; until now, I had not actually asked myself, at the soul level, if I really wanted a baby. Nearly all my friends had babies. I'm sure my biological clock was ticking like a time bomb during its last few seconds before exploding. I loved watching all the moms in the park with their little babes. I had been so caught up in the idea of it that I had thought I wanted one too.
But was having a baby really a part of my life's purpose? I was no longer so sure.
The more I sat with the question, the clearer the answer became: it was time for our baby-making journey to end. The heaviness started to lift as the truth of it set in.
I'm not sure what led to the multiple miscarriages, and I may never know. Maybe it was resistance. Maybe my vibe never got high enough. Maybe it was simply Mother Nature doing her job. Or perhaps, just maybe, I never really wanted a baby at all, and the universe had my back the entire time, teaching me (the hard way) to ask myself what I really want.
So, when we feel like we've hit our head against the wall and we are further away from what we desire than when we started, with no end in sight; we have got to ask ourselves, at our core, what we really want. And we must be ready for the answer.
It may not be pretty. It may not be what we expected. It probably will be simple.
As I sit here looking at the Vitruvian Man teddy bear print, wondering which future mama I will gift it to, I remember that I never grew up dreaming of the fairytale wedding, or to be a mom.
While the ending to this story may be bittersweet, I can't help but be excited for the amazing baby-less adventures to come. I'm pretty sure they will be able to outshine even the best fairytales, and who knows what the future will hold?
~
Author: Megan Sweeney
Image: Author's Own
Editor: Caitlin Oriel
Browse Front Page
Share Your Idea
Comments