A kitty, born blind, "sees" toys for the first time.

Inspired? Rescue. Close to a million pets are killed every month. Just remember: it's a big responsibility. ~ ed.
"Oskar the Blind Kitten and His First Toys."
"Since he is completely blind…we gave him some balls with bells inside. As you can tell, he can "see" them by using his ears! He is such a happy and inspiring cat — we are blessed to have him with us."
Watch a blind kitten "see" toys for the first time: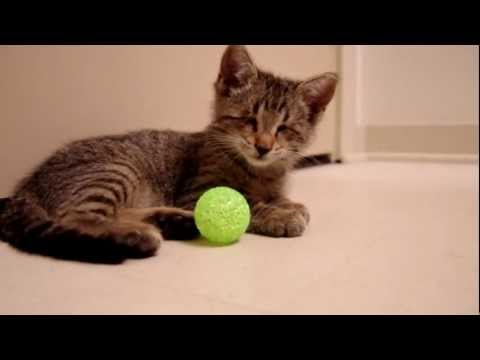 Music provided by SMITH's CLOUD from Lincoln, Nebraska. The track is called A CHANGE OF DAYS.

http://www.facebook.com/smithscloudmusic

http://itunes.apple.com/us/album/a-change-of-days/id445095798

http://www.amazon.com/A-Change-of-Days/dp/B005A2V8EU/ref=sr_shvl_album_1?ie=U…
Loved it? Leave a tip!
8 Responses to "Cutest Rescue Kitten & Best Owners Ever Video."